? Klik untuk versi Bahasa Indonesia
The faculty I work at has a yearly schedule of paid vacation together. The last time I took part at this kind of vacation was to Singapore in 2015. Normally employees are allowed to bring family members along, but may or may not need to pay, depending on the number of employees who decide to not take the benefit. I had been absent from two years of faculty vacation because the destination was too far, which made it unsuitable for my relatively young kid.
This year, the committee chose Lakeside Glamping in Ciwidey, which was just two hours drive from Bandung. That destination made sense for me, Yun, Des and Pat to join. However, their first destination before glamping was Kawah Putih, a volcano crater just 30 minutes before the glamping area. With Pat only being 8 months old, I decided to not join the group for this first destination, because the smell of sulphur may be too much for her. Therefore, I drove my own car instead of joining the Unpar bus.
Glamping: portmanteau of glamorous and camping and describes a style of camping with amenities and, in some cases, resort-style services not usually associated with "traditional" camping.

Wikipedia
I started the journey from home at 12 noon. The traffic was relatively nice, with occasional congestions along the way. About half an hour before reaching the glamping site, we passed through winding roads as the road was located at the side of a hill. Slightly more difficult to drive, but the view was just wonderful!
We arrived just a few minutes after 2 PM. The rest of the group was already checked in and enjoying their time at each tent. My family was allocated a family tent, along with my dean Pak Fer and his wife Bu Yan. We unpacked our luggage, took a brief of rest, then headed out to explore the glamping area. The area was hilly, costing extra energy to walk up and down, but the view was also beautiful. I had my late lunch of a portion of siomay, while Des had his snack of cup noodle. As you can guess, food was overpriced, with one cup noodle at IDR 15.000!

Desmond was happy playing with the rabbits, and Yun was happy with selfie spots. I was happy with the fresh air. In the morning earlier, my friend Pak Wal told me a story about him walking to Dago Atas area and view the breathtaking waterfall, a "Wonderful Indonesia" type of view. Now in this site I found myself surrounded by this Wonderful Indonesia view.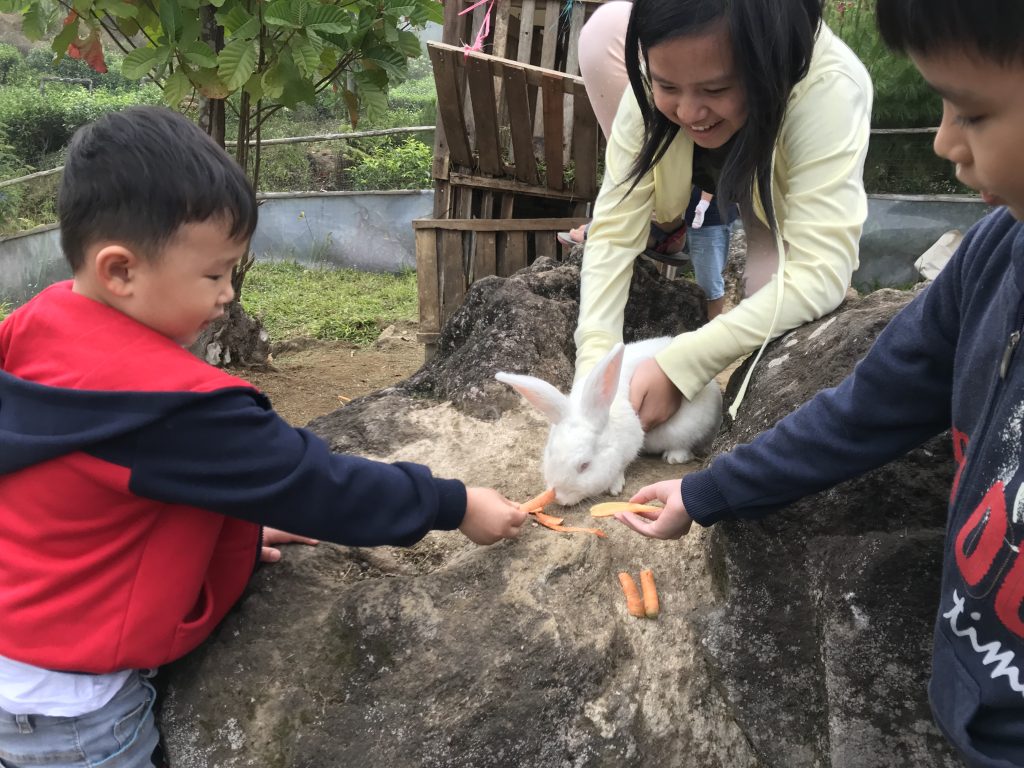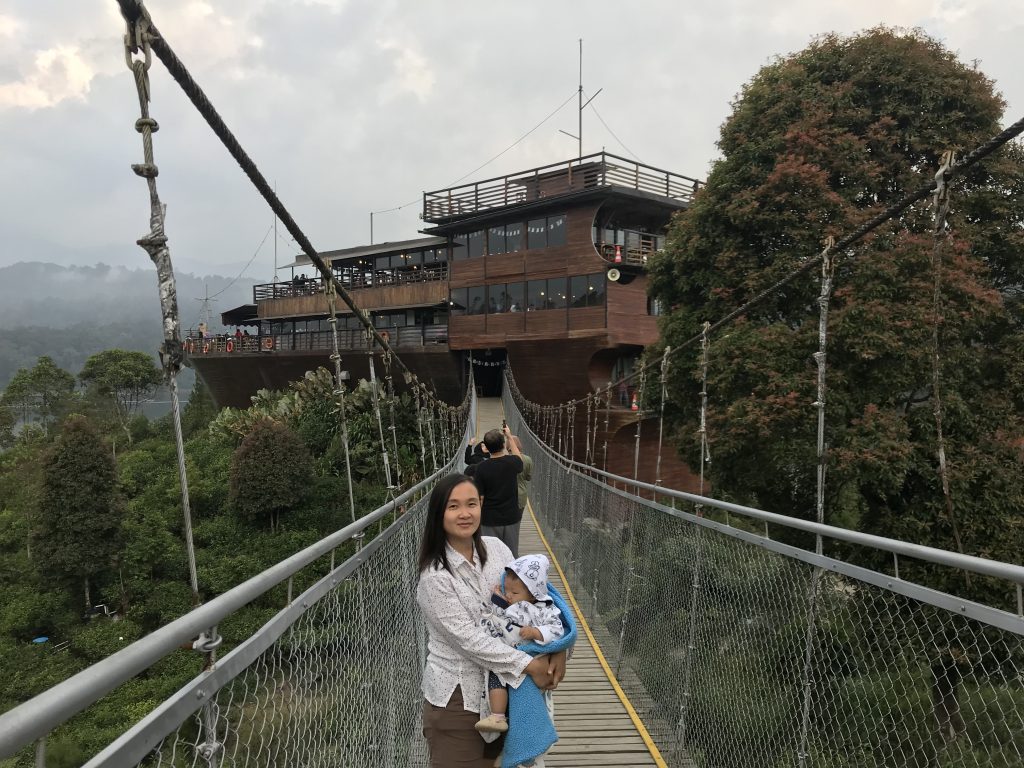 Before dawn (or Indonesians love to call it maghrib), we headed back to our tents and took a shower. The air was cool and the water was cold, but it was still bearable for me. After shower, we had dinner together at the Pinisi restaurant. The food was too "standard" in my opinion, probably overshadowed by the other facilities provided. The restaurant had a very nice ambiance. The deck was a perfect place to enjoy the night, while watching the sky and the stars.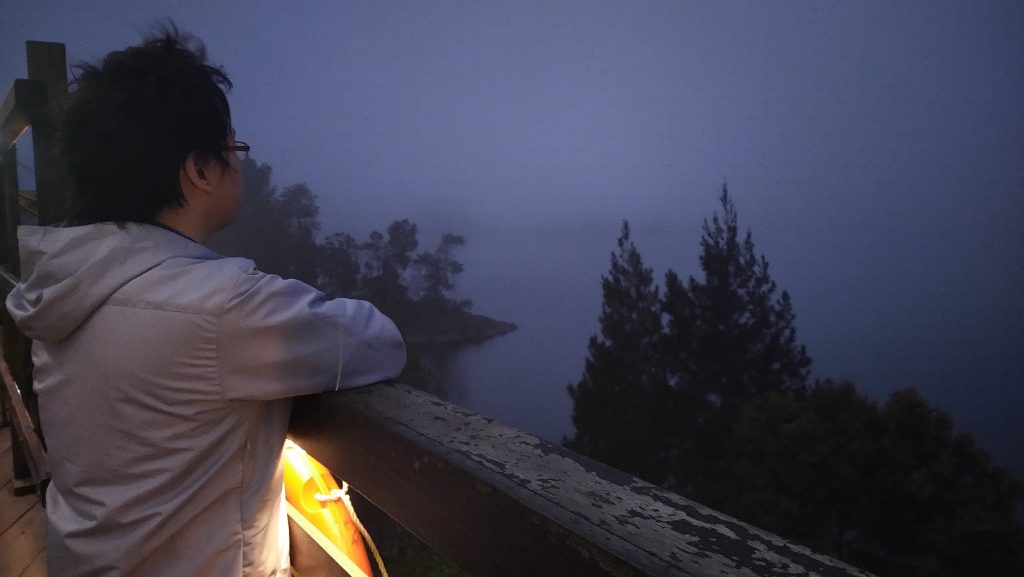 Even before sleeping, I was confident enough to wear short and training shirt (those shirts with small holes to allow airflow) with standard blanket to sleep. Only at 11 PM, I woke up, realised that it was not enough at all. I felt very cold, and doubled up with jeans and jacket (which were cold as well because it was not yet used). Only after an hour I felt warm enough to sleep. I woke up at 5, had a morning chat with Yun, then took a walk around the site at 6. It was interesting to note that after sunrise, it was warmer outside the tent.
We had breakfast at that same Pinisi restaurant. However, breakfast was much more luxurious compared to last night dinner. Porridge, green bean soup, coconut rice, fried noodle, toasts, are some examples. I and Des had breakfast earlier, while Yun and Pat was still sound asleep. The porridge and its condiments were separated, so I reserved a bowl of it for Pat. I then ask Pak Jan's help to keep an eye on the bowl so the waiters would not clean them, while I walked back to my tent, waking Yun's up and ask her to go for breakfast before the time is up.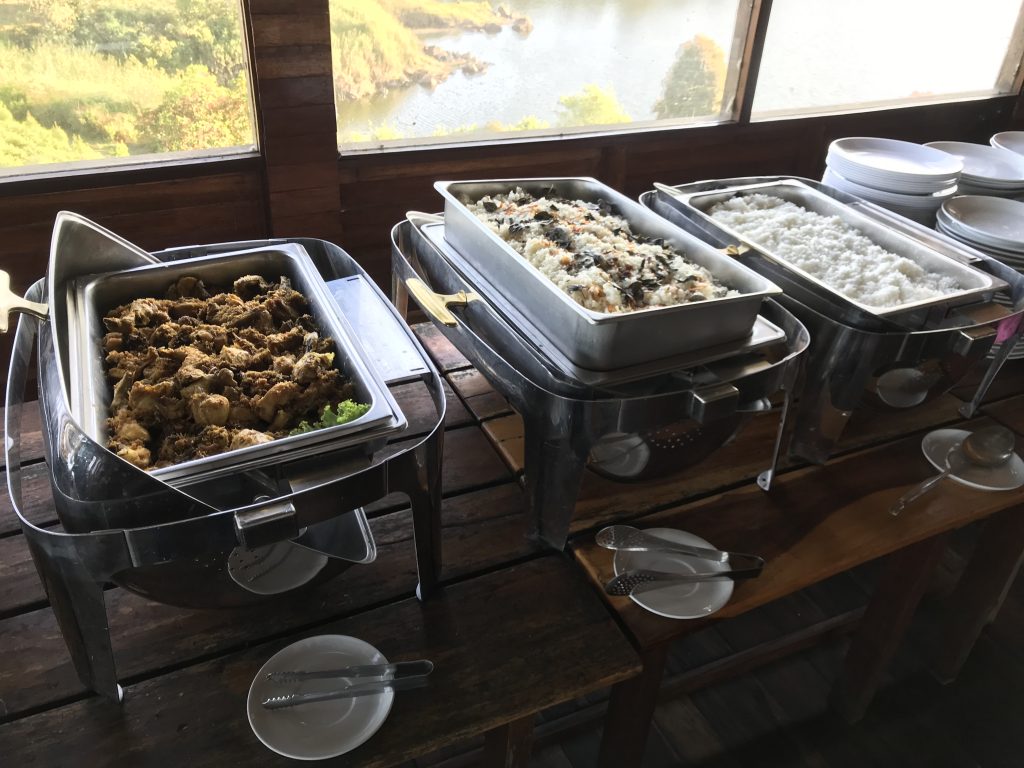 Des was impatient and ask me to go with him to the Golesat, a gravity powered car race. Yun just started breakfast, so we split up. At the Golesat start point, we met some of my colleagues. Pak Fer and his wife Bu Yan, Pak Rus and his wife Tante Nel were among them. Pak Fer, Bu Yan, me and Des rode the golesat down the hill. At the finish line, we were entitled a car ride back to the top, where we started. Pak Fer and Bu Yan decided to not take the car, because they wanted to walk to Teras Bintang, a spot to see the scenery, about 1 km walking distance from there. Des, who didn't seem to understand the situation made a special bond with Bu Yan and urge her to come with him back to the starting point, potentially ruining their plan.
En route, I called Yun to see if she was interested to visit Teras Bintang as well. She was interested, so we could all had a ride to Teras Bintang using my car. At the starting point, I let Desmond play with my colleagues, while I picked Yun up and walked to the parking area. I drove my car and pick the rest at the Golesat starting point. Pak Rus and Tante Nel joined too, making it a full house.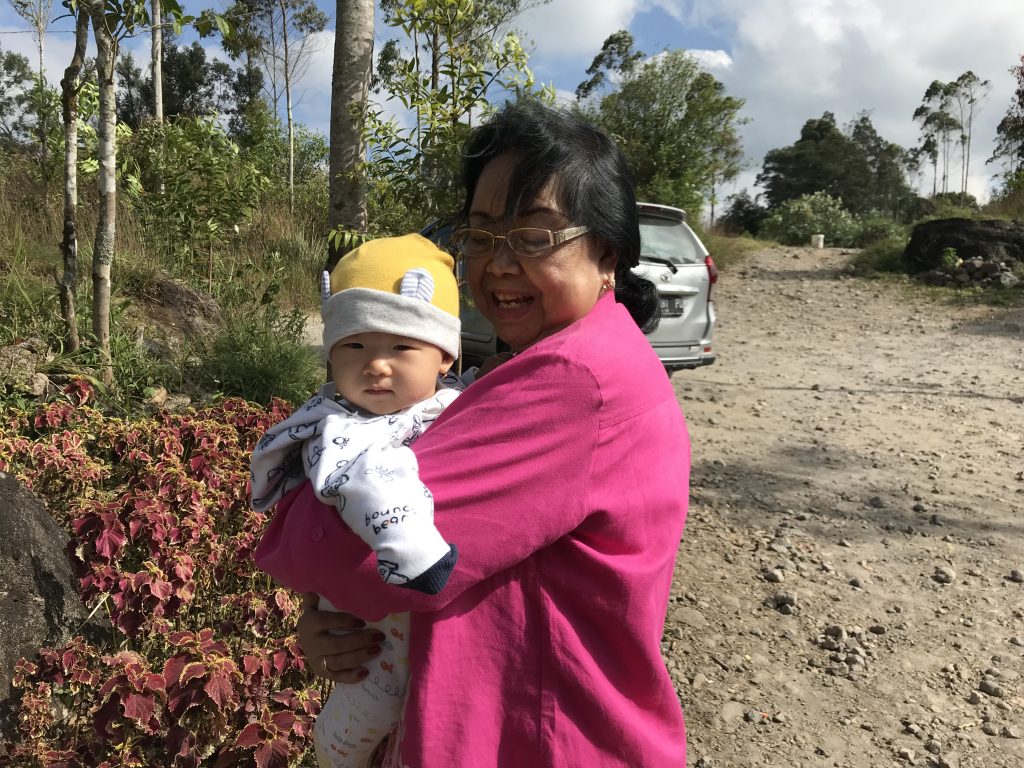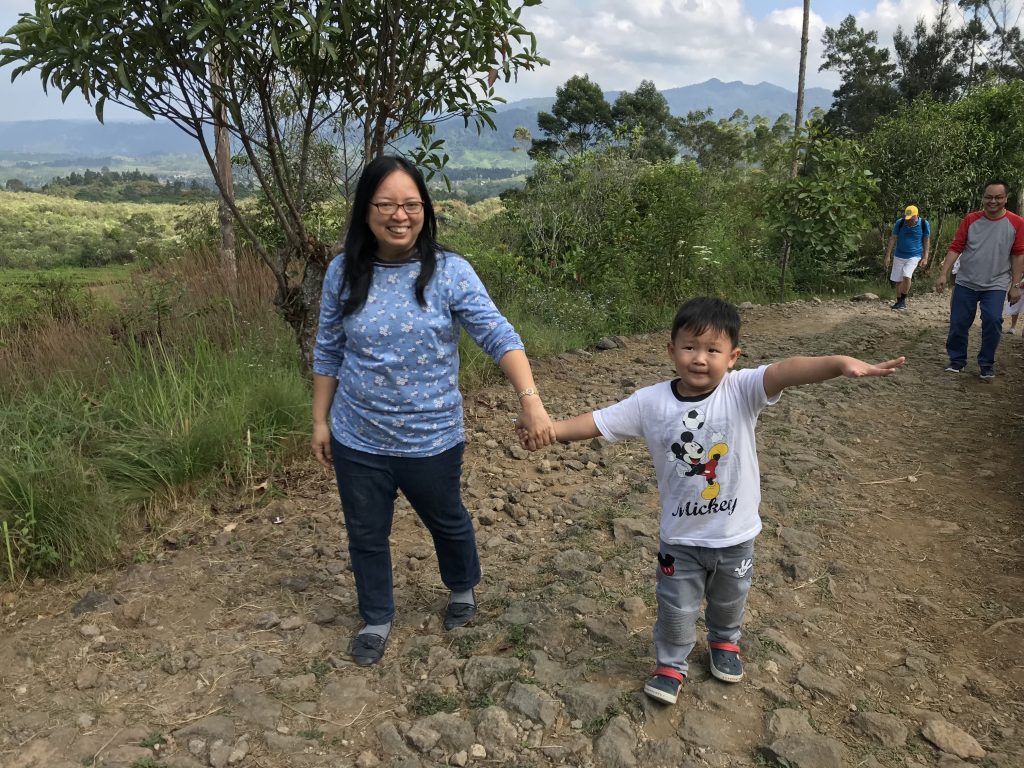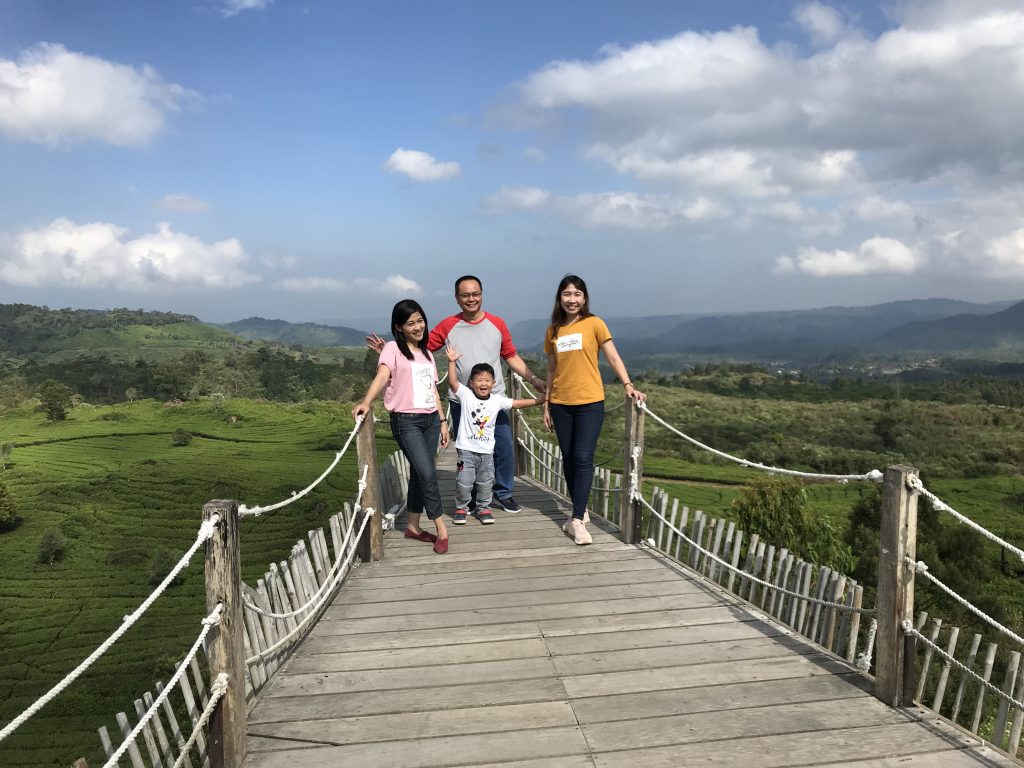 Around 10.30, we packed our bags and prepared for checkout and lunch. Lunch was so-so, just like dinner. At 1 PM, we took a group photo and I said goodbye to the others, since I would again drive my own car. The traffic back to Bandung was significantly worse than the day before, since it was on Saturday. I already felt very sleepy that night, and that night my sleep time broke the record of 11 hours.