This is one thing I can brag about the place I work at: our team went abroad for vacation, fully paid by the faculty! Normally we would have annual vacation with domestic destinations. However, after two years of saving money and going nowhere, in 2015 we went to Singapore for vacation. The catch: the committee decided that it would be a low-budget backpacker-style vacation. It was hard to leave my wife and son of 3 months old behind, but Singapore is one destination I couldn't miss.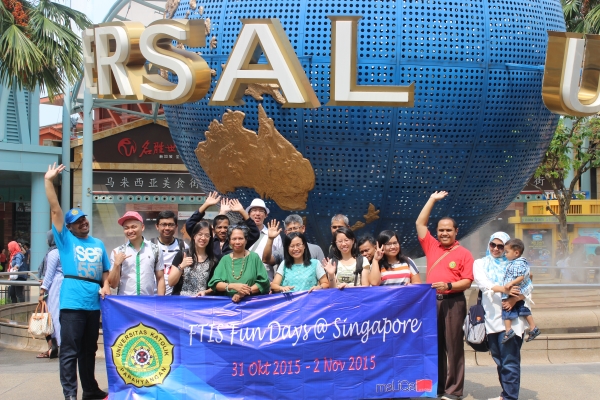 So, about 15 of us flew from Bandung on 31st of October morning (food review featured in my friend's blog!). The flight was very smooth, and we landed in Singapore 1.30 PM local time. From airport, two rented vans picked us up and drop us at the Universal Studio Singapore (USS). We didn't actually enter the USS. Instead we took some pictures in front of the spinning globe (remember, it's a low-budget vacation). Not bad. Afterwards, we all went to the Bunc@Radius hostel to check in and take a short break.
About 5 PM, we walked to the next venue: National Museum of Singapore. The museum was about to close at 7 PM, so we could only see some parts of the museum. My group had a chance to see the history of Singapore, from when it was still a village up to when separated from Malaysia. At 6.30 PM I had to leave the group, since I had an appointment with some friends at Paya Lebar at 7. Fortunately, a Circle Line MRT train took me there in less than 30 minutes.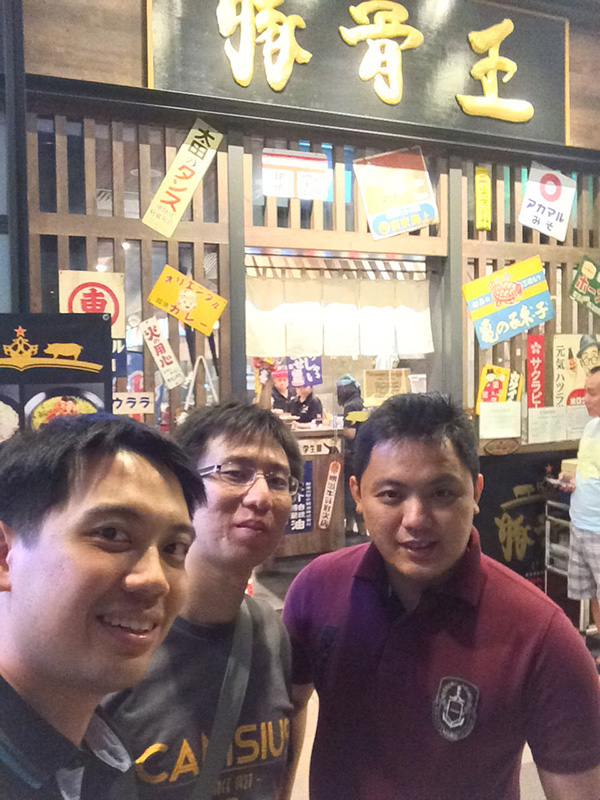 I met my friends from high school Benny and Erick at Paya Lebar Square, just outside Paya Lebar MRT station. We used to meet several times when I lived in Singapore before, and it was nice to meet and talk with them again. As recommended by another friend, we had dinner at Keisuke Ramen, that served a delicious Japanese pork ramen with unlimited boiled eggs and bean sprout pickles. The broth was creamy and oily, so we decided to walk around the neighborhood to alleviate the heavy feeling in our stomach. One destination was City Square Plaza, which was famously known as the "Indonesian maid central", since domestic workers from Indonesia often go there to buy stuffs. There was a famous fried chicken restaurant with long queue inside, but our stomach said no. We wrapped up our meeting with coffee at Toast Box.
Returning to the hostel, everyone was there already and ready to sleep. I, too, decided to sleep early, since I would go again in early morning the next day.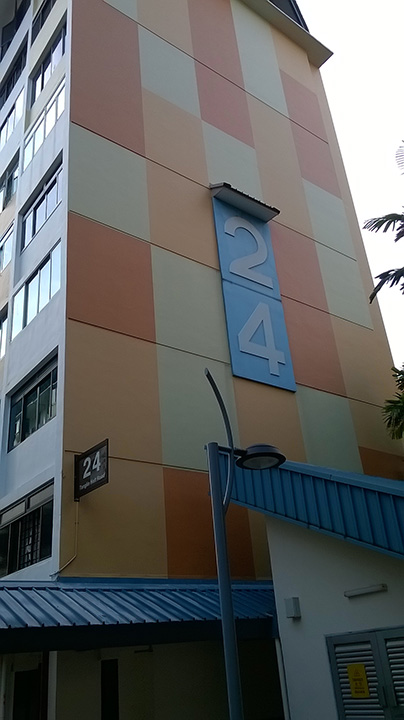 On second day, I woke up as early as 5 AM, took a shower and got a breakfast with Chandra at a nearby Indian coffee shop. We ordered an egg onion roti prata and teh tarik. The taste of prata with curry brings reminiscence of the old days when I lived in Singapore for almost 4 years. Nice. We went back to hostel, but shortly afterwards I went out again, now to visit my former landlord (which I simply called auntie) near Commonwealth MRT. I promised to come at 8 AM, but arrived at the MRT around 7, so I spent another hour buying stuffs at Sheng Siong supermarket and another nostalgic breakfast of toast, egg, and coffee. Then I went to Auntie's house at block 24. Her daughter reminded me that due to her condition, it may take some time for her to open the door when I rang the bell. It was nice to meet her again, although a bit sad knowing that age has caught her up. After an hour of chat, I asked to leave since I had to join the group at Chinatown. En route, I took a chance to visit the Blessed Sacrament Church that I regularly visited when I lived in Singapore. Conclusion, things didn't change at the neighborhood that I lived at.
I then took bus 961 to Chinatown, where the rest of the group were there for shopping. I did some sight seeing but didn't manage to buy any souvenirs. After about an hour exploring Chinatown, we went to the Red Dot Museum, where various well designed products that won red dot design award were exhibited. Different compared to my previous visit few years ago, this time more smart home products were exhibited. Entering the air-conditioned museum was also a refreshment, after walking around Chinatown in hot and humid air. Few hours inside the museum, we went for lunch afterwards. We went to the (supposedly) famous Maxwell Food Centre, which featured in a BBC article my friend shared to me. However, since I crave for different variations of Singapore food, I chose the Chinese rojak and popiah instead.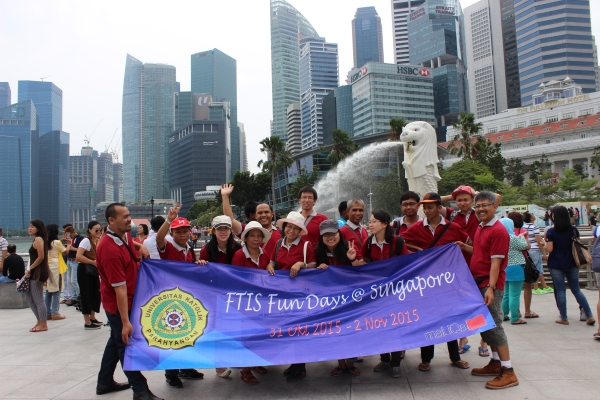 From there, we took a bus that headed to the Merlion Park. We planned to take group picture in front of the Merlion statue. As expected, there were plenty of people enjoying the view, or taking picture too (with rhetoric pose of their mouth trying to swallow the water thrown from the Merlion's mouth). After taking picture, the group split up. Half of us returned to the hostel by bus to take rest, while the others (mostly females) went straight to Orchard road for shopping. Only when I about to reach the hostel, I realized that if you want to wander using public transport in Singapore, you have to walk, a lot.
I managed to sleep for almost an hour, before leaving the hostel again with my friend Chandra to visit Funan DigitaLife Mall. It is a mall that houses various electronic / gadget shops, with Courts being the biggest one. While Chandra couldn't find the bargain he was looking for, I managed to buy two original X-box Live games for my unlocked X-box console at home (story here). There were several games of perhaps already shown at the shelf for 2-3 years, and priced reduced down to $10 each. I was tempted to buy the more recent games like Grand Theft Auto, but the two titles I bought was much cheaper and safer for my 3 months old Desmond.
After Funan, we walked towards Esplanade, where we planned to meet the rest of the group plus Ronny and Tina for dinner. Ronny was my senior during my undergrad at UNPAR, and he was interested to meet the rest of the group, too. I also know Tina, his wife, during my stay in Singapore for almost four years. Ronny arrived around 7 PM, but the rest of the group had last minute plan change. They were late to depart from the hostel and wanted to see the laser show at Marina Bay Sands at 8, so they decided to postpone dinner after the show. Since I, Chandra, Ronny and Tina were already there, we had our dinner at Makan Sutra.
Ronny and Tina, acting as the host, kindly bought us large portion of various Singapore dishes like fried rice and fried cereal prawns for sampler. That inspired me and Chandra to also bought large portion of different foods instead of a single portion meal. I bought an oyster omelette while Chandra ordered a murtabak. What a sumptuous dinner! After dinner, we went to Bugis Junction, where the rest of the group had finished their show and enjoying dinner at KFC. Yes, the Kentucky Fried Chicken. Some members of the group felt enough with Singapore food and decided to have regular food like they have back in Bandung. About 9 PM, we went back to hostel (while Ronny and Tina to their home) to rest.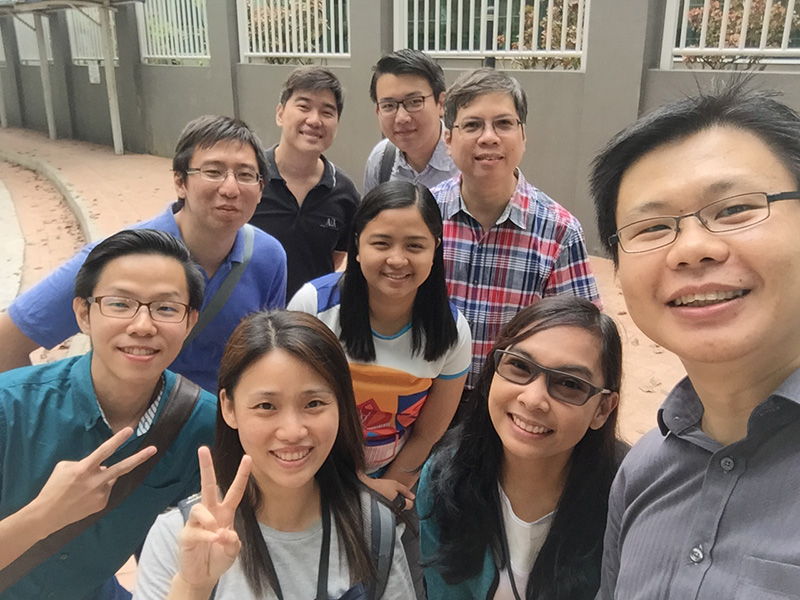 Last day, I woke up early once again to meet my ex-colleagues from Gemalto. We agreed to meet at Ya Kun Kaya Toast Fusionopolis, a few hundred meters away from the office (since I didn't have access to the building anymore). We agreed to meet at 8 AM, but it turned out to be too early. Cynthia, Hermanto, Keng Kun and Nicolas came and we had a nice talk together. After an hour of coffee, I decided to walk them to office since I had enough time and a chance to meet other people. In front of the office building, my friend kindly called the others inside the building to come out to meet too (since I don't have access to enter the building), and had a selfie together. It was very nice to meet again old friends, but time prevented us to talk longer. They had to work, while I had to go back to Mustafa Center near the hostel to join the group.
In Mustafa Center, I bought some oleh-oleh myself and helped my friends pick their own. If you haven't been there before, Mustafa Center is a huge department stores that sells various things from groceries to electronics. The downside is that they packed so many stuffs in a relatively small building, so navigating from one place to another inside the building can be challenging. However, I did found what I was looking for there: a classic Casio watch. It was a model from the 90's, and I was quite astonished that Casio still produced it (and the manual is actually available online). Being an old model, it was difficult for me to find that model outside Mustafa Center (there are plenty of shops selling it, but mostly are imitations).
Nearing noon, I was starting to get hungry while the rest was still hunting for oleh-oleh. I decided to leave the building and looking for food. Mustafa Center is located in the Little India area, hence what I could find was Indian food. I was tempted to have the proper India food at some restaurants, but remembered that I have spent my Singapore dollars lavishly for the past few days. I decided to have a more Singaporean dish: mee goreng.
We had time until around 3 PM before we had to leave to airport. I then spent the time visiting Raffles City shopping mall to have a snack and a little sightseeing, followed by walking through the Bugis Street market with the group. On our way back to hostel (where we had to meet before leaving to airport), the rain suddenly poured, and we had to stay for a while at Sim Lim Square. I had a bad experience with Sim Lim, and warned the group to not buy anything there unless they know what they are looking for. Shops in Sim Lim Square were actually known for problems with their customers, and interestingly some consumer association organization had provided a brochure that listed the good and the not-so-good shops, based on customer complaints.
After the rain had eased, we walked again to hostel, and departed to airport. We arrived quite early and had plenty of time before boarding. I spent the time sitting lazily in a sofa and reading local newspaper Straits Times, one thing that I miss from Singapore. The flight back to Bandung was on time and smooth, and I enjoyed healthier options for dinner, since I had been eating a lot in the past few days.
Update: Spelling fix on a friend's name