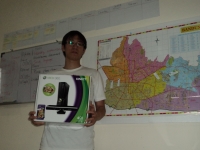 After four months in Indonesia, I went back again to Singapore for a super short trip. I indeed had planned to visit this tiny country once again since I still had a bank account to close, some personal belongings that I left at a friend's house due to baggage weight limit, and an X-box + Kinect that I won from a lucky draw. Yes, you read it right, an X-box + Kinect. I won it since I used my Nokia E52 to read my hotmail messages, and of course registered my email to the Microsoft-sponsored lucky draw. Considering the number of people in Singapore using Nokia and has a hotmail account, I consider myself very lucky 😉
I didn't tell most of my friends about my trip, as the schedule was very tight. Taking advantage of Indonesia public holiday on Friday, I flew to Singapore in the morning, arrived about 2PM and went straight away to the hotel to drop my luggages. I then went to the nearest DBS branch in Bugis to close my account there, hoping to reach there before the bank closes. I made it, and followed by buying some gifts for my relatives at NUS central library. To my surprise, I was entitled for 5% discount as an NUS alumni. I then moved again to Clementi mall, to buy some grooming and dental care goods not found in Indonesia. It was still crowded as before. Lastly, I went to Choa Chu Kang to meet my friend there, also to pick up the X-box. We went for dinner at the nearby Malay restaurant, just next to Choa Chu Kang Park. It was a very nice restaurant with a kampong (village) ambiance. Unfortunately it is going to close soon on early April. About almost 10PM, I went back to my hotel, a one hour journey to Geylang.
Yep, I stayed in Geylang. For those who doesn't know, it is a very famous red district area in Singapore. However, it also a best location for transit in Singapore if you are on a tight budget. Cheap accomodations, relatively near to airport, and lots of girls.. I mean, food. If you happen to visit Geylang, don't forget to try the frog leg porridge and char kway tiau. Anyway, I stayed at Fragrance hotel at Lorong 10, which was surprisingly clean and convenient, for a hotel that lies at the heart of red district area.
The next day, I left in the morning to have a nostalgic local dish roti prata. I used to have that for breakfast near the office when I worked for Gemalto. After breakfast, I took a bus to Mustafa Center to buy some souvenirs. It is interesting that at the entrance, they put LCD screens showing the estimated number of people inside the building, and the maximum number allowed. I am pretty sure this was due to an audit by the Singapore Civil Defence Force that showed the building is very dangerous when there is a fire, as too many people are allowed inside the building.
From Mustafa, I went back to the hotel and take another bus to meet my former landlord. I could have taken bus #51, but I took #100 instead with about 5 km longer route but passed through many interesing places in the city area. En route, I stopped at Alexandra Hospital to buy some dental floss at the pharmacy. Me and my landlord had lunch at her house, and she was very kind to bought us local delicacies like bak kut teh and cakes from the famous Tiong Bahru market. My landlord also gave me several letters sent to me but delivered to her house. Among them are: a due-to-incomplete-address returned personal letter that I sent to Germany, and a $12 check from SingTel because I paid too much for the last month's mobile internet bill. Too bad I didn't have time to go to the bank again to cash it. May be I should spend another few hundreds of dollar to visit Singapore again to cash it? 🙂
After lunch, I then met my former colleagues and have another lunch at Geylang (I planned for just some snacks, but you know, it's difficult to resist foods that bring nostalgic memories). We talked a lot about our lives, other colleagues in the office, and my projects in Bandung. After lunch, my friend offered me a ride back to the hotel, but I preferred to just walk, to see once again the street of Geylang.
That concluded my mission in this short trip to Singapore. As I had unused buffer time, I spent the evening by enjoying massage at North Bridge road (there are nearer alternatives in Geylang, but it is not wise for a "clean" person like me). It felt very relaxing, especially after walking almost non-stop for the last two days. After which, I skipped dinner and went straight to the hotel to rest early, for I had to wake up early in the morning, catching the 9 AM flight back to Bandung. To another adventure!