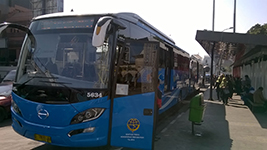 I and Jovan are involved in a project called KIRI, which maps Indonesian public transport routes and build navigation system upon it. For that reason, we tried to take Bandung's new armada of Damri buses in order to understand better about them. These Damri buses were interesting, because they had a fresh revitalization, and from outside it looked better than Jakarta's TransJakarta buses (actually, more like Singapore's SBS Transit). Moreover, I also played with Portal Data Indonesia's API where live GPS position of some of these buses are available for public.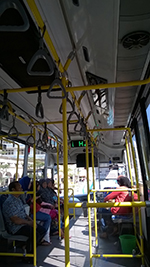 We planned to take a bus from Alun-Alun Bandung terminal, heading towards Kota Baru Parahyangan. However, an officer at the terminal told us that the bus heading to Kota Baru was still using the older buses. We then decided to take another bus heading to Ciburuy instead. Where in the world was Ciburuy? We didn't know, but our adventurous spirit told us to take it anyway.
Inside the bus, it really look like a brand new vehicle. There were not so many seats inside, but rather designed to accommodate more people standing, especially during peak hours. There was an LCD screen, displaying the name of current bus stop, and interestingly also showed estimated distance to the next stop when the bus is running (I suspect through automated calculation with GPS position). When I said bus stop, it was actually a "virtual bus stop", as these buses generally allow passengers to board and alight anywhere along their route. There were also a simple route map of this bus, where each stop are marked by an LED light that blinks when the bus in at that location. Pretty neat feature, comparable to Singapore MRT trains. Other feature was a digital clock, a simple yet very useful feature to those not wearing watches like me.
However, even with the new buses, they still work old-fashioned ways. There were no electronic nor mechanical payment system, hence the kenek (bus assistant) still collected the fare manually (and without receipts). Normally just after boarding he will ask you where do you want to alight, and decide on the fare. There was a space reserved for disabled people, but some passengers used it to put their stuffs instead (there were no disabled passenger during our journey, anyway). It was understandable, since some of the passengers were sellers from traditional markets. A sound system was installed, and we were lucky that the driver put on some western music from the 80's. An Changhong brand LCD TV was also installed, but never turned on during our journey to Ciburuy.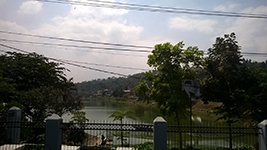 After about 90 minutes journey, we reached at Ciburuy. There was a tourist attraction called Situ Ciburuy, a huge lake with an island in the middle. However, it was very quiet (perhaps due to fasting month) so we decided to just take a another journey back to Alun-Alun. However, since it was almost noon, we decided to stop at midway Cimahi to have lunch (we were not fasting) and meet an old friend there. Our decision to stop midway turned out a pretty good decision, as the quality of this bus is significantly worse than the first one.
Just after departing from Ciburuy terminal, the driver played a very loud dangdut (local disco) music. I don't mind hearing local music, but a disco music along a bus journey can be stressing. Every now and then, the bus stopped in random places in order to attract new passengers to board (so-called ngetem). What worse was, that the driver assistant overcharged us by 50% during our journey back. To complete our misery, the digital clock showed the wrong time. Jovan tried to silently complain through an SMS hotline number, but found out that the bus code for this bus had been torn off. Ouch. He persisted and took note of this bus license number instead. It was D7807AA. There you go, don't take that bus.
The last bus trip that took us from Cimahi to Alun-Alun was much better. Actually it was as good as the first bus we took (only that it also played dangdut music instead of 80's western).
In conclusion, these new buses provided a good alternative to travel in and around the Bandung city, especially for its convenience during traffic jams. There were 3 routes served by these new buses: Dipati Ukur – Leuwipanjang, Alun-alun – Ciburuy and Elang-Jatinangor.