After a few years, I finally had a chance to visit this red dot again. This time complete with my wife Yun, two kids Des and Pat, and in-law Tan; for summer holiday. Bringing a daughter of 7 months, staying in budget hotel was no longer an option. Interestingly enough, when searching for a place to stay for family (4 adults and 1 infant), higher range hotels provides better price compared to regular ones. This is because those hotels usually have family rooms, in which booking one family room is cheaper than booking two regular rooms even in lower range ones. Our choice boiled down to Hotel Clover at 33 Jalan Sultan.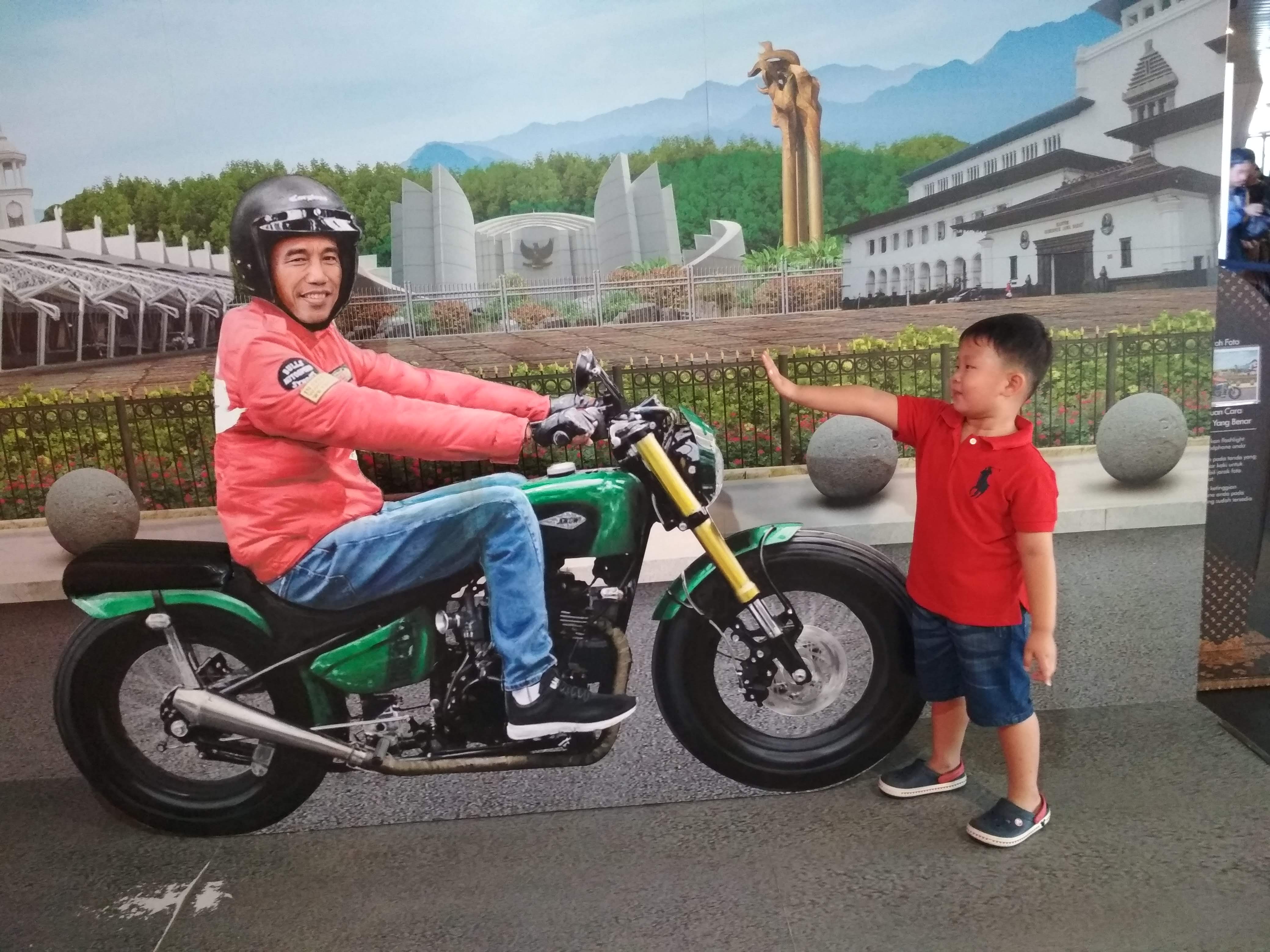 An unfortunate incident happened on our departure from Bandung. The flight that was supposed to take off at around 4 PM was delayed up to 8 hours, because one of the earlier flight had a "runway excursion", i.e. one of the wheels was out of course and gets stuck in the grasses. We were still lucky because the airport was convenient enough for us to rest while waiting for the delay.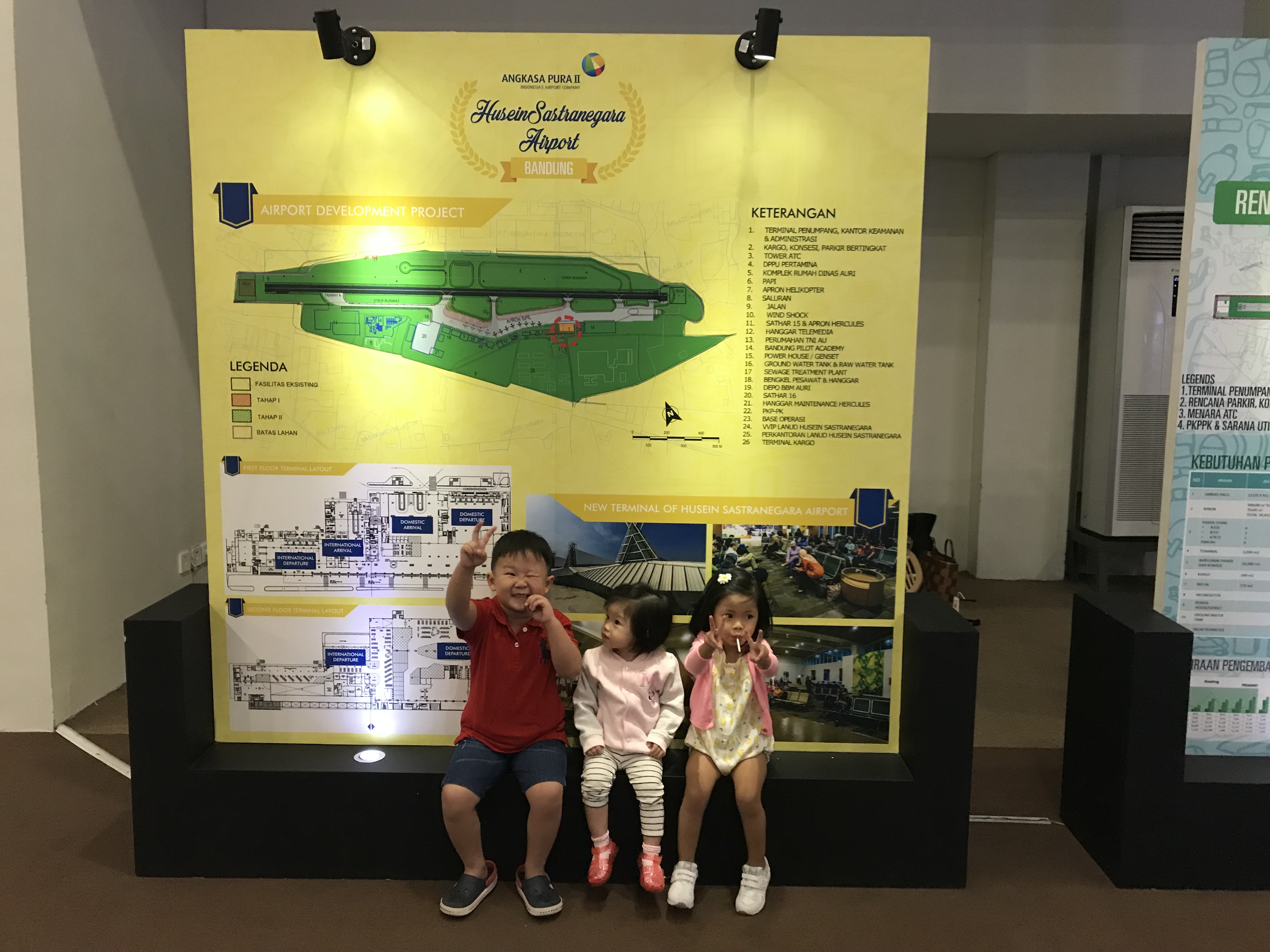 We landed in Singapore at around 2.30 AM local time, took a taxi to hotel, checked in, then finally slept at 4 AM. This was slightly worse than our previous trip to Singapore, where I had to stay until 2 AM, because our luggages were left in our cab.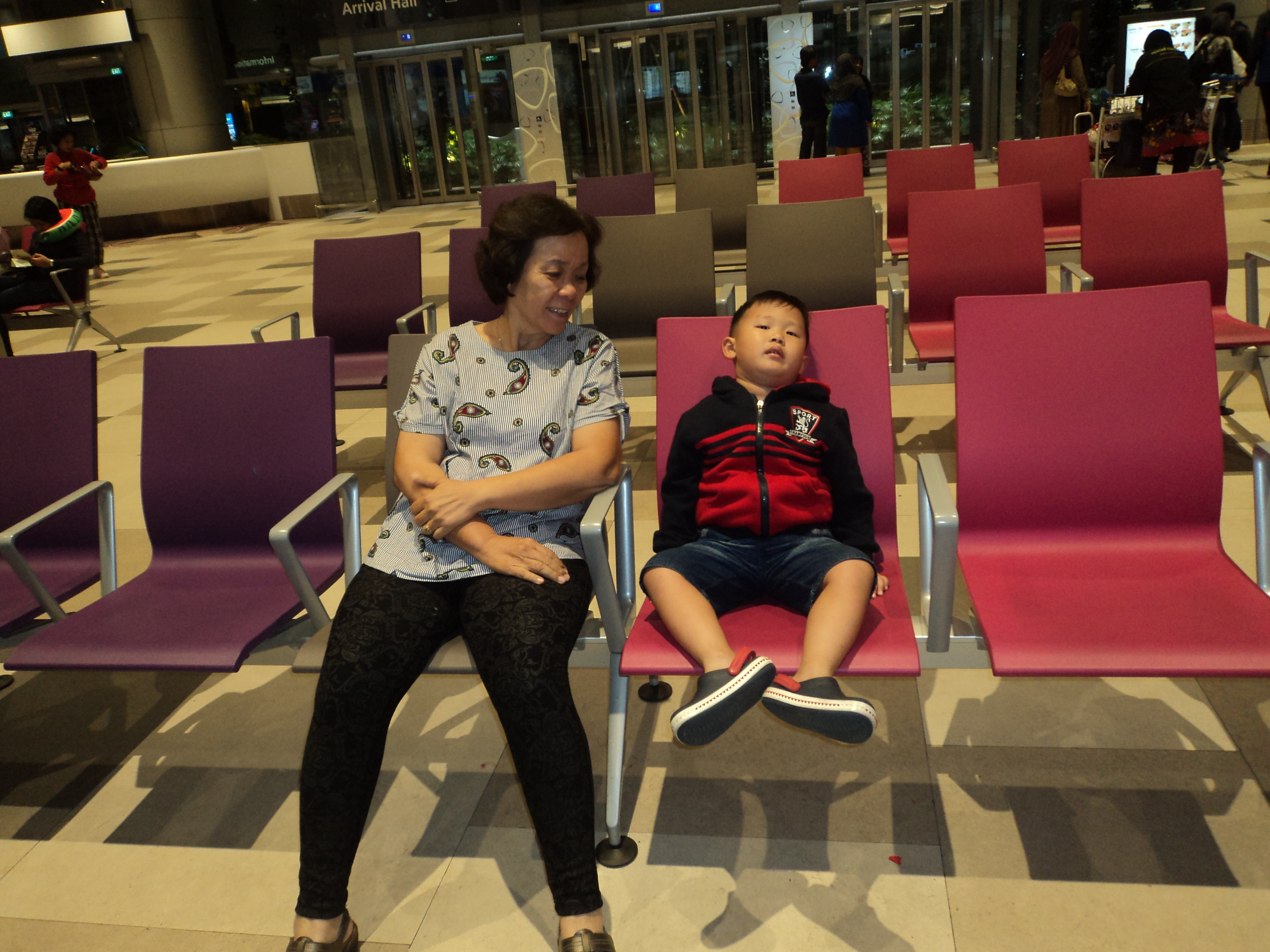 I earlier promised my parent to pick them up at the airport, because they took a different flight from Jakarta and landed at 8 AM. However, due to this unexpected circumstance, I cancelled the plan and waited at the hotel instead.
Knowing I did not have to pick them up at the airport, I woke up at 8 AM. Feeling very thirsty, I went out to find some bottled water to buy. It was relatively early in the morning, hence the best bet was hawker centres, i.e. the traditional "food courts". I managed to get 4 bottles of 650ml water for $1.4 each from a drink stall. Rather expensive, but that was the best I could get. When everybody else woke up, I realised that I need another bottled water, and food for my family's breakfast. I found 1,500ml bottled water for $1.5 each from another drink stall. A better bargain I thought! Until I found another small shop that sells 1,500ml bottled water for $1 each, the best I could get in Singapore.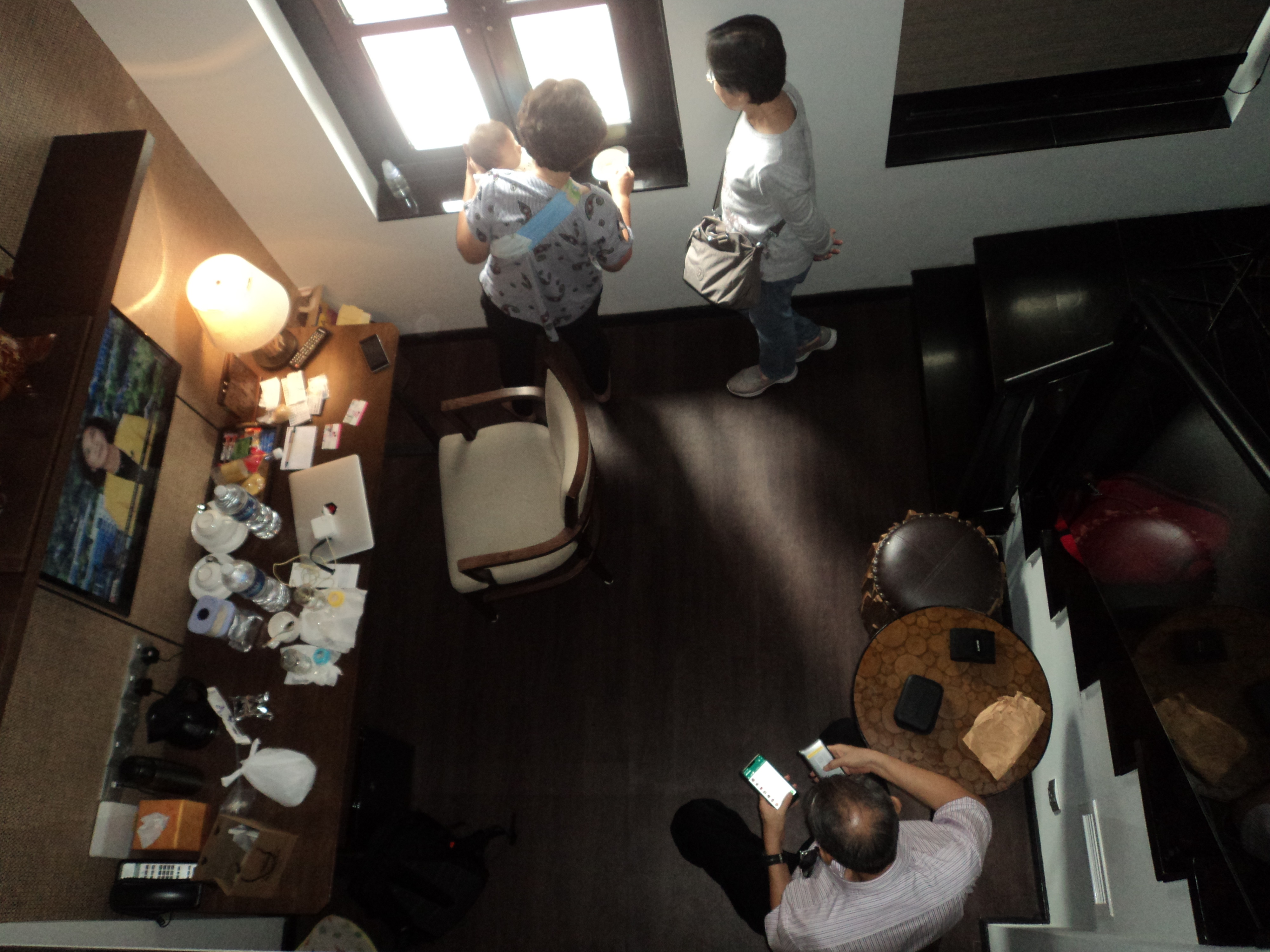 Later during the day, we were all ready. Des insisted on taking an MRT ride, because I have promised so since days before. We then took a walk to Bugis MRT, through the Kampong Glam's Arab Street and the infamous Masjid Sultan. Not really a good idea especially for Desmond, who didn't find it interesting. We walked a bit further than it should, encircling the Bugis Junction before we finally found the MRT entry. We took a ride of one station only to Lavender MRT, then took a bus back to the hotel.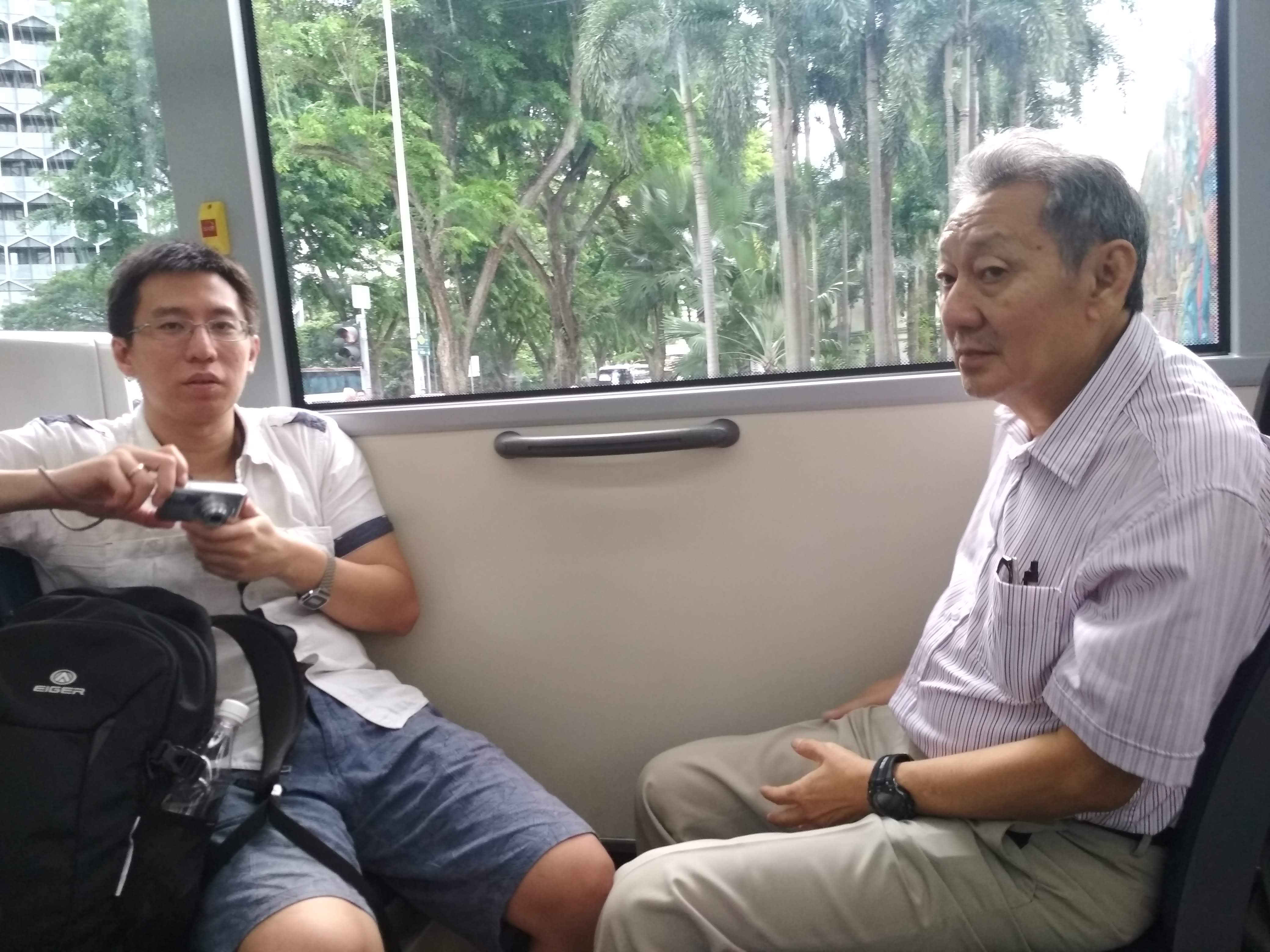 After a bit of rest, we headed out again, this time a bus ride to Chinatown. It was dawn when we reached there, and we bought some oleh-olehs to bring home. In Chinatown, Des insisted to have an ice cream. We wanted to film De being mocked by the infamous Turkish ice cream guy in Clarke Quay, so we headed there. Interestingly, he managed to control his anger when being mocked. We headed home afterwards, feeling exhausted.
Second day, I had an appointment at 9 AM to meet my old friend Rit, who lives in Jurong East. I was lucky my mom texted at 7, telling that my dad was about to go out to have breakfast. Otherwise, I could have overslept, due to the exhaustion from the flight delay before. I was still late. My mom and dad already gone out for breakfast when I was ready, and I could not contact them. I decided to have breakfast alone across the street, in a cafe called "Nanyang Old Coffee". The lady, who seemed to be the manager, was very friendly. I ordered the traditional Singapore breakfast set, and it was really nice.
I and my parents started the long journey to Jurong East at 8, but miscalculated the journey time hence late by half an hour. Rit family still welcomed us happily, and his wife served us home cooked Indian sweets and savoury snacks, the best I had after a long time. I forgot all the names, but one resembles the Indonesian potato perkedel. Among all topics we chatted, one being how expensive the cost of school for young children in Singapore, especially for foreigners.
We headed back to hotel with a Grab ride, prepared the rest of the group (Yun, Tan, and Des), then headed again towards Commonwealth, where I promised to meet my former landlord (an old lady / auntie) and her daughter Chr. I had created a special bond with her family, with her being my only landlord during my past four year stay in Singapore. On the opposite side, I first rented the room with a friend Ron at this house. However after a few months Ron moved out, leaving me as the only tenant.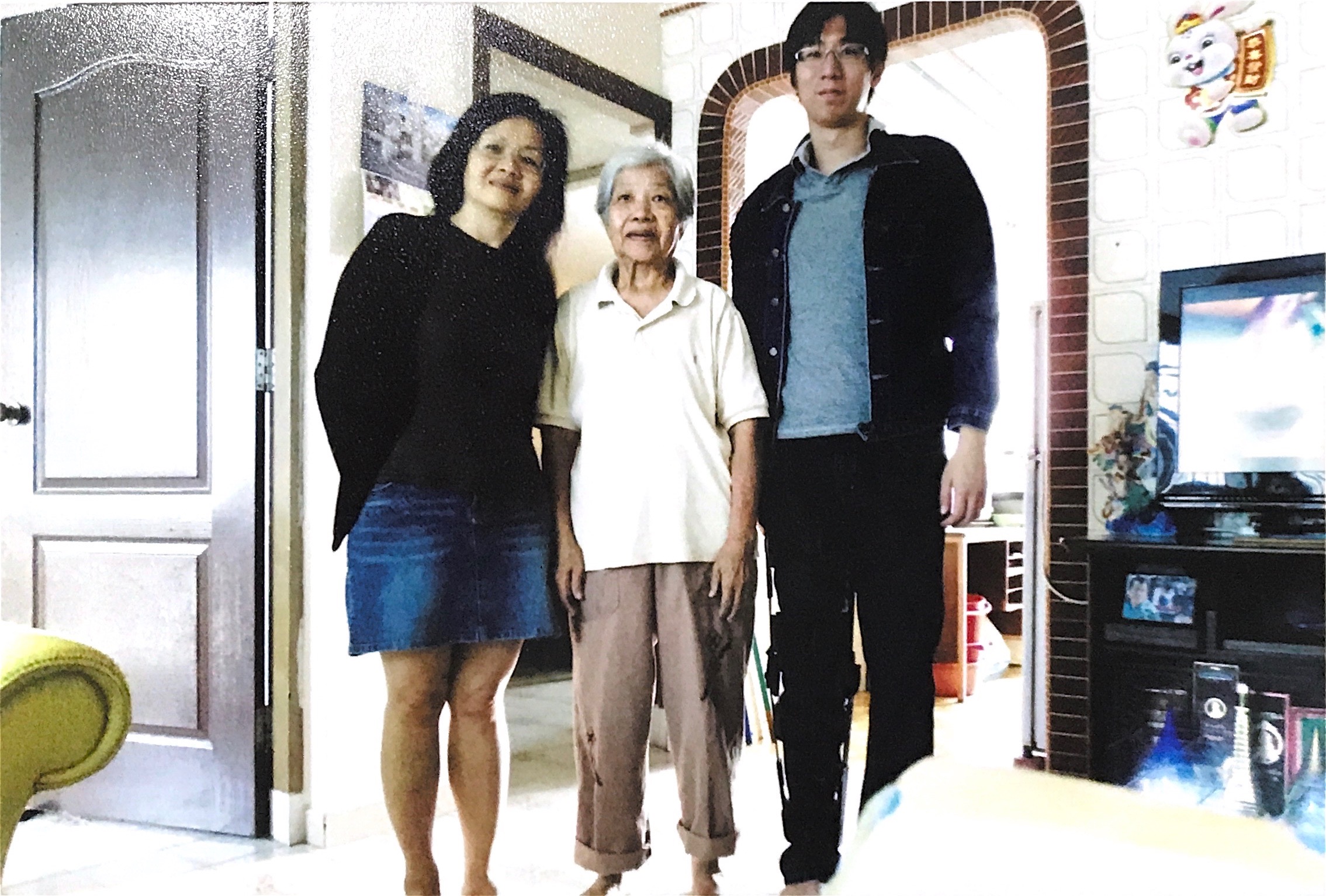 We stopped at Tiong Bahru for lunch, with the plan to visit auntie's house afterwards. Just like before, I thought I still knew Singapore and I was wrong. We were late by an hour, because I chose bus instead of MRT. We were still happy to meet each other. They kindly served us some finger foods, but the best part was durian, a fruit that tastes like heaven for some people, but smell like a toilet for others.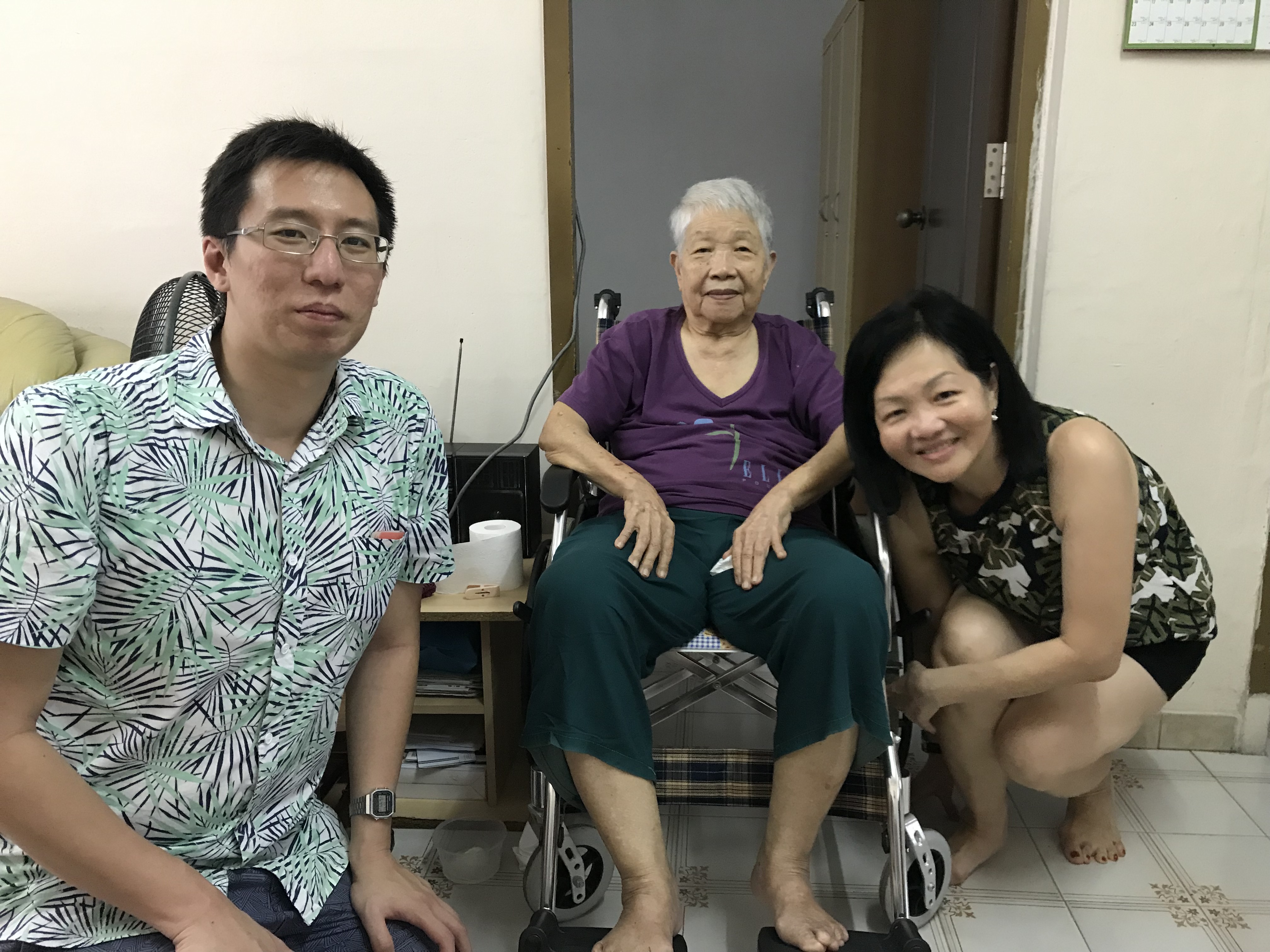 After this small reunion, we headed back to hotel, but en route stopped at Orchard. I decided that we stop at the beginning of Orchard Road, with the hope that we could explore the whole street. However, we spent more time than we should at the first shop Isetan, and finally had dinner there and went back to the hotel directly.
Third day, my parents' flight was at 8 AM, hence I woke up at 6 to take them to the airport (at this rate, I could wake up at 5 the next day). My dad had a little problem with the automated immigration, but after little talk with real human, the problem was solved. After being ensured that they had no other problem, I took an MRT heading to Bukit Batok Presbyterian Church, a church that I used to visit several times when I worked in Singapore before. I was again late, but still managed to be there for the mass. I also met an acquaintance Lun, who gave me a tour of the church.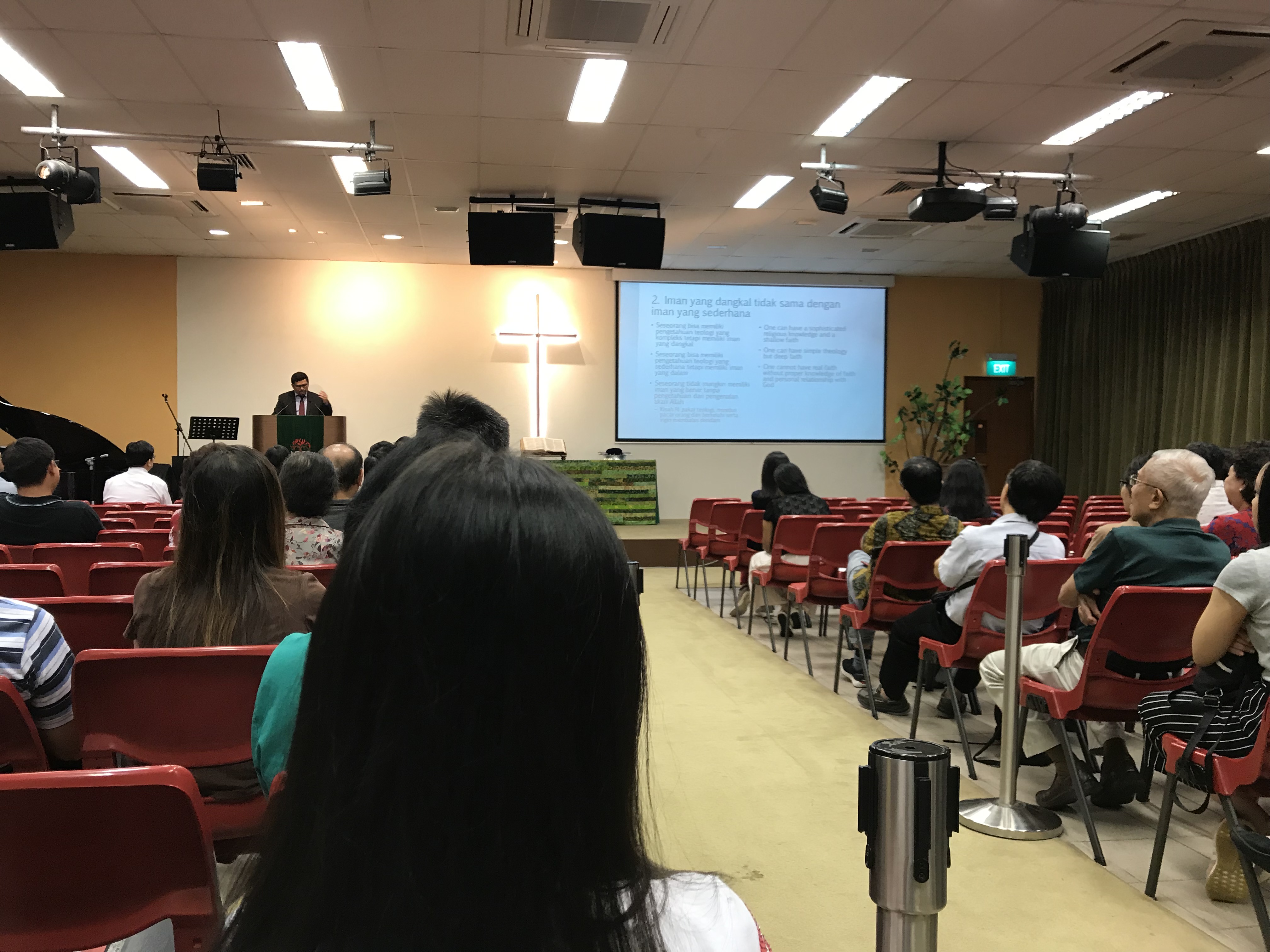 After church, I took a bus to Bukit Batok MRT, where I met my old friend Han. Han promised to visit us at the hotel, but it was a coincidence that he visited another church that was nearby, so we took the MRT together to my hotel. We had a nice long chat along the way. Near the hotel, we bought some Indian food, bungkus (take away); and had them in my room.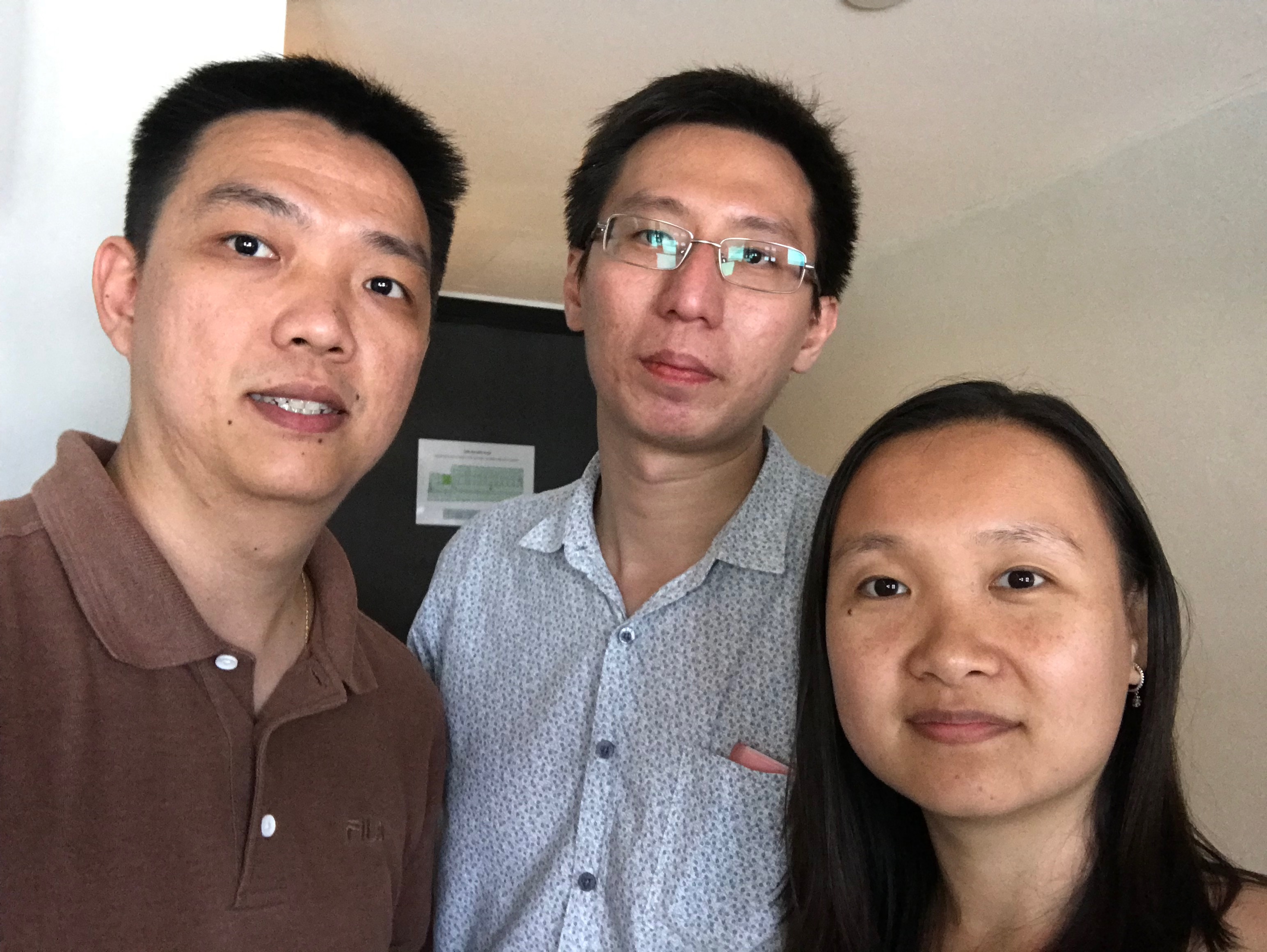 Han needed to go back afterwards, since he have family to take care. Upon leaving, I also left the hotel with him, bringing dirty clothes to wash at a nearby laundry. Thanks to Google, I found this 24-hour self-service laundry, that operates when you pay the $5-$15 fee using $1 coins. I had saved several coins to use in this laundry. However, it turned out that they had changed the policy, that they no longer used $1 coins, but a special non-refundable coin that only works for their machine.
We also met Ron and his wife Tin at Bugis Junction. If you remember, Ron was my roommate before, when I lived in Singapore. He also came with Pau, his partner in business. It was unexpected, but we had a short business talk on this occasion. It was an interesting talk, but I had to cut short because I owed my family a quality holiday time, which was partly lost due to the flight delay incident.
We then went to Garden By The Bay, trying to get a view of the light show that started at 7.45 PM. For this summer holiday, the light show was themed "Toy Story", which also served as an advertisement for an upcoming movie with the same name. It was an astonishing view, indeed. However, since it was on Sunday, it was very crowded there. After the show we wanted to get a taxi back to the hotel but the queue was too long. We took a bus instead. followed by MRT. Des was already too tired, that I had to carry him around.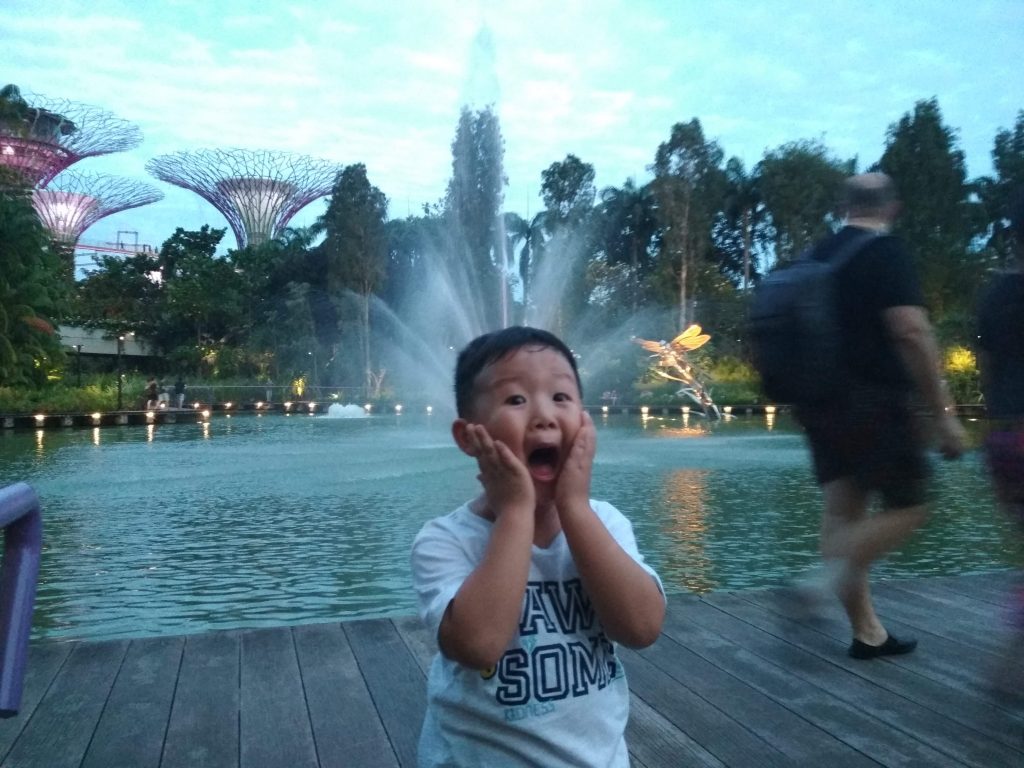 Upon reaching the hotel, it was late in the night. Me and Yun rushed to Golden Mile Food Complex, to buy food for ourselves. Not many stalls were still opened, but we managed to get a portion of satay, fried rice, and noodle. To our surprise, Des was still awake when we got back at the hotel. That was a good news, because he could still had his dinner before sleeping. While preparing to sleep, I asked everyone to not wake me up in the morning, and let my body wakes up naturally.
Fourth day was the nice and easy day. I woke up significantly later, so do the others. We planned to go to both the National Gallery and Merlion Park. As the weather was good, we decided to visit Merlion first. However, upon reaching there, Des found River Cruise boats sprawling around the river and asked us to ride one of them. We cancelled our plan to the gallery and rode the boat instead. We stopped at Clarke Quay and had lunch there.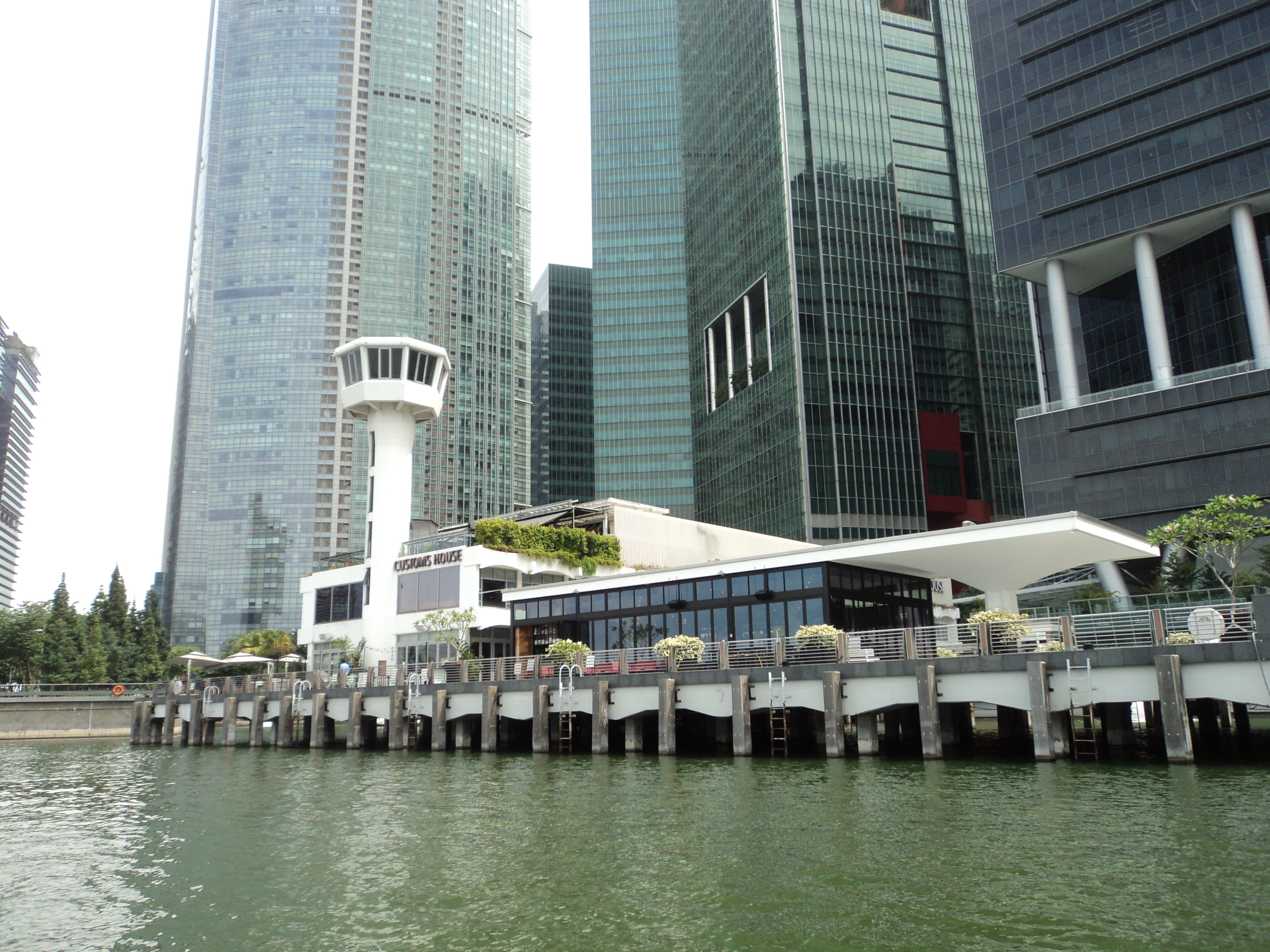 On this fourth day, Des' interest for MRT ride has gone, and he preferred bus instead. Therefore, after lunch we went all the way to National University of Singapore by bus, with 45 minutes bus ride to Kent Ridge Terminal. From the terminal, we took the internal shuttle bus to visit the department where I studied before, that is The School of Computing (SoC). It didn't change much since I left 8 years before. From SoC, we walked to Central Library and took another bus to Clementi MRT station.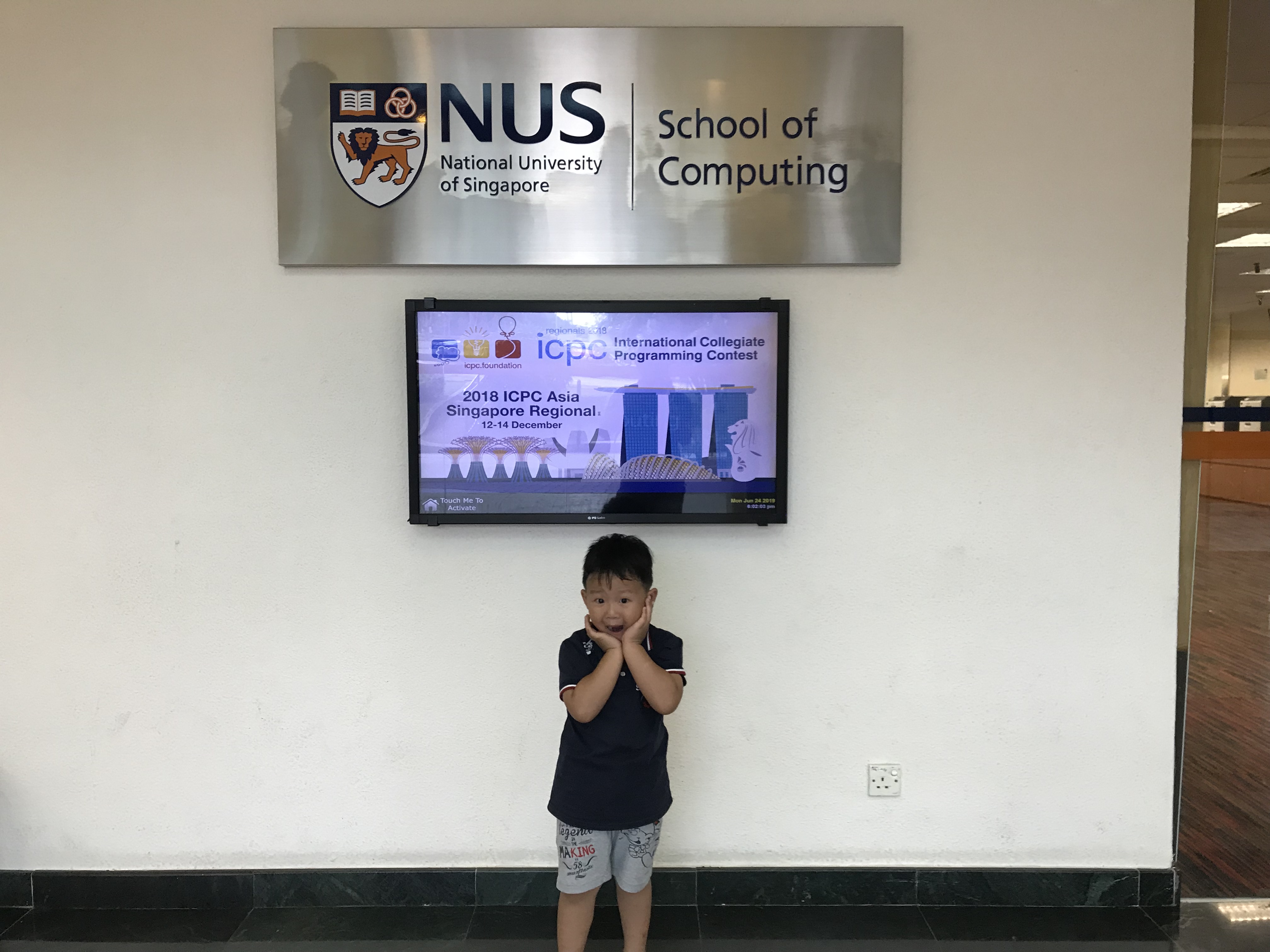 Tan craved for durian, after she had one at my landlord's house. I remember Chr told us to not buy from a rather touristy spots, but rather from traditional markets. I still remember people selling durians around Clementi MRT, next to Fairprice supermarket and just across the street from the Clementi sport center. The durian seller was no longer there, but after a walk further towards the neighbourhood centre, we found one that sells $50 for 3 portions of durian. It didn't disappoint us, the durians were very sweet. We went back to our hotel afterwards.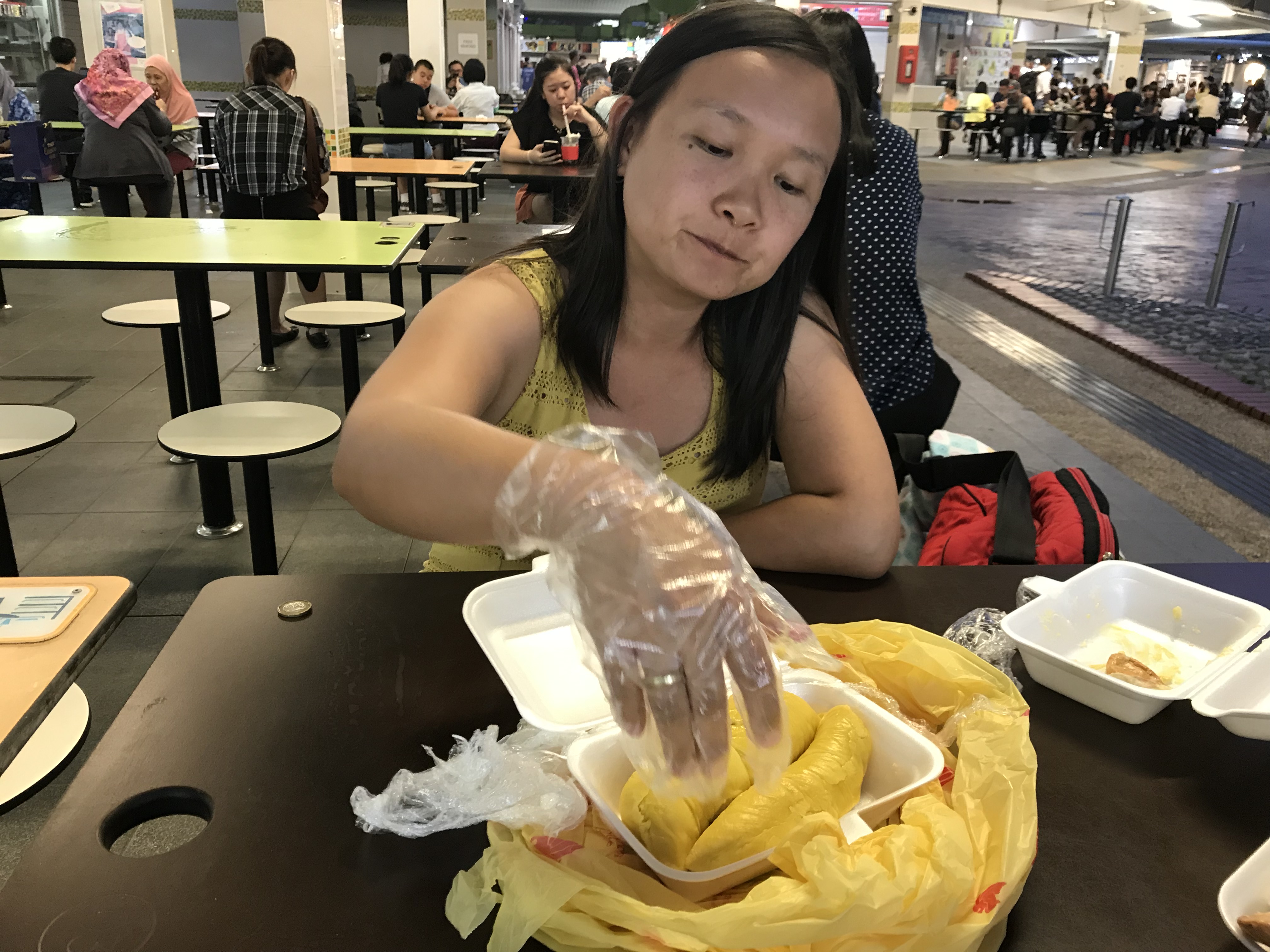 On the last day, I spent some time in the morning for a run. I used to run regularly when I lived in Singapore. I ran half regularly when Des was born. Now with 2 kids, I almost never run regularly. This morning was a good opportunity to remember the old days and be healthy. One thing nice about Singapore is that the government has built so called "park connectors" which is a very good spot for running. I ran along the Kallang river, with the beautiful view of the national stadium and Golden Mile complex.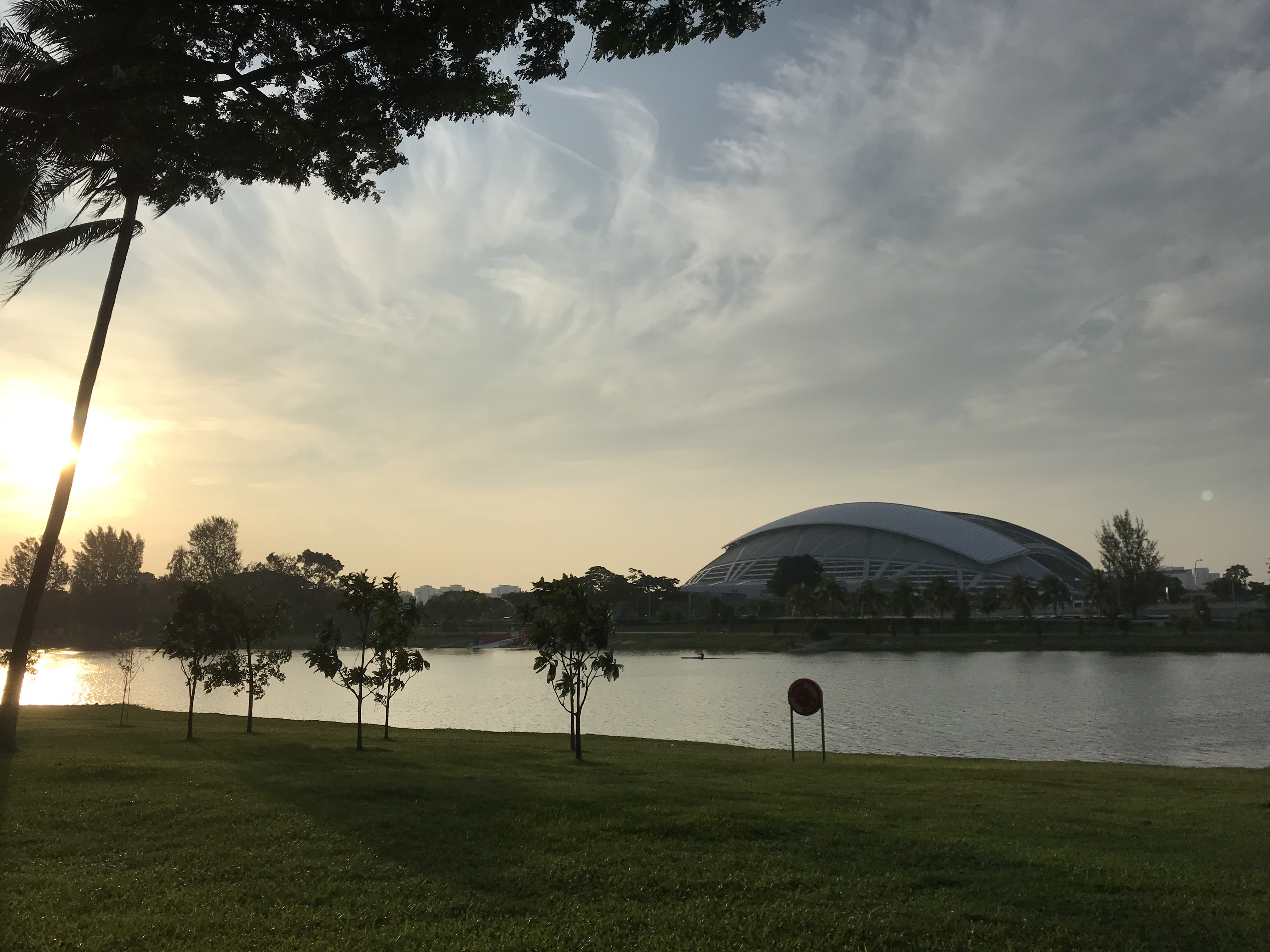 After running, I joined the others, preparing our checkout from the hotel. We planned to visit Jewel Changi before flying back to Bandung. However, thanks to the kids and the many oleh-olehs that need to be packed, we ran out of time and cancelled that plan. We even had to have lunch in a rather upscale restaurant inside the airport, because it was the only choice given the time constraint. It costed a whopping $51 for three portions of food and drink, but on the bright side, we managed to get one coupon of Changi Millionare draw.
Unlike the earlier flight, this return flight was not delayed too long, and we arrived in Bandung well before dawn. I was happy about this trip, but learn one thing: traveling with kids is so much different compared to flying alone. Getting prepared in the morning, airport check-in process, as well as exploring the city takes at least twice amount of time than traveling alone. There were so many places I failed to visit and so many other friends I failed to meet, but still grateful for this wonderful time out.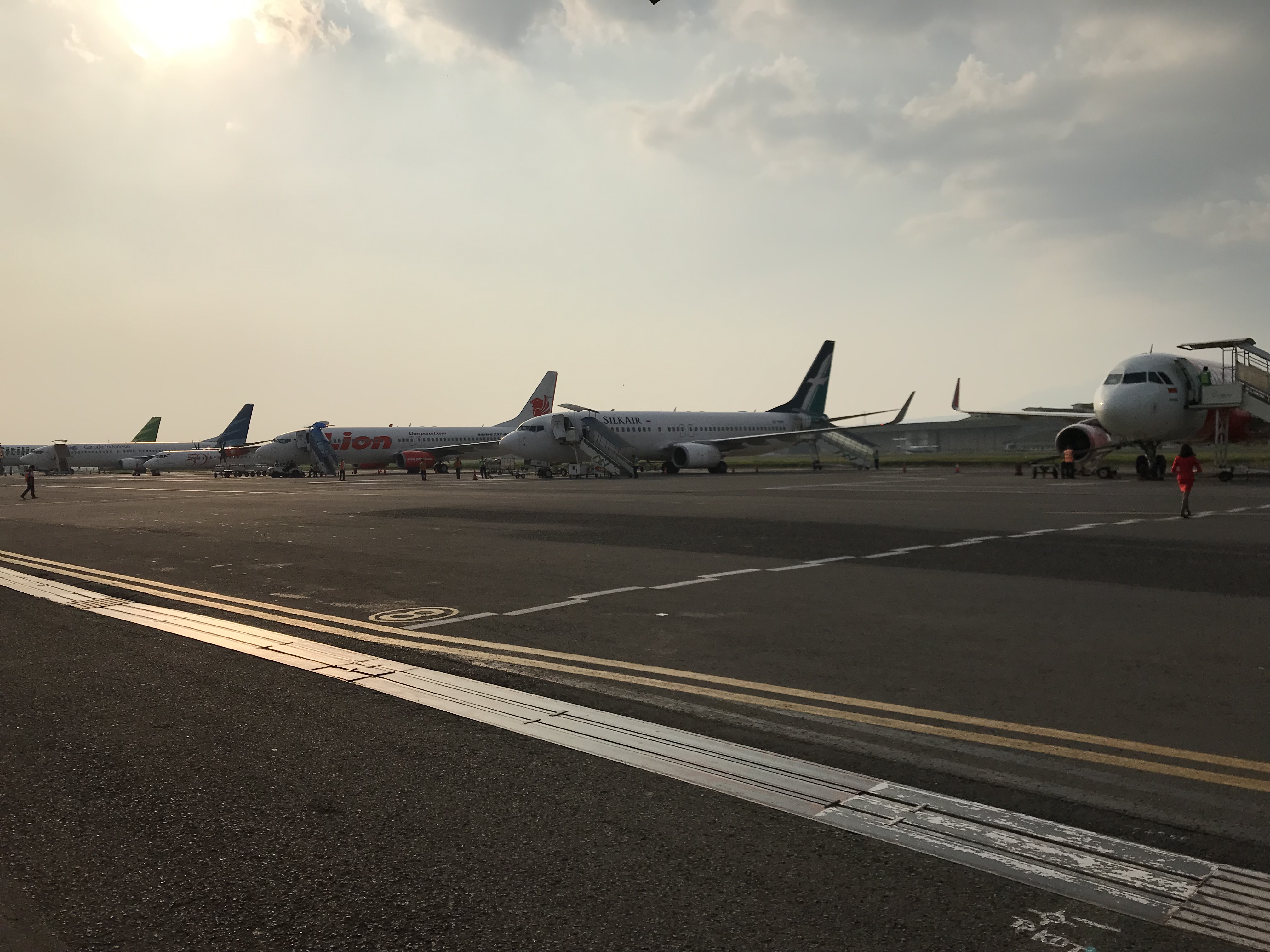 Update: Grammar fixes for first few paragraphs.