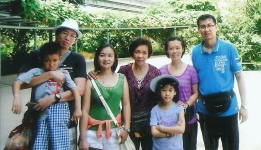 That morning, I somehow pushed myself to go attend a mass, although the weather was perfect for another sleep. Probably because I wanted God to bless our trip to Singapore. Yep, after a long time I was finally back to Singapore again, even for only 4 days. After the mass, I joined my wife Yunnie and my mother-in-law Tan for a road trip to Jakarta's Soekarno-Hatta airport. The trip from Bandung to Jakarta took about 3 hours with my wife driving half of the trip.
We waited for another hour at Soekarno-Hatta before we met the rest of the group: my sister-in-law Yeny, her husband Teddy, their son Aristides, Teddy's mom Ceem, and Ceem's granddaughter Adellyn. We then checked in, and at around 6.30 PM took off and flew about 2 hours to Singapore. Since we used a budget airline, the seat was randomly assigned and turned out I sat alone separated from the other group members. On the bright side, this was a chance for me to take some rest, since I would be their tour guide in Singapore. Of course lah, I had spent almost 4 years in Singapore before!
We landed at Changi Airport around 9 PM Singapore time. I originally intended to take them to the Lavender Food Square for traditional Singapore meals. However, considering most food stalls would have closed when we reached there and that the kids may have been very hungry by that time, we finally chose Changi Airport's Burger King for dinner instead.
We then took two cabs to our hostel at Lavender Street. I, Yunnie, Tan, and Aristides were in one cab, while the rest took another cab. My cab arrived earlier at the hostel and we started checking in. We stayed at a backpacker hostel, where the eight of us shared 6 bunk beds in one room. Finally we could get some rest before our adventure the next day, I thought. When the other cab arrived, I realized that I was completely wrong. Seeing that the other group bringing their suitcases down, Tan suddenly realized that we left two of our suitcases in the cab's trunk!
We were panic, since we did not take note of the cab's number, driver's name, nor the taxi company name. Yunnie and Ceem somehow recalled that the cab's color was either brown or red, and I recalled that it was a 7-seater cab. With help of the hostel receptionists Su and Min, and Changi Airport's hotline, we got to a conclusion that there were two cab companies having their fleet with brown/red color: Prime Taxi and SMRT Taxi. I then called them and reported to the left baggage department, who broadcasted the report to all drivers. Should the driver noticed it, he would reported it immediately. However, after a few minutes, there were no responses from both companies. We also tried to call other cab companies (just in case), with zero results as well.
The lobby closed at 11 PM, and the receptionists went back to their house to sleep. Therefore it had to be me and Yunnie who waited at the lobby's couch, in case that the driver realized it and returned the suitcases to the hostel at night. At the same time, I and Yunnie silently prayed that the driver would be kind enough to return the suitcases to us. Close to midnight, fatigue caught us and we fell asleep. About 2 AM, the driver we had been waiting for finally arrived. He woke us up by knocking at the door, and I quickly welcomed him and the suitcases. With the suitcases returned, we finally could sleep peacefully.
The next morning, we woke up early at 6 AM and after an hour went out to nearby Lavender Food Square for breakfast. For nostalgic reason, I had the traditional Singaporeans breakfast menu: boiled eggs, toasts, and coffee. Yunnie, who ordered Singapore noodle, kindly shared her breakfast with me too. Yummy! While the rest was finishing their breakfast, I went to a nearby 7-Eleven to buy some EZ-link cards for us to take public transport in Singapore.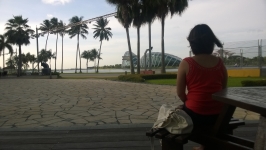 After breakfast, we rushed to take bus 857 heading to Singapore Flyer. Everyone except me and Yunnie were to catch a tour bus heading to Johor Bahru's Legoland theme park. Upon reaching the Flyer, we had to run a bit, since the tour bus departed at 9 AM. Luckily they managed to catch the tour bus before it was too late. After being on the rush, I and Yunnie spent a few minutes sitting at a bench by the Singapore River.
Afterwards, we took a bus to the classic Indonesian tourists destination: the Orchard Road. I showed the roadsides and shopping malls to Yunnie, but she wasn't really impressed. I myself also a bit disappointed since I couldn't find the $1 potong ice cream along the road. We then took a break at Lucky Plaza basement food court, where we bought two glasses of Bandung to refresh ourselves. I realized that there was an Indian food stall at the food court, so I didn't waste the chance to buy some food. I ordered a Southern Indian meal package, complete with the naan bread and masala sauce. Afterwards, we wandered around the basement to buy some souvenirs.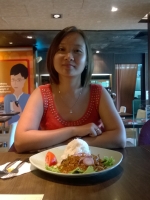 After being re-energized, we walked again and this time heading to Plaza Singapura. It was one of the place where Thai Express opens for business. Yunnie had been wanting to eat there, after her first encounter during our trip to Australia. We ordered the infamous soft-shell crab for main course and mango & sticky rice for dessert.
After lunch, we went back to the hostel and took a nap to pay our sleep debt due to the missing suitcases. We ended up sleeping for 3 hours before realizing that it was almost time to pick the Johor group at Singapore Flyer. We rushed out and took bus 857 one more time.
At Singapore Flyer, we arrived earlier than the Johor group. Luckily there was a Ya Kun Kaya Toast stall nearby. I ordered the French toast and coffee for another culinary adventure, also because we wanted to sit at their chairs. I also bought a jar of kaya jam to bring back to Bandung (which finally ended up in the airport trash can, since it was forbidden to bring it inside the cabin). After about 30 minutes waiting, the Johor group finally arrived.
We then went to Esplanade for dinner at the Makan Sutra. It was very crowded so we had to sit separately at two tables. I and Yunnie ordered chicken satays, but exchanged food with the rest, who ordered fried rice and other menus. One ordered Filipino's pork belly, and I had the chance to try it too. Too bad we were all too tired so we didn't really spent the time to enjoy the surrounding scenery. We went back by bus 145, which is easier since we only had to walk a few meters to the hostel after alighting.
That night had not ended for me and Yunnie. We walked again to the Mustafa Center, about 1 km from the hostel. I originally intended to buy a casio watch and X-box games, but with limited time I ended up buying only several packed foods to bring back to Indonesia.
The next day, I woke up a little earlier than the others. At around 5.30 AM, I went out for a morning run. From the hotel, I ran through Lavender Street and finally ended up at the Singapore Flyer (route here). It was nice to see other runners along the way, as there are not as many runners back in Bandung. I arrived at Singapore Flyer before the sunrise, then took a bus to go back to the hostel.
Back at the hostel, we were all getting ready for the second day of trip in Singapore. We had breakfast at a nearby kopitiam, who sells Chinese vegetarian food as well. While the rest had their vegetarian noodle and vermicelli, I consistently had traditional Singapore breakfast with coffee. Moreover, I also let them to taste another iconic Singapore drink, i.e. Bandung and have a slight taste of the traditional breakfast.
We walked again to Boon Keng MRT station to take the train to Vivo City. Yep, we were about to visit Sentosa island! This island, marketed as Asia's favourite playground, has a special meaning to me. I used to visit this island almost every weekend, as its proximity to Indonesia's Batam Island allowed me to get Indonesia's mobile signal. Therefore I could make a phone call to my ex-girlfriend (now my wife) with a much cheaper price compared to international call.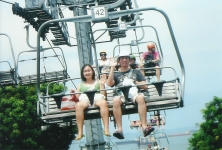 I took the group to walk along the Sentosa boardwalk to get there, which turned out to be a bad idea. At Sentosa, they looked very exhausted after walking for quite a long distance. However, playing games like the Sentosa Luge and 4D Adventure eventually soothed the pain.
Noon was approaching, so we started looking a place for lunch. I remember there was a Koufu food court at the Palawan Beach, so I took them there. However, to our dismay the food court was closed for renovation. We ended up buying microwaved frozen chicken rice from 7 Eleven. Finally we played 4D once again before leaving Sentosa.
From Sentosa, we stopped for a while at Harbourfront Centre to buy bakwa and other souvenirs to bring home. From there, we moved on to Clarke Quay where we had to separate for a while. Everyone except me had their early dinner there, while I spent some time to visit an old friend Christine near Serangoon MRT. After a short chat, I returned to Clarke Quay to join others for dinner at Bayang restaurant. As recommended by the others, I chose fried rice for dinner. It was nice, but a bit overpriced.
We then walked along the quay, and stopped at the infamous Turkish ice cream stall. It is famous for the seller who cleverly mock the customers before handing out the ice cream. Aristides, Adellyn, me, and Teddy took turn being mocked up by the seller. We also spent some time to watch people being thrown and swung at the Singapore GX-5 and G-MAX.
After everyone was happy enough, we went back to the hostel by bus 145, and took a good rest, as we would go home the next day.
In the morning, the hostel was already crowded with many Filipino people. Turned out they were all came from a company that sells well-being products, and came to Singapore for an expo. I had a little chat with one of them and quite sad to hear that there were a typhoon going on in Philippines with many victims involved. As the time of writing, the typhoon seemed to have eased out.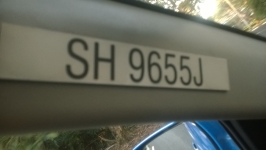 About 7 AM, we were all ready and took two cabs to go to the airport. The driver in my car was very friendly and talked a lot about Indonesian presidential election and other topics. I told him the story about our left suitcase, and ask his permission to take a picture of his taxi number plate just in case. He then told more stories about other left baggage instances he encountered. Normally, he said, unclaimed baggage will be donated after 14 days. When we reached the airport, he even asked us to double check that all our bags are with us.
Since we still had a lot of time and had our ticket electronically checked in, we took some time to enjoy our breakfast at the airport. While the rest were having Chinese food at Ruyi, I and Yunnie once again headed for Killiney Koptiam to buy traditional Singaporean breakfast, this time with addition of Mee Rebus. Thinking that we still had ample time, we walked leisurely to the immigration gate for check in. To our surprise, we were not allowed to enter the immigration area since we needed to have our documents verified by the Air Asia counter prior to immigration.
The document verification took some time, as there were a lot of people waiting in line. Queue in the immigration area also cost us a few minutes. That left us only few minutes before the airplane departed. Not wanting everyone to be left by the airplane, I left the others and took a sprint to the boarding gate to notify the Air Asia representative to wait for the rest. The others then could run at their own pace. Fortunately, although the representative refused to exend the boarding time, everyone arrived on time for boarding. We then flew to Jakarta nicely, ending the Singapore trip.
Trivia: check your luck and knowledge about Singapore. Based on the information provided in this post, can you guess at which hostel we stayed? Answer in the comment section and share with us how you managed to guess it!