Continued from Singapore-Australia Trip (Part 1)
Remember that Daniel left for good and was bringing back all his stuffs from Brisbane? On this last day at Brisbane, we prepared ourselves to go to the airport for a Sydney-bound flight. Me and Daniel spent about half an hour trying to squeeze in our bags in the car trunk. The car was not so big, so even with most bags in trunk, we still needed to carry some others  with ourselves inside the car. At the airport, we had to reorganize these bags, as the airline policy states maximum of 25kg per luggage.
Upon arrival in Sydney, I went straight to the car rental office while the others collected the checked bags. For our stay in Sydney, it was my turn to get the car from the rental office, for a simple reason: it's $25/day cheaper, compared to had Daniel had done the job. In Australia, the rental price is differentiated for renter below and above 25 years old for insurance reason.
From airport we went to the apartment we rented to check in and leave our stuffs there, and moved again to a Chinese Food restaurant near the University of New South Wales. My cousin Maureen recommended this area for looking for Asian food, as the university hosts many Asian students studying here.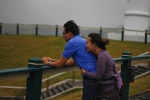 After lunch, Daniel brought us south to see two major attractions: Nan Tien buddhist temple and Kiama Blowhole. Nan Tien is one of the famous temple in Australia. Unfortunately, the temple was already closed when we got there, as it was already 5 PM. We could just see the tall pagoda from outside, and moved again to Kiama Blowhole. Kiama Blowhole is a hole-shaped cliff next to the sea, where the wave from the sea crushed the hole and sprung upwards. It was very interesting to see, but the wind was so strong we couldn't stay very long there.
We travelled back north to Sydney, where we stopped at a local supermarket, again to buy ingredients for our dinner. We had a simple western style dinner, then took a rest, for another adventure the next day.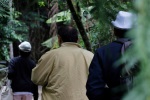 On the fifth day, we went to the infamous Blue Mountain area. For starter, we visited Wentworth Waterfall lookout to see some scenery. However, the main event for that day was the Scenic World. It was a tourist attraction where visitors can walk along the forest, as well take some rides available. We first took the cableway, that gave us an overview of the venue as well as transported us down the the Jamison Valley. From there we took the walkway that goes inside the rainforest.
After about half an hour of walking, we went back to the top, but this time using the scenic railway. It was like a regular railway, but the track climbed up with 52 degrees incline! Back on top, we had a quick lunch, and continued with riding the skyway. This skyway transported us across the valley of 270 meters deep. From there, we could see the Katoomba Falls, Three Sisters rock formation, and the Jamison Valley itself. This skyway also featured a transparent glass floor, where we could see the valley right below our feet. At the other side, there was not much to see, so we just took some pictures and went back.
By the way, this Three Sisters has an aboriginal story behind it. The legend says that it came from a three sisters named Meehni, Wimlah and Gunnedoo who lived in Jamison Valley from the Katoomba tribe. They fell in love with three men from neighbouring tribe, Nepean. However, marriage was forbidden by tribal law. Those men were unhappy and used force to capture these three sisters, leading to major battle between the two tribes. An elder turned these three sisters into stones in order to protect them. However, the elder died and no one could bring the three sisters back from their form. (Note: story adapted from Wikipedia)
A short drive from Scenic World, was the Echo Point. It was a place where people could get a closer look to the Three Sisters, and even walk there. However, to really get to the Three Sisters, one must walk through 800 steps, known as The Giant Stairway. It was not really worth it, so we just took another pictures at the Echo Point.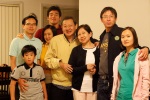 We ended our trip to Blue Mountains and headed back to Sydney, but stopped at Hornsby to visit my cousin Maureen & her husband Hendro. We haven't met them for few years and were happy to see them, especially their son Axel who had grown so fast. We had dinner at a Thailand restaurant nearby. I had the chance to taste the green curry, a traditional Thailand dish that I once often had when I lived in Singapore.
On our way back, we passed through the city of Sydney to take a glimpse of the Opera House, as well as to get familiar with our destination in the next morning. Upon reaching the city, we were surprised with a bright flash of light. It turned out that this was a flash for an automatic photograph at a toll gate, to take picture of our license plate. In Australia, most vehicles are equipped with a small device that enables toll roads to be paid electronically. Our rented car didn't have this device, so the gate reverted back to the old-fashioned way: record the license number.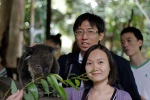 The next day was the sixth day, and we hadn't even saw a real koala in Australia! Therefore in the morning, we headed to the Koala Sanctuary, just a few minutes from the city of Sydney. Aside from Koalas, the sanctuary also hosted other Australian animals, like kangoroos and wallabies. Every few hours, the officer would let us touch and take some pictures with the koalas.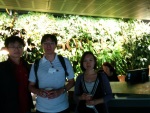 Few minutes before noon, we headed back to the city of Sydney. While Daniel and my parents went to see a relative, I had a chance to meet my friend Andrian and Prima who work at Google Sydney. I once visited Google's office in Sydney long time back, but turned out that they have moved to a new building. Andrian and Prima took us for a short tour, then stopped at the cafeteria for lunch. For those who doesn't know, Google provides free meals for their employees (and their guests). Lucky me to know some of Googlers!
We visited the Paddy's market afterwards. This place is a market specialized for Australian souvenirs, ironically sold by mostly Asian businessmen. Being made in China products, the price is much cheaper than ones found in other tourist attractions. I and Yunnie bought a travel pillow and some kitchen utensils to take home.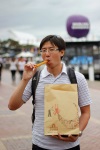 We walked again, towards the Opera House and passing the harbor area. It was about 5 PM, so we walk along with office employees, who had just finished their work and on their way home. Opera House during the day was not much different compared to at night, but we didn't waste the chance to take another pictures.
From Sydney, we drove to Wahroonga, where we met a distant relative, uncle Tjiu Giap. I personally hadn't met him before, but he was a very nice person. He welcomed us as we were his special guests, and brought us for a Chinese food dinner nearby. What amused me was that his wife also started an innovative business of "rondofile", a patented design of file holder, that allows one to write on the paper even while being held securely inside the holder.
On the last day, we only packed our stuffs and headed to airport for our journey back to Indonesia. I and Yunnie checked in first, as we had earlier flight, while the others flew 2 hours later. Upon check-in, the officer asked us whether I and Yunnie intentionally picked a separate seat. Air Asia flights do not guarantee persons traveling together will have seat next to each other, unless by paying some amount. As we didn't pay for that, we simply said no, it was automatically assigned. Surprisingly, the officer gone the extra mile by moving our seat so we could sit next to each other. A simple gesture that really made our day!
It was another long flight, but at least it was a day flight. We transit for few hours in Kuala Lumpur, where we met our college friend Aswin. We met just in time before his flight to Jakarta for a friend wedding, so we didn't chat a lot. At this airport we also managed to get some meal for dinner and brought some jellies to bring home. Then we continued the flight to Bandung, and finished our journey.
Note: most pictures in this blog were taken by Daniel. You can check out his portfolio at this address: http://dnartworks.com.au