This Chinese New Year was different than before. I called most of my relatives by phone, instead of visiting them. This is because, me and my wife Yunnie had a flight to catch at 11.40 AM. Yes, we were in another journey. This time we were on a trip to visit my brother's baptism ceremony in Brisbane, Australia, plus a short transit at Singapore.
Imagine any TV serial theme song playing in…
What I didn't tell most of my friends was, I had 7+ hours of transit in Singapore. Well, to fly from Bandung to Brisbane we had two choices: through Singapore or Kuala Lumpur. KL didn't sound very interesting, as the airport is super far from the city, and the budget terminal doesn't have that much of perks. Aside from better airport, travelling to city is relatively easy: enough time to show Yunnie some of the interesting places in the country I lived before. I also selected one person to visit in the remaining time, and finally decided to visit my former landlord (Auntie) and her daughter (Christine).
When we landed at around 3 PM, the first thing we planned was lunch. With many food stalls, Lau Pa Sat seemed a good option. So we took a train to get there. Unfortunately, upon arrival we found that the place was under renovation, and there were only limited selection of satay stalls open. We then took a bus to go to Esplanade theatre, hoping to find another food there. We finally had our meal at Thai Express. As it was the Chinese New Year (CNY) day, only limited choices of menu were available, and we were charged a whopping price of $50 for two persons.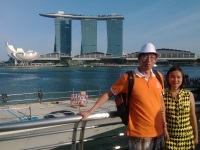 After lunch, we took some pictures at the iconic Marina Bay Sands and Merlion statue nearby, and continued our journey to Auntie's house in Commonwealth. As our schedule was really tight, we took a cab to get there. Luckily the driver was also in a rush, so the trip only took a few minutes. The driver warned us that finding another cab on CNY will be troublesome, which proved right when we were looking for a cab from Auntie's house.
We spent some time at Auntie's house for some chat. It's been a long time since last time I met her. When I was in Singapore for almost four years, I lived in her flat. Age had caught her, but she was still in good condition to accept guests. She could even served us soft drinks, despite her weak legs condition. After a few minutes, we moved again to Christine's house.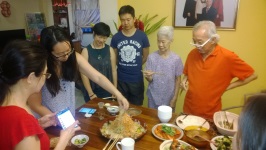 It was actually difficult to find a cab from Auntie's house, hence we were slightly late at Christine's house. Everyone was waiting for us for the Yusheng ceremony. It is a Singaporeans' gesture to welcome the new year. A dish, consisting mixed vegetable salad and raw seafood, are thrown up using chopsticks, symbolizing a never ending flow of prosperity. We then had dinner and another good chat, with topics ranging from a recent riot to COE prices. With our body fully reenergized, they drove us to the airport, to catch our next flight to Gold Coast.
It was an overnight flight, a 7+ hour overnight journey. I should have slept at the plane, but it was difficult since I was too excited to get to Australia. Yunnie seemed to enjoy her sleep peacefully, so I spent the night by walking around the aisle every now and then, or waiting the sunrise to come up.
We landed at Gold Coast airport just as scheduled, 8 AM local time. It was very crowded and time consuming at the immigration and custom, as the Australian government are pretty strict on importing food and plants to the country. There was one interesting type of check, where about every 10 persons were asked to stand in line, while the officer brought down a dog to sniff each of the person and the hand carries. It was interesting, especially in the modern age where most labours have been replaced with machines.
My brother Daniel and my parents were already waiting for us at the exit gate. Daniel drove us to see around Gold Coast for few minutes, then headed to Brisbane, where we were about to stay for few days. At Brisbane, Daniel brought us for lunch at a small Indonesian restaurant in Cooper Plains called Sendok Garpu. It could be that I was very hungry, but they served the best Bakwan I had ever had, even better than what I found in Indonesia.
We headed home afterwards, to an apartment where Daniel has stayed for months. We took a quick shower, before leaving again to the church for final practice of Daniel's baptism the next day. On the way, I and Daniel search a good baptism name for him, as I would be his godfather (yes, you read it right). In the end, we picked Peter Damian, who was declared as Doctor of the Church. We reached the church, and (mostly Daniel) started the practice. It was very exhausting, blaming the long flight and the hot sunny weather in Brisbane.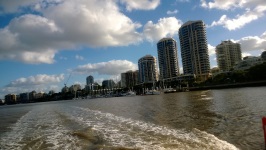 After 1-2 hours of practice, Daniel and I was ready for baptism ceremony the next day, and we all went to New Farm Park, one of the parks in Brisbane. There was a small dock, and from there we took a public ferry that transported us to another part of the city, while enjoying the river surroundings along the river. Interestingly, this ferry is integrated with TransLink public transport ticketing system (similar to EZ-Link in Singapore), therefore some residents are also using this mode to transport them back home, as well as to relieve the stress from work.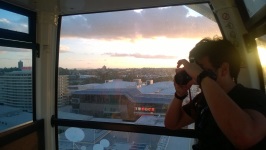 We alighted at South Bank, where there was a market selling interesting stuffs. One of them was a real banana, stuffed with various fillings like chocolate, hazelnut, etc… The interesting part was, that the peel was still there, making it look just like a regular banana from outside. We also didn't miss the iconic attraction of South Bank: the Wheel of Brisbane. It is a giant Ferris wheel that allowed us to see the entire city of Brisbane from up to almost 60 meters above the ground. Daniel took us just in time to see the sunset, from the top of the wheel. That summed up South Bank, and we went back with the same ferry, continued with Daniel driving us home.
As eating out in Australia is expensive, Daniel had got used to cooking at home. For that night, Daniel had just learnt a new recipe: Vietnamese Spring Roll. It was a mix of various fresh vegetables, chicken meat, scrambled eggs, wrapped with a special Vietnamese wrap. Yunnie normally doesn't like non-mainstream food like this, but thanks to the exhausting flight we had the previous night, she easily grabbed few portions of it. As a person who likes any food, I had even more portions. Yummy!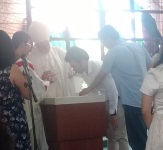 The next day, I had the chance to wake up later, as we didn't have any plans before the baptism ceremony at 10. When I woke up, Daniel already prepared us regular American breakfast set: toast and bacons. We went to church afterwards, and attended the baptism ceremony. The committee held a social lunch afterwards, where people brought their own food to share with others. Daniel himself brought the same bakwans we ordered from Sendok Garpu. Sadly, this also served as a farewell party for Daniel, as he would leave Australia, at the end of this trip.
Also on this occasion, I met Arnold, a long time friend. While we both joined Canicomp (Canisius Computer Club) at high school, we separated afterwards as he continued his study in Jakarta and Brisbane. I myself moved to Bandung and Singapore. It was nice to exchange stories of ourselves after a very long time. It was interesting to note that we didn't really talk about computers anymore. We talked more about our life, as well as interesting spots in Brisbane. He also recommended several interesting places, one of which Mt. Cootha, where we could see the entire city of Brisbane.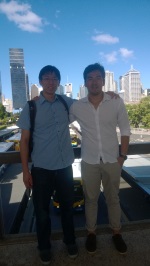 After the religious stuffs, we continued the day by visiting the downtown of Brisbane. It was nice to see people spend their time enjoying the scenery and other people passing by. We walked to Southbank -where we took the Brisbane wheel the day earlier-, and back to the downtown. In downtown, we grab some Churros at Daniel's recommended San Churro cafe. Though expensive, it was very delicious. We closed our downtown trip by visiting a local supermarket, to get another ingredients for our homemade dinner. Yunnie also brought several Indomies, for our supply of homesick relievers. It was a simple dinner, followed by a good night sleep.
To welcome the morning, Daniel brought us to Mt. Cootha even before sunrise. We planned to see a beautiful sunrise from the mountain. It was just a 15 minutes drive from our house, but unfortunately it was cloudy at that time. We didn't manage to see the sunrise, but at least we could see the entire city, just as Arnold promised. We then went back, had some breakfast, and headed to Sunshine Coast, where Daniel we had barbecue for lunch. We picked a very good spot where we could see the ocean clearly, but it was very very windy. After a few trials of keeping things in place, we gave up and moved to another place where there were less wind. The view was not as good, but at least we could cook. After lunch, we moved to the former place to grab some pictures.
In the evening, we were mostly at home. Most of us took a rest that evening, preparing ourselves for Sydney trip the next day. Meanwhile, Daniel was very busy collecting all his stuffs, as he would leave the house he has lived – for good. There was this bike that he had owned for months, too good to trash it, but too big to carry back home to Indonesia. Being a new man for others, he finally decided to just give it to his friend (Canisians: pun intended).
To be continued…