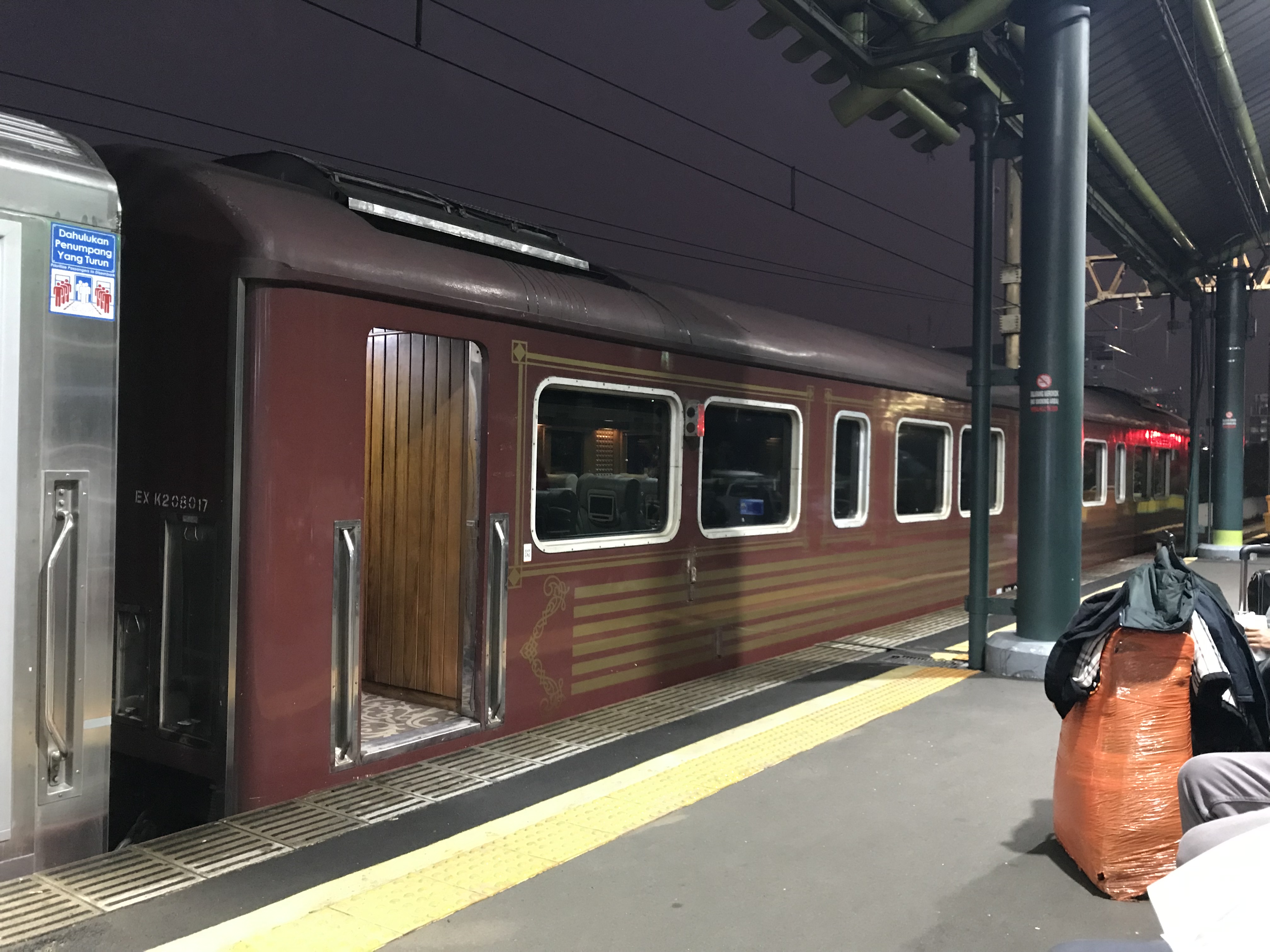 As you may have known, PT Kereta Api Indonesia launched Priority class for at least a few months back. It is intended to be better than already good executive class, and only available on selected time / destination. The price is twice the the price executive class (+/- IDR 250.000,- for Jakarta-Bandung one way) so before spending that extra amount, I tried to search the internet to find out what I would get. There was not much useful information out there, other than articles written based on (supposedly) PT KAI's press release. Hence, I wrote this article to try giving some more useful information.
First, what did I consider as "not useful"? The article I found said there are free snacks provided. Good, but does it worth my 250k? Long time back if you go for executive class you would get a piece of bread and a mineral water in plastic cup. Mini bar that provides free coffee and tea. Will the coffee be as good as Air Asia's "Altitude Blend", or just instant coffee. The silliest information was "toilet inside the car". Executive and business class also have toilet inside the car. Does Priority has the toilet in the middle of the seats?
Let's find out!
I went to Jakarta for a business trip, and the return trip was late enough to have that Priority class available. Since half of the fare was paid by the company, plus 25k discount from travel agent, I decided to upgrade to Priority.
Boarding took longer than the other classes. They held us outside until they finished cleaning the car interior. Of course they also clean cars from the other classes, but this one need to be really clean, I guess. The car floor is covered with carpet, giving a lavish look. However, this Priority car seems to have come from an older "Kereta Api Wisata" car. Age does not lies, and you can see taints on the carpet and other equipments.
Video and audio entertainment system is provided for each seat, but the titles are limited. At least, they have this "Just for Laugh" series that was aired in executive class long time back but not anymore now. They also have "Toy Story" movie from 1995! Perhaps movie licensing is too expensive today. Legend says free Wi-Fi is available, but after entering my personal details as prerequisite, it failed me by not connecting to the internet.
The minibar, as promised, serves free coffee and tea. To be precise, they provide hot water and you can make yourself instant coffee, tea, or even bandrek (ginger drink). Be a good passenger and don't do as I did, that to bring hot water down the aisle to your seat. If you are unlucky, turbulence will let your hot water spill unlucky passenger next to you when you walk. The coffee selection were instant coffees, both sweetened and pure.
Shortly after departure, the attendants distributed the "free snacks". One pack consisted of two Holland-Bakery brand breads, one pack Mr. P peanuts, and a bottled water. Not bad at all. The real deal was the free-flow kuping gajah snack (literally elephant's ear) at the minibar.
First time I wanted to try the toilet, it was closed for maintenance, so I had to walk towards the executive class to use their toilet. How shameful. About an hour later, I could already use the priority toilet. It did look like a hotel's toilet, but not a five-star hotel one. Perhaps three-star. For sure, the room was significantly larger than the toilets in other classes.
That's all I can say about the Priority Class.