Every year, our team at PT DNArtworks Komunikasi Visual spend a few days for company outing outside our city of residences. The team itself is split into Jakarta and Bandung team. While in previous years we met at our destination, this year we met at Jakarta, and flew together to Malang.
The Bandung team, seven of us, were supposed to meet at the train station in the morning. However, one member Carissa cancelled last minute, due her illness and an important life event that would happen a few weeks later. Therefore, six of us traveled to Jakarta by Train.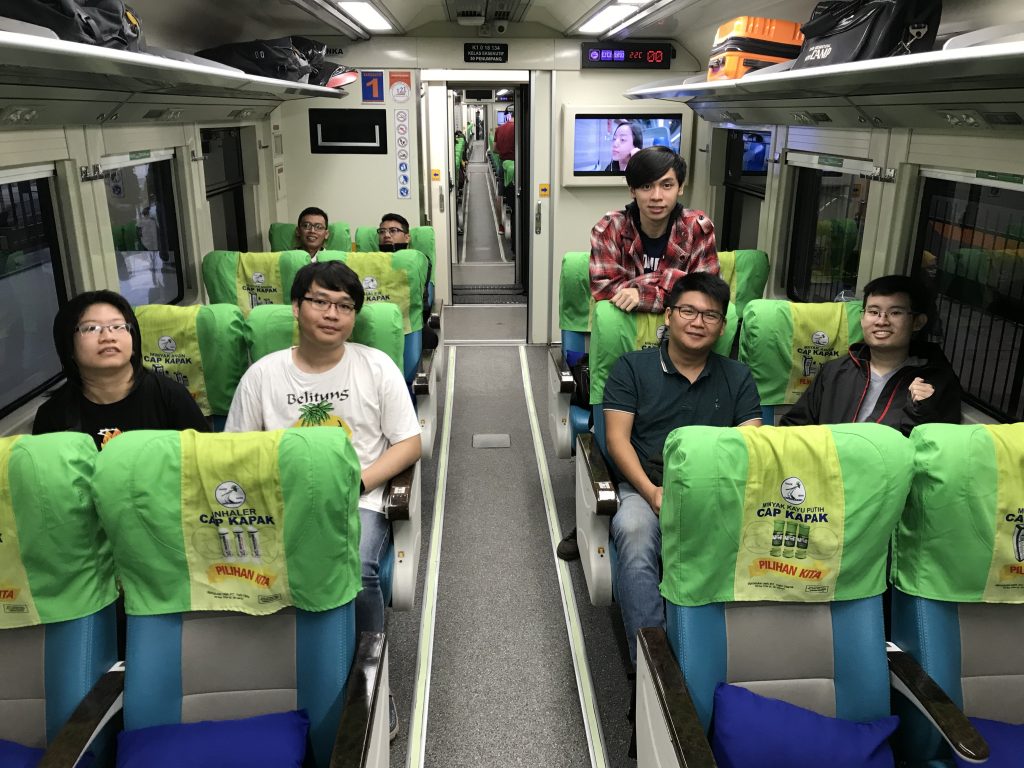 We arrived at Jakarta three hours later, and took a Blue Bird cab to our Jakarta office in the Serpong area. As usual, picking the right taxi was difficult, due to illegal taxis pushing us to use their service instead.
After arriving at the Jakarta office, we had some light discussions then headed to O! Fish restaurant chain nearby. They serve western style seafood menu, with healthy options to cater concerned millennials' need like me. The most interesting option for me was to replace potato with quinoa seeds, a food normally consumed by body builders, at least in Indonesia. We then had a team photo.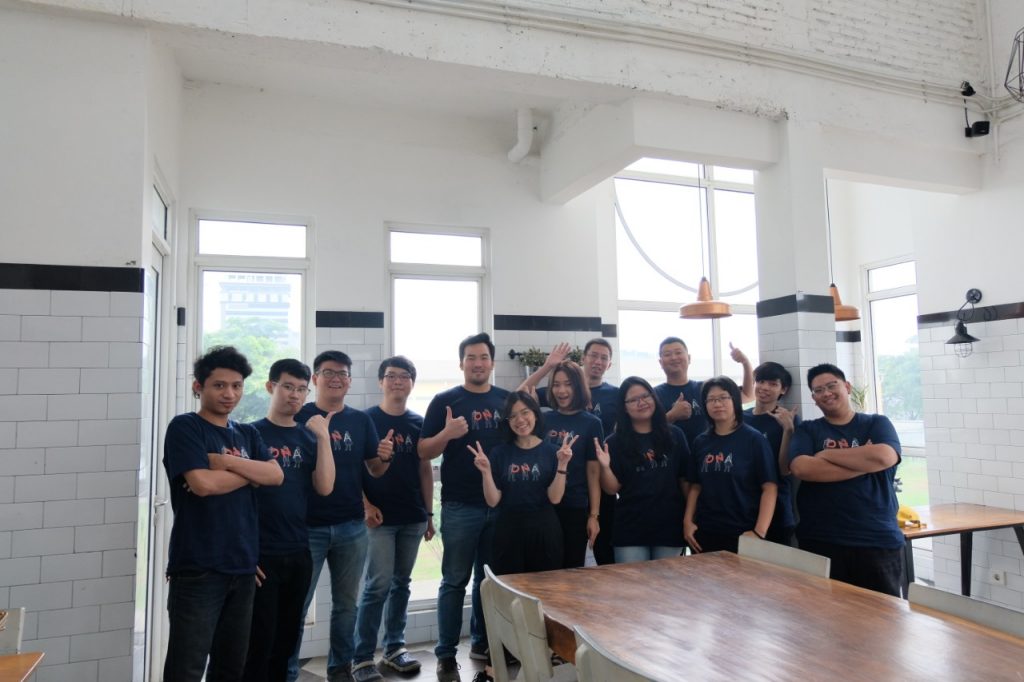 We spent another few hours at the office, then Bandung team headed to a hotel nearby in Alam Sutera area. We had dinner in a Manado restaurant called Sarang Oci, which was not disappointing at all. The best part of it was klapertaart for desert.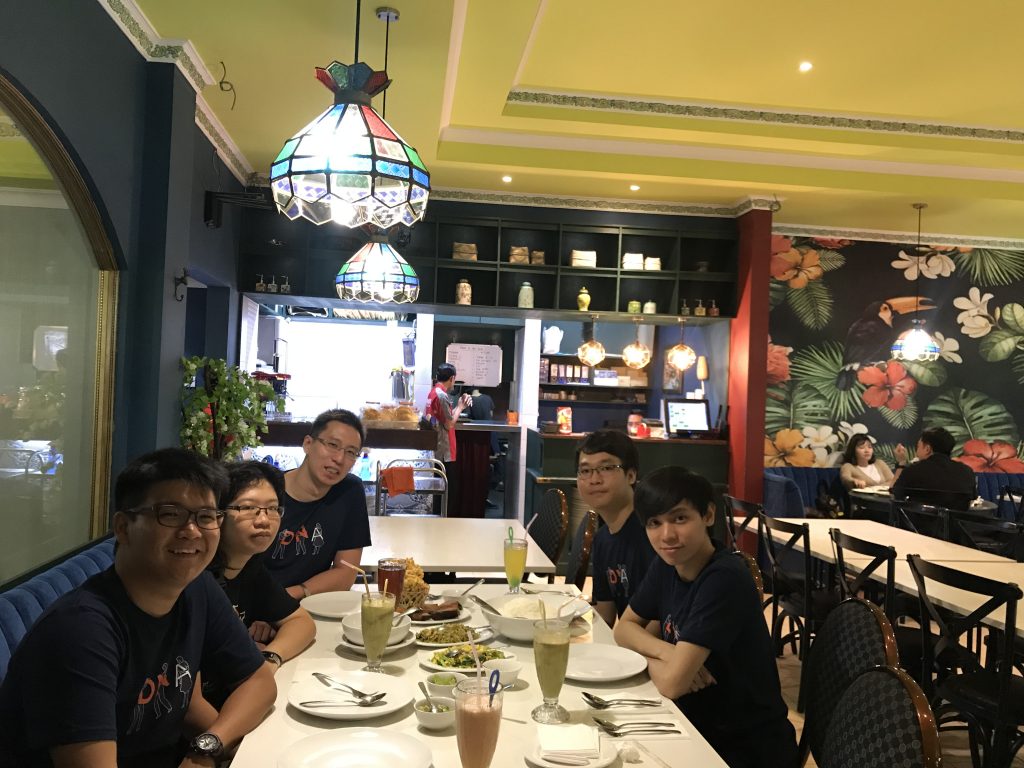 The next day, we checked out early at 4.30 and took another Blue Bird cab to Halim Perdana Kusuma Airport. At this point we noticed that for a group of 5 or 6 persons, it is less expensive to take a Blue Bird van compared to GrabCar 6, since Blue Bird charges the same price for small and large car. The flight from Halim Perdana Kusuma to Malang's Abdul Rachman Saleh airport was slightly delayed but generally smooth.
Our tour guide was already there at the airport to pick us up with his minibus (commonly called by its brand: Elf). Without further delays, we went to have a simple Javanese lunch near Jawa Timur Park (Jatim Park) 3 then went to the Jatim Park 3 itself.
Jatim Park 3, the latest of the park series, is a very big area, hosting several thematic parks like The Legend Stars park, Dino Park, and Museum Musik Dunia. On our trip, we visited The Legend Stars park, which surprisingly took more than two hours to explore, even by skipping some attractions. The park mostly shows replicas of various famous people and buildings from around the world. It was clear that the park was built to cater the need of most Indonesians to get the best spots for taking pictures. Some of the replicas like President Jokowi have a very good detail and worth to appreciate.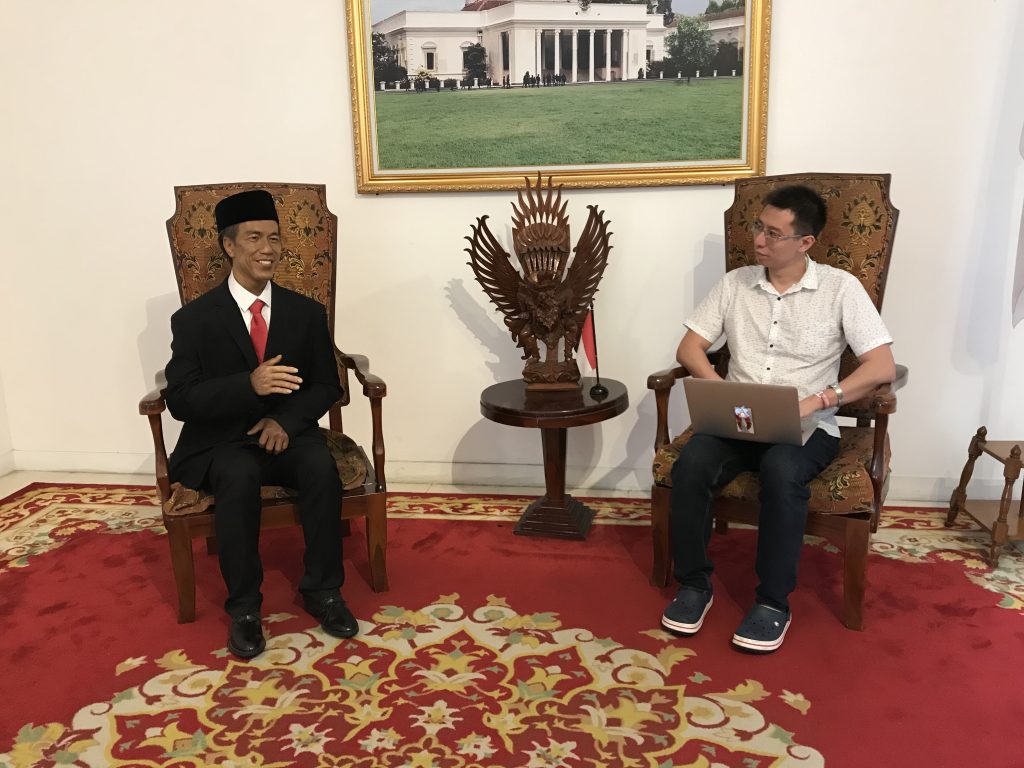 After Jatim Park 3, we visited another park, that is the Museum Angkut (transportation museum). Similar to The Legend Stars park, the museum were mostly filled with replicas of various vehicles, ranging from trains, airplanes, and cars (mostly sport cars). At certain times, they presented live attractions, like the one I saw at 3.30, where they showcased 3 sport cars drifting on the road. Overall, the museum was huge as well and it will take time to explore everything, and even longer if you take pictures in different spots.
We had early dinner at a bakso (meatball) warung called "De Stadium" which looked humble from the outside but turned out "famous" as it is frequently visited from celebrities around Indonesia. Just before dawn, we headed to our hotel for our first night, De'Boutique Style Hotel. We had a chat at the social area in the hotel, while tasting Malang's Cwie Mie and Tahu Petis, then went to bed early.
Just before midnight, we woke up and checked out from the hotel. With our luggages in the van, we headed to a small town called Tumpang. From there, we transferred to three 4WD jeeps that would take us to the Bromo mountain area.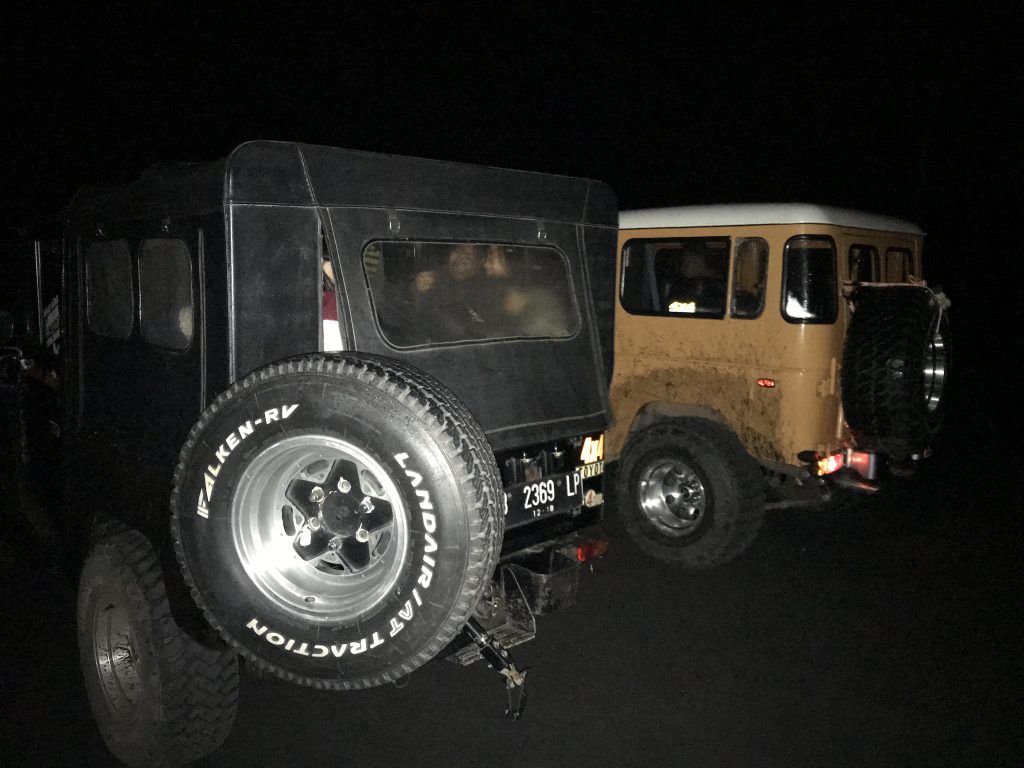 We arrived at the viewing point around 3.30, and waited another hour to view the sunrise. While waiting, we had some hot drinks and instant noodles to warm our body. The price for the meal, though expensive, was not that bad. It was the cost of toilet usage that surprised us: IDR 5.000 for regular use and IDR 10.000 for a shower. We found out later that they cannot make a well due to the high sulphur concentration, making the water practically unusable. This made them to buy water transported from somewhere else hence make the cost higher. The view of sunrise was amazing, but however good the camera is, it will not capture the breathtaking view if you were there yourself.


We had simple lunch at a warung nearby, then traveled another 3 hours to our next destination: Plataran Bromo. Plataran Bromo is a rather up-class hotel, which is located near the peak of Bromo. It is not too far from the spot we visited in the morning but our Elf can't navigate through such road, hence we had to take a longer route.
Even the longer route was very nasty for our Elf. There were so many sharp turns and steep ascends, making the drive difficult and slow. We took the wrong turn twice and had to spend a few more minutes only to turn around. When we arrived at Plataran, the driver decided to just stay overnight there. He would rather sleep in his Elf rather than going back and forth such difficult route to pick us up the next day.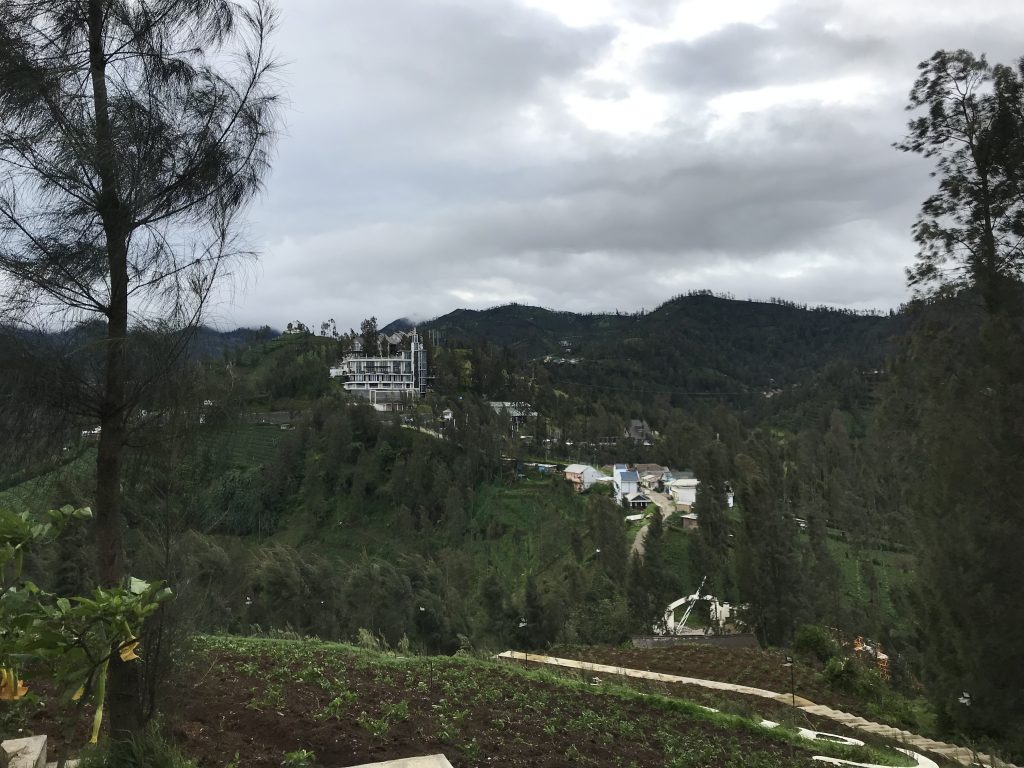 The view and facilities of the hotel was actually very nice (and expensive). We had a family room with a pool, but the water was just too cold for swimming. They provided complimentary fresh fruit, which unfortunately attracted flies. Espresso machines and various tea bags were also available. Considering the price food in this hotel was just too expensive (IDR 120.000++ for a fried rice!), we started to think how to get food in this remote area.
The best option we found at that time was three of us to borrow a bicycle each (free) to cycle 2,4 km to the nearest warung we found on Google Maps that sells basic meal options. Seemed hard, but not impossible we thought. It was 3 PM, and we decided to start cycling at 4, to give time for some of us to explore the hotel area. One group went to the lobby to play billiard, another group went to the hotel-owned glasshouse. I myself stayed at the hotel to write this blog.
A few minutes later haze started to come, wind started to blow strong, and at 4 it was raining hard. I texted the group whether we wanted to continue buying food or switch to another plan. The glasshouse group replied that they were stuck inside the glasshouse due to the heavy rain. I offered them to walk there to bring some umbrellas, but when asking the reception the route to the glasshouse, he offered to pick them up with car. What a delight!
The glasshouse team was successfully rescued, and it was time for a free afternoon tea at the restaurant. We had our light snacks while discussing our alternative plan for dinner. It was too late to cycle there, since we could not take risk cycling after dawn and the strong wind didn't look like it's going to stop soon. There were no go/grab-food drivers available around. We also crossed out the option of borrowing the hotel's car to buy those cheap dinner (we are Asians, we had to save our face). The tour-provided Elf was not an option too, since we didn't to trouble our driver furthermore due to the difficult road conditions.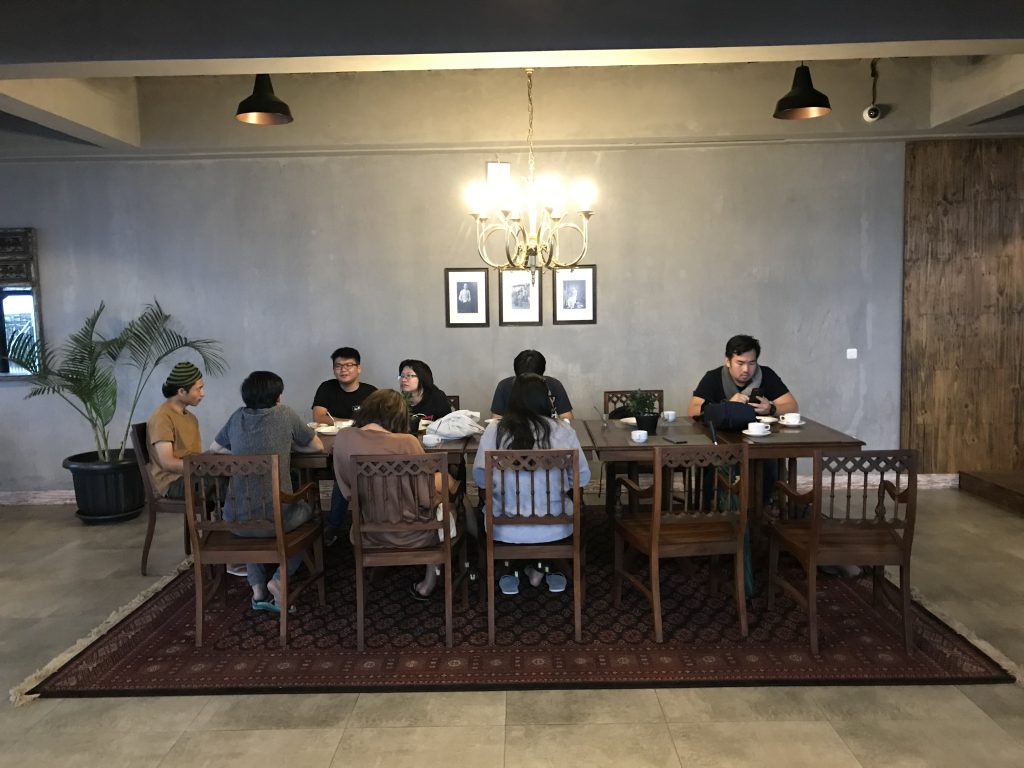 As a backup plan, we ate more portions of the snacks provided, which ended their service at 6 PM. Then Daniel suddenly had this idea: Contact the warung's WhatsApp number listed in Google Maps. Long story short, we managed to order the food with an ojek to deliver the food to our hotel. Daniel, Hizkia, and Eko waited at the lobby for the food to come, while the rest went back to our villa. The strong wind didn't stop, it made scary whistling sounds and throw some small objects outdoor. Thanks to the strong foundation of the villa we stayed at, we felt very safe inside.
It took some time for the food to come. Around 8 PM, the reception called our room, saying that a courier came to bring our food, under the name Mr. Daniel, and we had to pick it up at reception. I immediately called Daniel, who were supposed to be at the lobby to wait for the driver to come. Daniel and friends picked up the food, and we had a lovely dinner. It turned out later, that people entered and left the lobby, making strong cold wind enter the lobby when the door was opened. They decided to play billiard instead in a separate room, while asking the warung to inform them when the food is about to be delivered. The warung didn't inform them.
I slept early that night, to safe my energy after being drained the days before. I was surprised myself to know that I could sleep really well amid loud chatter from the living room, cold weather, and loud wind whistling. The bed was just too comfortable. Just like my wife said:
Price don't lie

Pascal's wife
Around 4.30 in the morning, I already woke up and couldn't sleep anymore, due to sudden realization that my bedroom window (more of a glass wall, actually) points to east, and I could have a chance to see the sunrise. However, due to the clouds the sunrise was not that beautiful. I wanted to have a morning exercise, but the wind was still too strong and cold. An hour later, I decided to just go outside anyway, borrowing the bicycle and climbed to a hill just across the hotel. Even only for about 200 meters, it was an exhausting journey due to the cold winds and steep climbing.
I was glad that I was back at the hotel without passing out. After a while, I went out for breakfast with Daniel, followed by the others. There were so many options available, but I opted mostly vegetables and fruits, because I have had too many junk food the days before. We took some group pictures at the hotel, then checked out.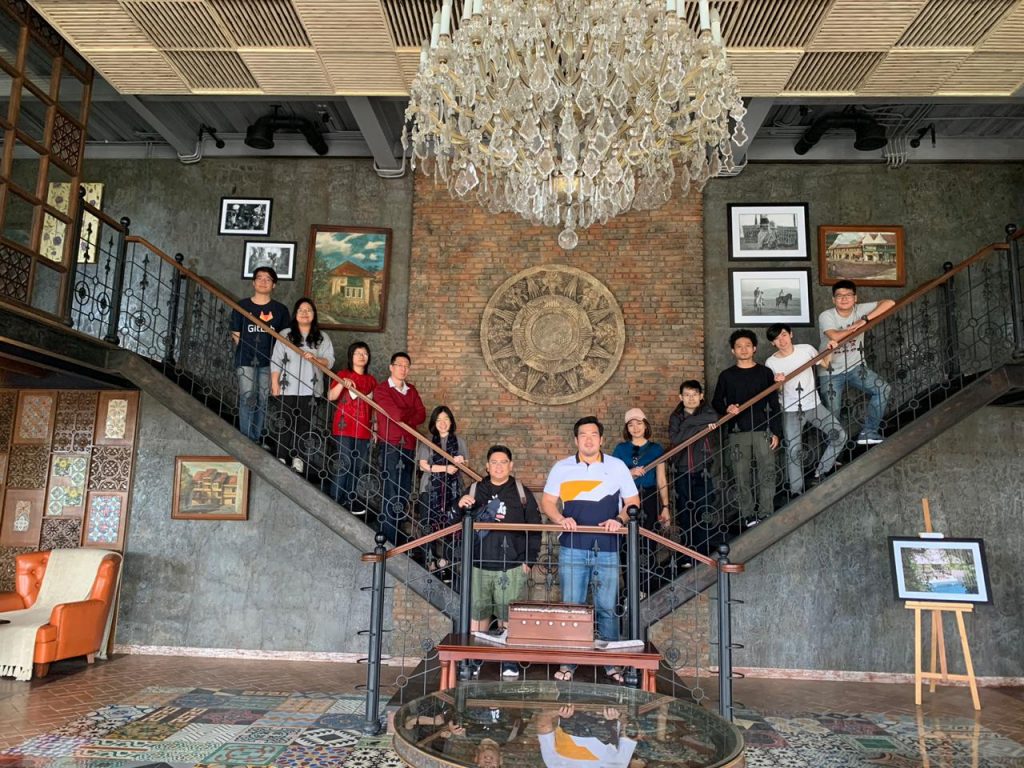 Our minibus took us back to town, where we had simple lunch, then moved again to the airport. The flight was smooth, and we arrived in Jakarta earlier than expected. We waved goodbye to Jakarta team since we had to take another train trip to Bandung, which marks the end of this year outing.