It has been almost 4 years since I moved to Singapore, and that is not a short period. Shortly I will be leaving this so-called red dot country to start a new journey in Indonesia. There were ups and downs during my stay here, but all gave a wonderful experience.
It all started when I joined Gemalto, early 2008. I arrived here with my dad, to meet Ronny who became my roommate for about a year. He just graduated from NUS, and looking for an inexpensive room before securing a job. To save money, we shared a non-airconditioned room near Commonwealth MRT, living with the landlord who is an auntie (old lady).
Though Ronny moved out after about a year, I stayed at the very same place for the rest of my life in Singapore. The place is not exceptional, though. I didn't install an air conditioner, and since it's located next to a main road, it's quite noisy during the day and sometimes at night. At some months, the room temperature at night can be up to 35 °C, leaving the bed drenched with my sweat. However, I am the type of person who prefer to accept things and avoid troubles (or as the Chinese says, cincay), so I kept staying here. Anyway, what doesn't kill you just make you stronger, no? The good thing about it is the location, being near to MRT, my office, campus, as well as Orchard road; all accessible within 20 minutes. And here's a little secret for you to save money, if you can live peacefully with a single auntie or uncle, usually the room price will be discounted, since it's more important for them to have someone to talk to than the money itself.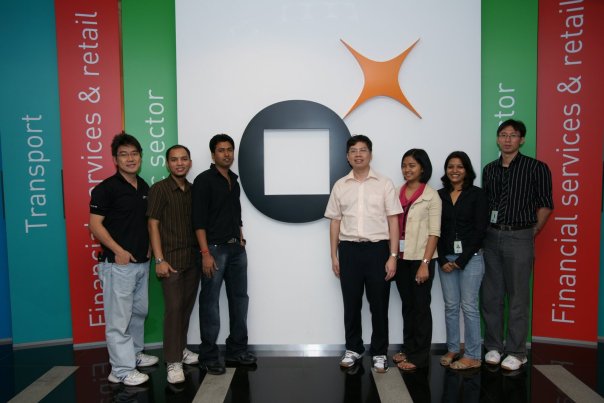 The cincay policy also applied to my job, which I have been taken also for the whole life in Singapore. It is very clear until today that working in this company does not give you a lot of money, but instead more of experiences, upgrades (in term of trainings) and flexible working hours. There is one thing I was trying to prove, that you don't have to work late to perform well at work. I am glad to say it proved well, at least in the work environment I was. The key is to give as much as your time in the office hours to work, and strive to optimize the way you work to make it even more efficient and effective. It is also important to spend your time outside the office hours not to work, so that you'll start afresh when you work the next day. And lastly, especially in Singapore, be prepared to accept your colleagues saying "Wow, your team is always relax one, never go OT (overtime) what!" (Singlish pun intended).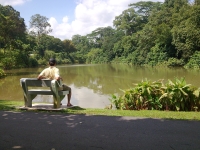 After my first few days in Singapore, I visited a friend who had spent more than 4 years in Singapore, and he gave me this wise advise "You'll get bored here in just a few months". It is true that one can get easily bored in Singapore. Singapore may have more shopping malls compared to Jakarta, or larger than the town of Kuta (Bali), but everything here seems to be, well, in order. I don't know how many times I got lost in a new HDB (residential) area, because all the building looks the same. When I go to work, I take the same bus through the same road everyday, unlike in Jakarta where you have to find alternative roads everyday due to traffic jams. Having said those, there is small hope to go out of boredom in Singapore. If you have more cash, flying abroad to nearby places in Asia is a good option. Otherwise (or if you want to save), it's also good to look for alternative interesting places in Singapore, as you can see in my blog posts. Public parks and museums are good start, and they are usually free or very affordable.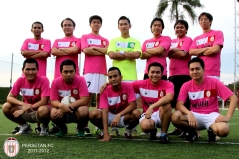 It was surprising at the beginning to know that Singapore is in the top 10 of highest life expectancy countries in the world, despite the stressful life here. However after spending few months here, the reason became clear. People really care about their health, watch what they eat, and do physical exercise – a lot! Countless of marathons are held every year, also running events with lesser distances like 5km and 10km. Realizing that me and my family has history of hypertension, I started to follow the healthy habit. I started with the child's play distance 1-2 km, until my boss told me that running shorter than 15 minutes would not have significant impact to the heart. Despite whether it's true or not, I started to push myself to run longer, up to 7km. For variation, I also went swimming in nearby swimming pools, which is ridiculously very cheap, ranging from $1 to $2 per entry. Finally, I managed to gather few fellow Indonesians to play futsal almost weekly. Ironically that futsal sessions led me to a knee injury that forced me to get a surgery and absence from sport for few months (see the story here). Despite that, I am glad that I now have the physical and mental capability of living a healthy habit, which I look forward to keep when I am back to Indonesia.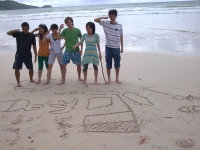 Last but not the least, life is not complete without friends. And one of the most important friends I knew here was those people from Institut Teknologi Bandung. Starting from a friend I knew in a project back in college days, she introduced me to several other friends from various departments in that university. All being new to this country, we were close together in our early years. We even managed to visit Phuket together for a vacation. Unfortunately, after that few years each of us started to settle down, and occupied by different priorities: me taking my master degree, a guy committed to his girlfriend, a lady getting married, others went abroad for study, and et cetera. However we do try to meet once in a while during birthday celebrations and keep in contact through social media means.
Well, those are a bit of story of my life in Singapore. When I post this, it should be few days before I leave the country. Whether I will still write in this blog, that's a question for me, too. Thinking about the places in Indonesia that I can write about…