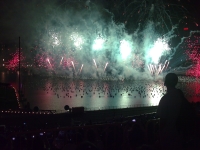 If there is the time I don't like Singapore, it could be this weekend. It happened few days before my last day here, so it could be bias though. However, read on and you judge me.
Last Saturday, I went to the library to read a book I was interested at. I went out from home at 9, but forgot that the library actually opens at 10. This was not the first time I arrived too early at the library, but this time was different. Few months back, when I was too early, I just stop by a nearby hawker center to get a cup of coffee while doing something productive with my laptop. But this time, the hawker center was not there anymore: it was demolished and replaced by construction of new HDB. All right, there's no hawker center, but I remember there was a small park nearby with chair and table made of stone. So I went there, only to be disappointed since they were not there anymore. In the end, I spent the waiting time by sitting at the floor in front of the library, as with other fellow nerds who wants to be the first people inside the library when it opens.
The second disappointment came when I was about to meet my friends at Raffles City mall. I came the earliest, so I had to wait there. Given my recovering leg condition, I preferred to find for a place to sit. Similar story, I remember that months before there was a convenient place to sit in front of a small man made waterfall (and the way the water fall is programmed in such a way it can form simple pictures), just few steps from the MRT entrance. It was not there anymore, and guess what, it was replaced by yet another shop. There was another free place to sit at the basement, but as expected it was full of people. It was very obvious that if you want to sit in that shopping mall, you have to go to one of the cafés there and buy an overpriced drink. There were plenty of seats, unoccupied. Luckily, I finally found a sofa at a CD shop, where I could sit for free. But as you know, the future of physical music stores is gloomy, so I expect that sofa won't be there anymore in near future.
Lastly, another incident on this Sunday, where I was about fight boredom by having dinner at my favorite Japanese food restaurant, Sumo House. Located in Clementi, it claimed to have the  "cheapest sushi in Singapore". The restaurant occupies a small building with other shops, you can say it as a small plaza. Compared than the newly built Clementi Mall, this mall is a bit old and unpopular. And perhaps that's why they were already closed when I tried to visit the restaurant. Almost the whole building was closed, leaving only 7-11 and KFC. It's sad that I couldn't have dinner there for the last time.
Well, there's always another point of view to look at this problem, and the same problem happens in other countries, too. That's a fact that we have to accept, but, quoting a reader comment in a local newspaper about Cantonement Close HDB tear down… "In our efforts to evolve, do we sometimes forget to stop and sniff the flowers?"