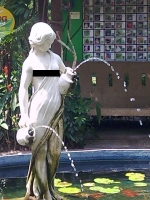 For the past few weeks I've been preparing several important changes in my life. One of them is my Anterior Cruciate Ligament reconstruction surgery, which occurred few days ago. Flashback to August, I twisted my own knee while playing futsal with friends. The next day I went to see a doctor who said "this is very clear, you need a surgery". I was really surprised and literally said to the doctor "oh shit! really?". Along the way, I understood that surgery may not be necessary if I live a sedentary lifestyle, but highly recommended if I want to continue doing sport. In the end, I decided to get a surgery, given the fact that I'm still in Singapore (with world-class medical facilities) and some (initially I thought "most") of the expenses are covered by my employer's insurance policy. So I started meeting a specialist Dr. Siow and the physiotherapist Vineet regularly at Alexandra Hospital. I had an MRI scan and several sessions of consultations and physios before securing the surgery day on 12th of October.
Though I said no need at the beginning, my parents insisted to come to Singapore to accompany me during the surgery (which I later regretted saying no at the first place). On the evening before the surgery, I went to pick them up at the airport. Then we stayed at a nice little hotel Pasir Panjang Inn. I could've gone back home, but since I had to report to the ward as early as 7.00 AM, I preferred to stay with them for convenience. Luckily, it was easy enough to get from the hotel to the hospital, with only one public bus trip.
I arrived at the hospital around 6.30 AM, but the ward I supposed to report at was still closed. It opened few minutes before 7 and I registered right away. The nurse asked me some questions like my name, IC number, and what kind of surgery I will be getting on (seriously, they asked this several times to ensure they did the right surgery to the right person). She also taught me how to communicate pain severity post operation, from level 1 to 10 ("at 10, you'll cry already"). Afterwards, I changed to hospital robe and went right away to the pre-operation room.
Inside the pre-operation room, the anesthesia doctor explained me that I will get a general anesthesia, which means I would be going to sleep throughout the operation. So she injected a small tube to the vein at my wrist, to allow the anesthesia to flow into my blood vessel. She also explained that another drug would be injected to my groin (ouch) to make the right part of my legs go numb, helping to ease the pain post-surgery. Then, the operation team doctor approached, verified me for last time my particulars and the type of operation I will have. He then marked my right knee with a pen so that they won't cut the wrong one, and told me that he would shave my hair on that area. I was then brought to the operation table, ready for surgery. A doctor injected some tranquilizer to help me calm down. But they saw me still uneasy, so they injected another one, and…
…
The next thing I remember was waking up by the doctor calling my name and asking if I was okay. I was feeling very drowsy at that time but managed to answer her. Then I asked her if they had done the surgery on me. She said "Yes Pascal, it's over". So I sighed a relief. On the next few hours I was still feeling drowsy and very nauseated. I vomited my lunch and dinner, and practically sleeping the whole day. The doctors kept asking me if I feel any pain on my leg, which I don't have. In the next morning I persuaded one doctor to reduce the dosage of the painkillers with the hope of less nausea. But eventually it went away already, anyway.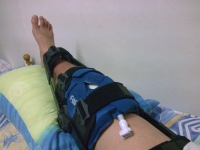 I was ready to be discharged about 11 AM, but waited until my parents came about an hour later. We then had lunch and went back to the hotel to have short rest and pick up my clothes. Then, we went back to my house to clean up the room, preparing it for few weeks of disabled person staying there. After few minutes, we headed to Orchard for shopping and dinner (on second thought it sounds like a crazy idea, noting that I was just discharged at the very same day). Finally, my parents sent me back home, also to meet my landlord for a short chitchat.
Few minutes later, sadly, my parents had to go back to their hotel, to get some rest before leaving Singapore on the next day. And I started my journey of recovery and rehabilitation for up to 6 months…