Aside from teaching, I also partner with my brother in running a business. The DNArtworks provides many solutions from graphic design, videography, social media, as well as websites and applications. As for the latter, I help him on software development side, bringing Informatika Unpar graduates and lead them in making high quality websites and apps. In celebrating the 10th birthday, DNArtworks team went for a 4 days trip to Ho Chi Minh City, Vietnam.
The team from Bandung departed at 5AM, taking about 3 hour bus ride to Soekarno-Hatta International Airport terminal 2. We arrived much earlier than expected, so we spent a few hours waiting at a dim sum restaurant.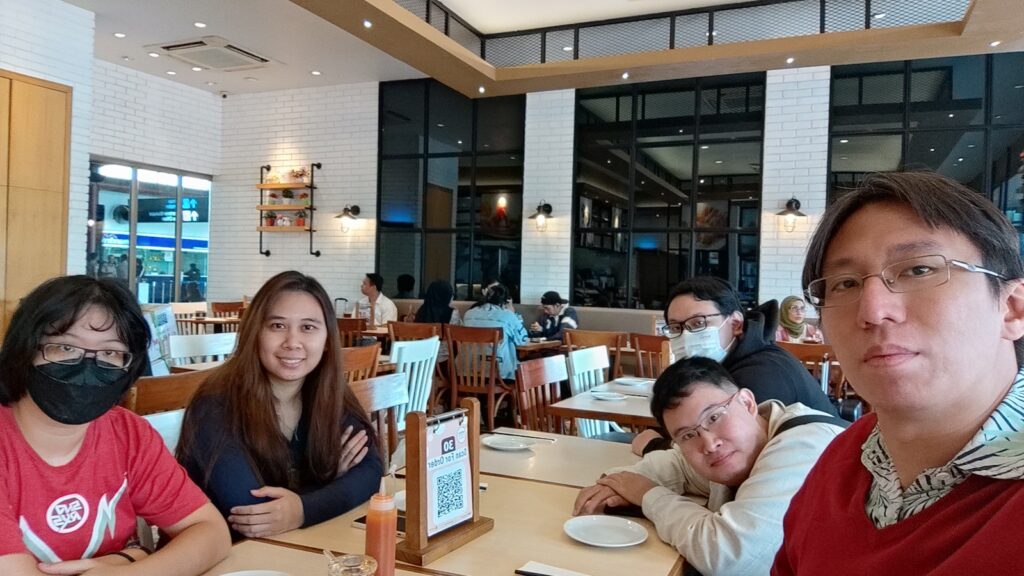 About an hour later, Jakarta team arrived as well, and we performed flight check-in. One guy from Jakarta, DP, left his passport at home. Luckily his wife helped delivering his passport on time. What a lovely wife.
We cleared Indonesia immigration early, to have an easy lunch before taking the flight. Some of us bought power plug adapters, which turned out not very useful because the plugs in Vietnam are similar to ones in Indonesia. It is understandable, though, because the information on the internet is not very clear. I downloaded a few movies to my laptop for in-flight entertainment. One of which was Grave of The Fireflies (火垂るの墓). It's a movie from Studio Ghibli, but you can easily find the full recording in YouTube since it's a very old movie. H told me he didn't dare to watch it because it would make him cry. I am proud to say that did not cry, but it was indeed a very saddening movie.
The flight from Jakarta city took about 3 hours. When we landed in Ho Chi Minh city at 16.40, it was raining hard. We spent maybe up to two hours in the airports before being transported to the hotel. Some of us bought local sim cards, while others bought Vietnam Dong (the currency) bills. After check in, we walked to Propaganda Bistro. I ordered Bánh mì, a local delicacy made of baguette, vegetables, and meat. Did you notice the diacritic in "a" and "i"? You will see further in this story, that the Vietnam language really loves to use diacritics.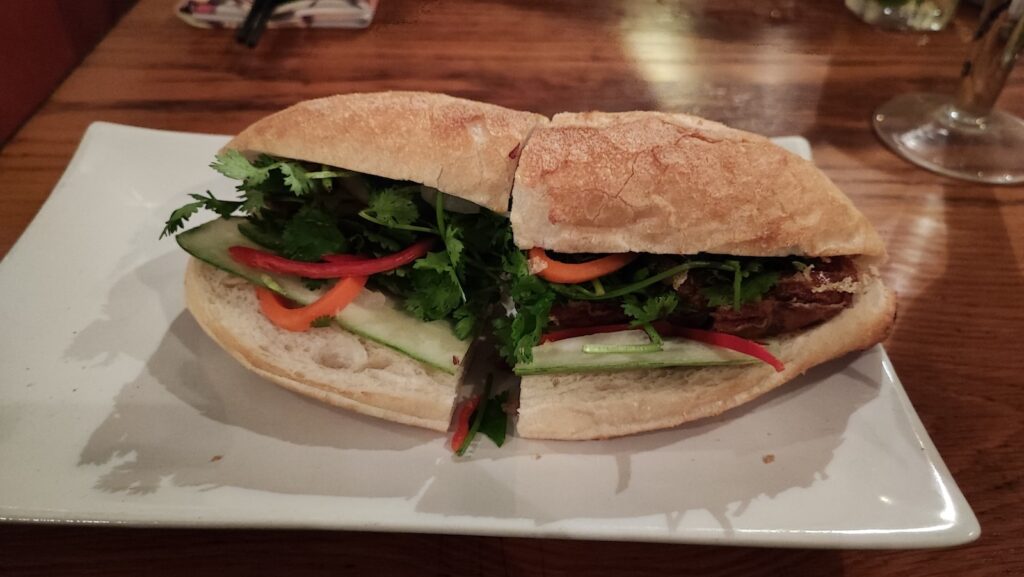 We then walked back to our hotel, but stopped at a nearby minimarket. I brought mineral water and a can of beer. Surprisingly, alcoholic drinks are very cheap here. A can of Heineken costs only VND 20.000 (IDR 16.500 / USD 1).
The next morning, we had an early breakfast at 6.30. I liked the hotel's breakfast since they provide a lot of fresh vegetables options. We then took a chartered bus to Cu Chi Tunnel historical site (Khu di tích lịch sử Địa đạo Củ Chi), about an hour from the city. Our tour guide explained that most of tourists visiting Ho Chi Minh city would also visit this site. En route to the site, I noticed several interesting facts about Vietnam, compared to Indonesia:
People drive on the right side, unlike in Indonesia (left side)
There are a lot of motorcycles on the road. Interestingly, there's no significant air pollution visually. Not sure why until now.
The helmets are not of SNI (Standar Nasional Indonesia) standard. Ears are uncovered.
People love to sit down on a short chair, just outside their stores.
We arrived at Cu Chi Tunnel site around 8.30. The tour guide were very happy about it, because we arrived relatively earlier than outher tourists, so he could explain and give demonstrations to us easily without being disrupted with other tourist groups. I was very impressed with the experience here:
It was very well organized. For example, our guide explained about how Vietnam soldier used to hide in a small hole, while a local staff was demonstrating it. That same staff was also ready to demonstrate the same thing for other guide of another group when needed.
The Vietnamese, or at least our guide, were very proud of their history. They were very proud of how they could fight successfully against the United States soldiers using simple but smart techniques. For example, they built underground tunnels and live there to avoid detection. When they cook, the smoke was discharged from several holes instead of only one, also to avoid detection.
I learned Vietnam history in a single trip. Ho Chi Minh city was formerly called as Saigon. After the fall of Saigon in 1975, it was then named after Mr. Ho Chi Minh, the first president of Vietnam. That's why the city is called "Ho Chi Minh City" instead of just "Ho Chi Minh". Saigon, on the other hand, was known for a brand of local beer "Bia Saigon", when I visited this place.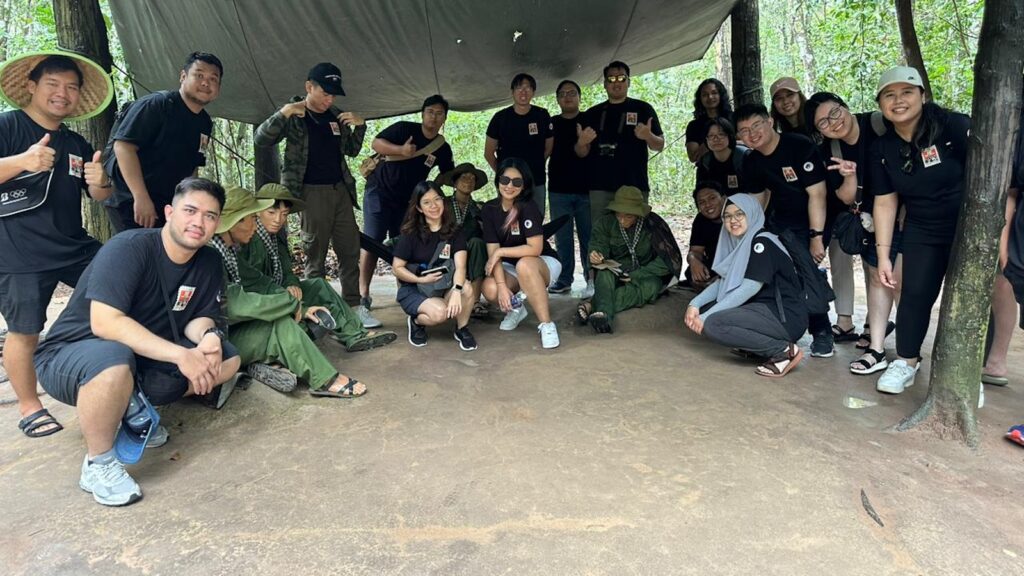 A few hours later, we took another bus ride to a garment factory. It was not very interesting there, and and some rooms we were not allowed to take pictures, so I could not tell much about the activities there.
Another bus trip, and we arrived at a small harbor next to Mekong River. We took a motorboat to a small island for lunch. Afterwards, we were transported to another small island to see people living in a village (or, kampong, as the Singaporeans call it). Fresh tropical fruits were served and accompanied with local music for entertainment. We also took a golf cart for a tour around the island, as well as taking the traditional sampan (small boat) along the river.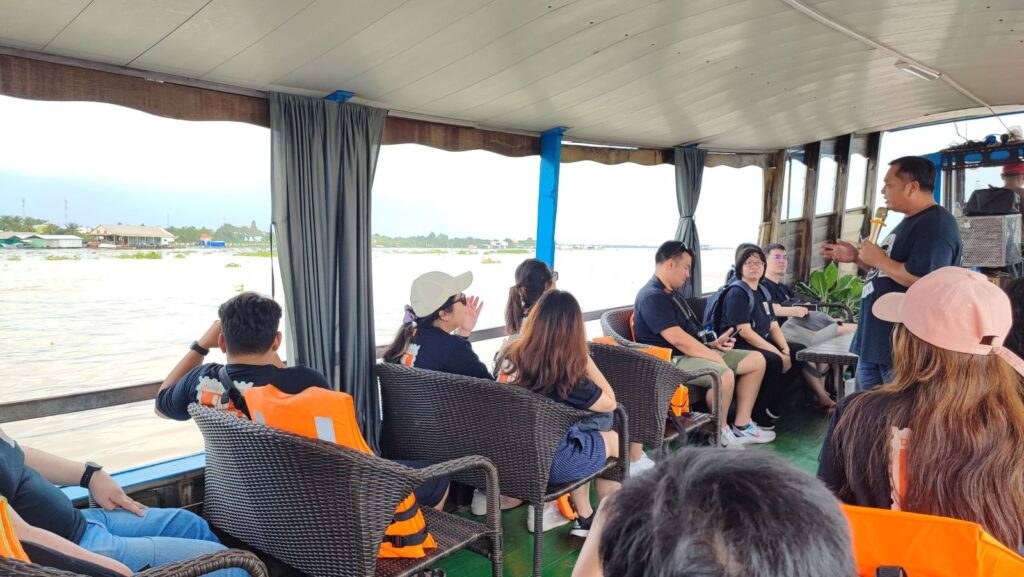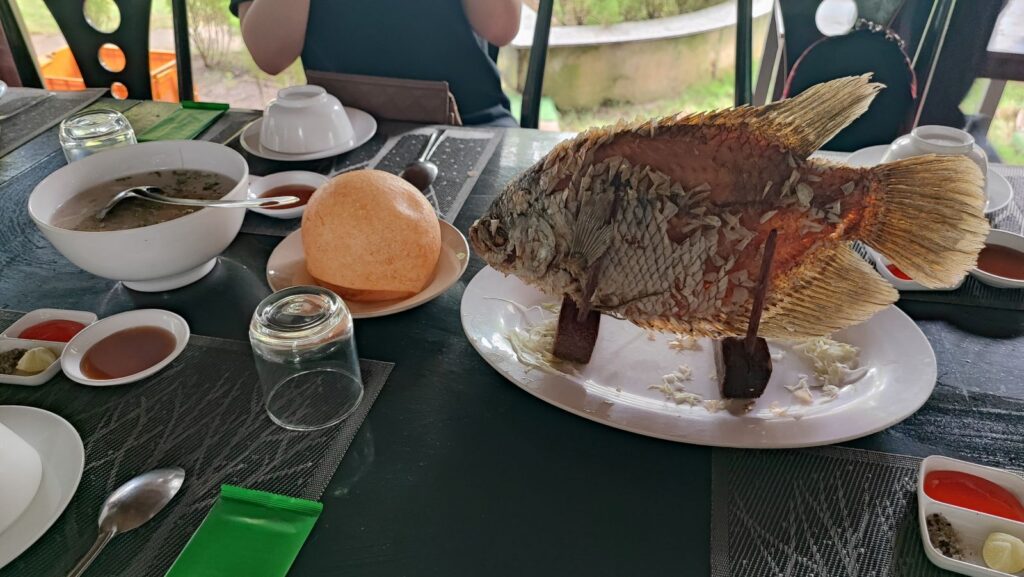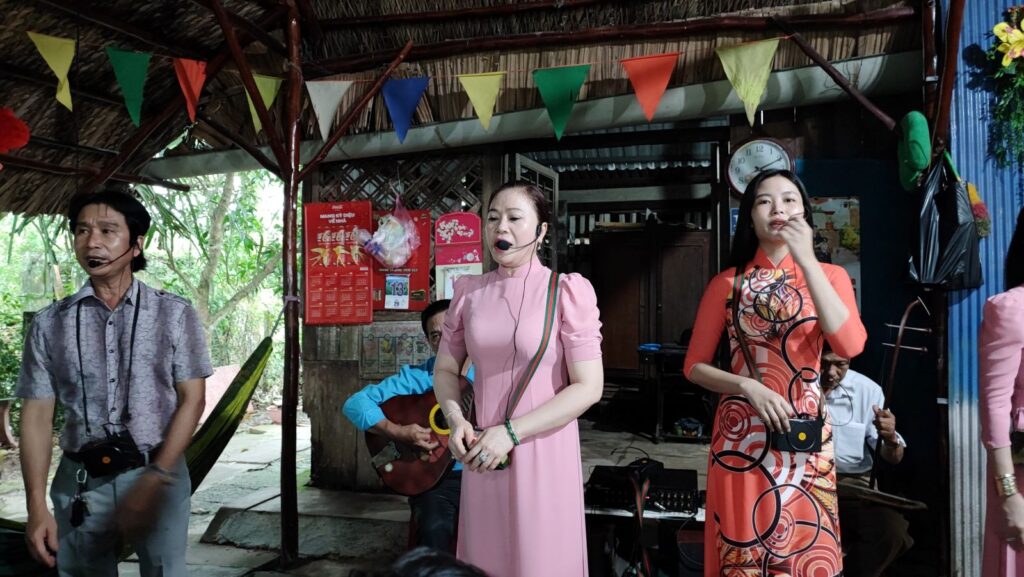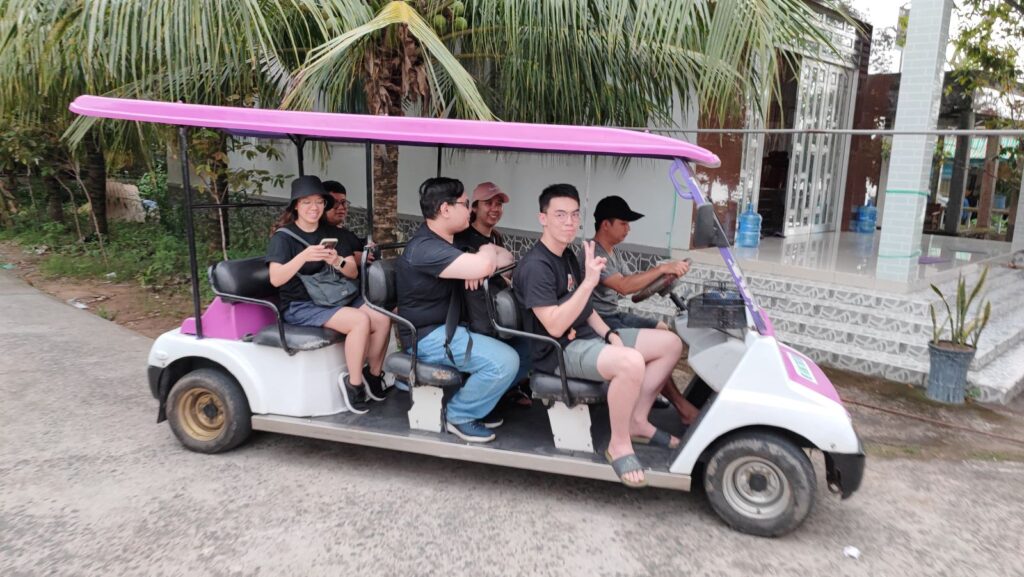 We then headed back to the mainland, where we took another bus trip back to the city. The traffic was bad, so it took a few hours. At around 7 PM, we arrived at a restaurant called Ngon. Upon entering the building, a picture of James Bond movie where the protagonist enters a crowded restaurant in the Middle East setting. Though they serve Vietnam food, the interior is Arabian style, with red paint dominating the walls.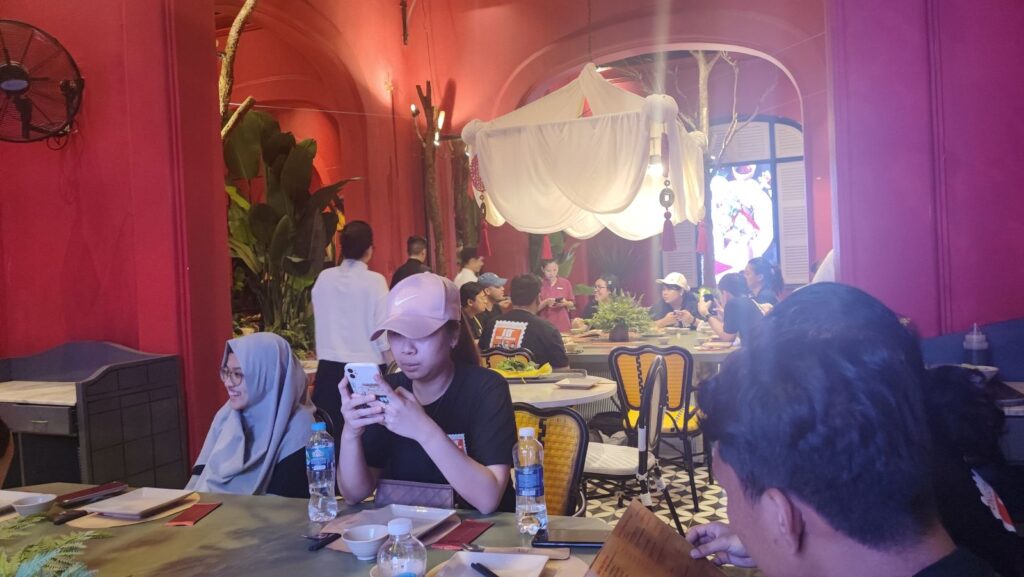 The next morning, we went to the Saigon Post Office. It still serves its purpose as a postal service, but also host of many souvenir shops. I bought some souvenirs there to bring back home.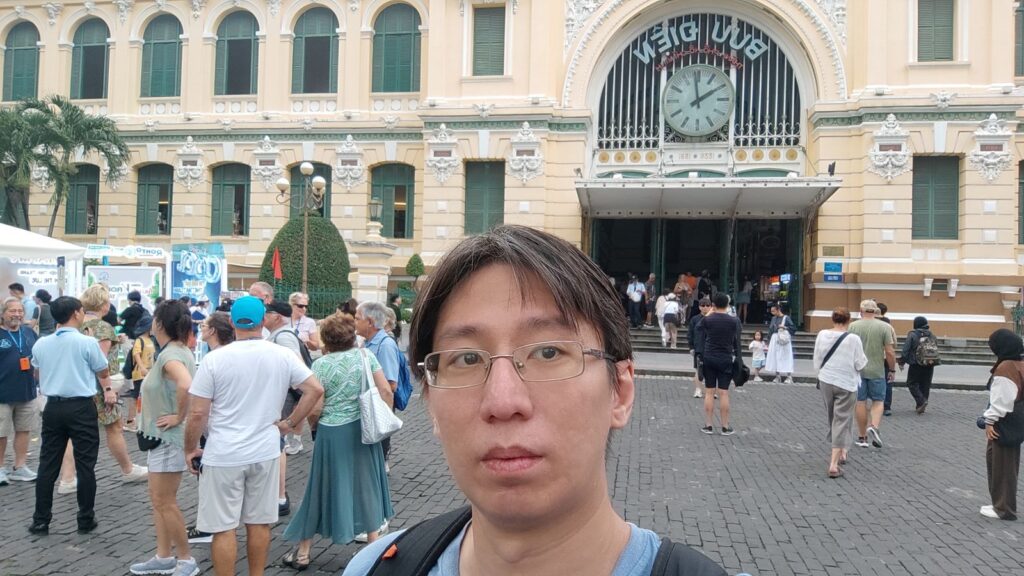 We then walked to Tân Định Church, another iconic landmark of Ho Chi Minh City. Unfortunately it was closed when we arrived, so we could only took a picture from the outside. En route, we also stopped by a café that sells egg coffee. It is a coffee that -instead of milk to make foam- uses egg.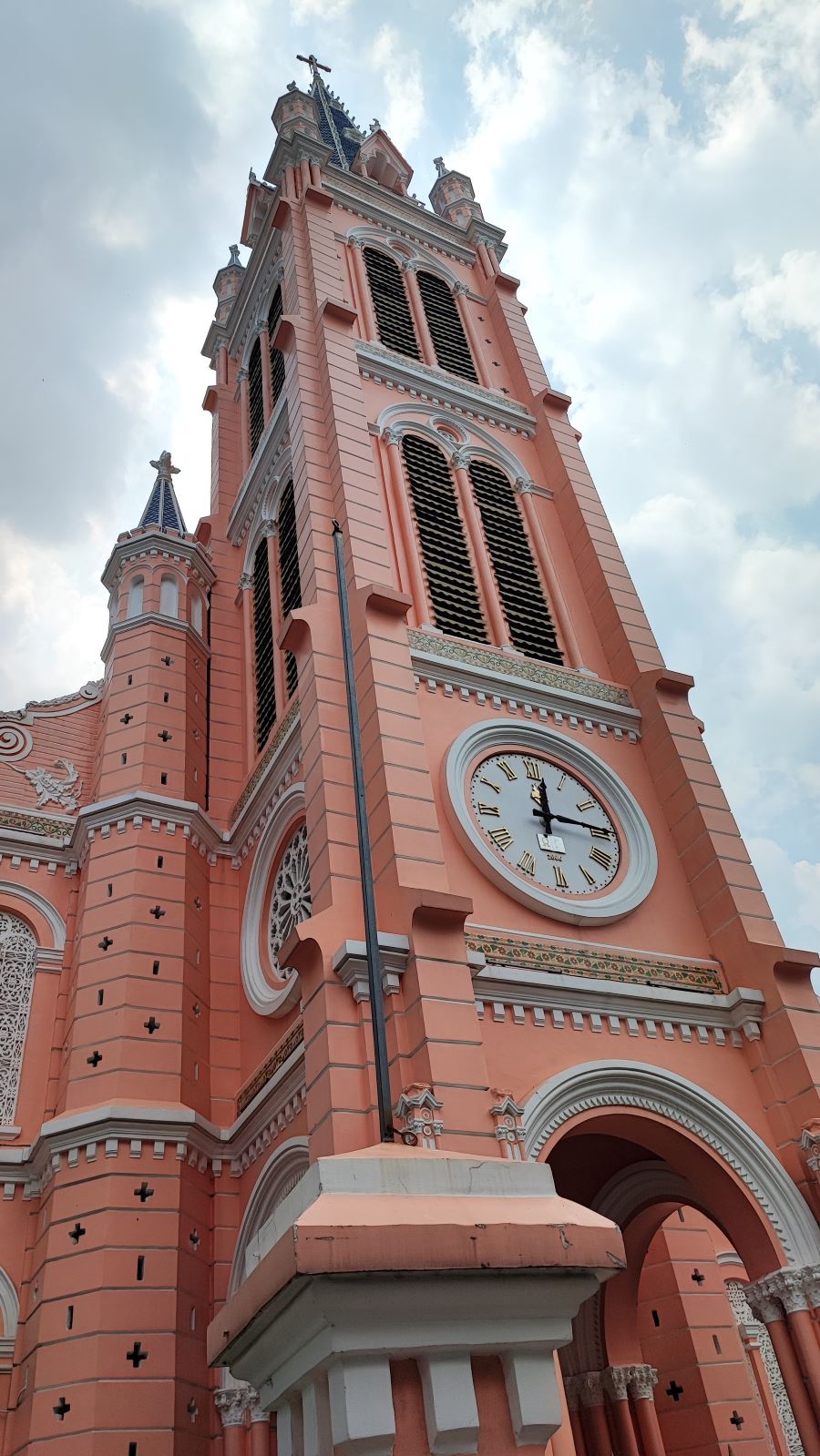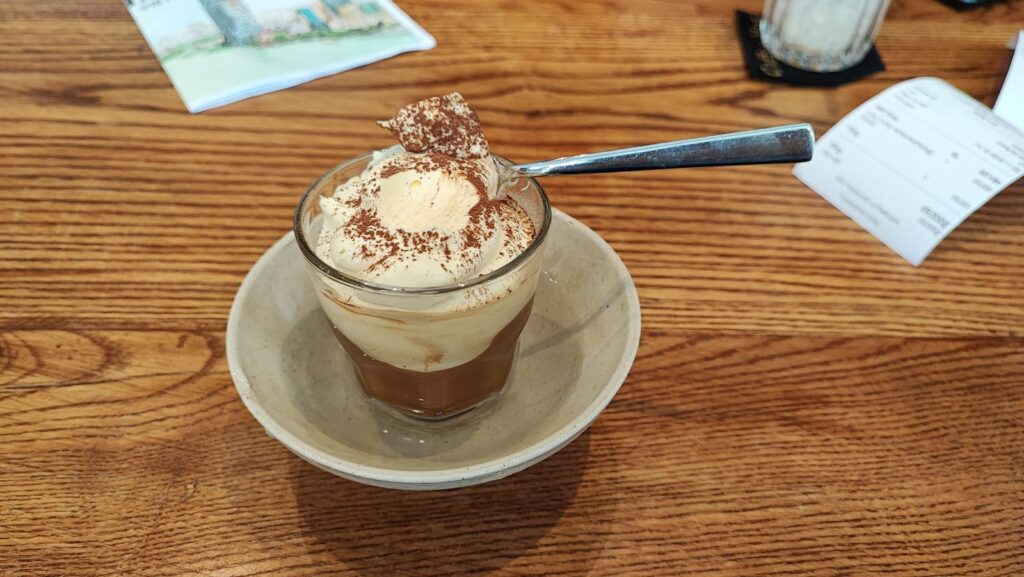 Then, it was free time for everyone until dawn. Some of us went back to the post office to buy another souvenirs, some went to a local market to get another souvenirs, while myself had a Bánh mì for lunch then went back to hotel. I chose to take a rest since I still had an open wound on my leg and I've got all my souvenirs.
In the evening, we had dinner in cruise ship. We could aboard the ship around 6.30 PM, and buffet dinners were served shortly. Dinner experience itself was not so good. There were not a lot of space for us to sit and the food was so-so.
At around 7.30, the cruise sailed, spending about an hour along the Sai Gon River. The view was very nice and relaxing.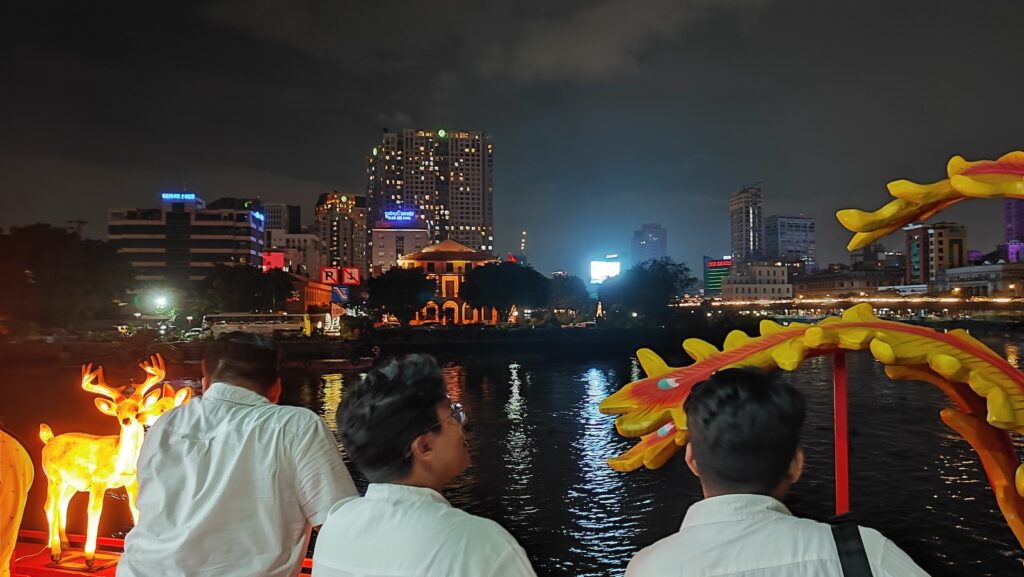 We went back to hotel and take a rest, before heading back to Indonesia the next day. And that wrapped our journey to Ho Chi Minh City.