This is part two of the story. You can read the first part here.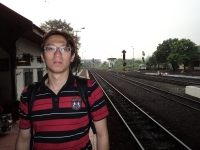 After spending quality time in Singapore, It was time to go back to Indonesia. I went to Bandung with my girlfriend using an AirAsia flight. Still having euphoria from the celebration, I spent a bit more of money by booking the hot seat at the front row. I felt lucky as the one seat beside me was empty, so I had some extra room. Until a guy from the back seat came in and took the seat. Fortunately, he agreed to move back after I convinced him that the seat is for hot seat passengers only. When the plane landed at Bandung, I realized one more benefit from the hot seat purchase, which is a faster waiting time at the immigration checks. There were only 2 officers on duty, hence arriving later at the gate contributed significant amount of waiting time.
I spent two nights in Bandung, and at the third day was the time for another trip to Pekalongan. It is a small town in Central Java, where my parents once lived their childhood. It is well known as Batik producer, but as I found out it's also a heaven for seafood lover, thanks to its proximity to the ocean and low living cost. When I was younger, my dad used to take me there by car. We usually spent 1 to 3 days on the road. Not the whole day of course, but we tended to stop and stay overnight in the towns we passed by to enjoy them. This time, the ritual didn't seem to be feasible anymore and the best option was to take a train!
About 7.30 in the morning, both of us boarded the train to Pekalongan. Unlike the years before, the Bandung-Pekalongan train this time took a much longer route by catching up the rail from Jakarta on the northern side. This means huge maintenance cost saving for the company, and longer journey time for the passengers (but on the brighter side, more scenery to see!). We arrived in Pekalongan about 2 PM, having only about five minutes to alight as the train was scheduled to go again to Semarang
After meeting the rest of the Singapore team (my parents, brother and his girlfriend), I freshened up by taking the legendary Es Teler at Jalan Dr. Cipto, followed by another desert es duren (durian syrup with ice). At late afternoon, we spent some time at the beach. It was not as clean as Sentosa beach, but at least there were not so much tankers there. In the evening, we went to a restaurant near the beach to have a big seafood dinner. For less than S$ 10 per person, we had grilled fishes, whole squids (more than just the rings), salad, and kangkungs (water spinach).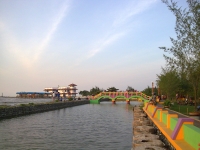 In the morning next day, we went for another culinary trip: a soto tauco (traditional spicy soup) at a small alley near the Es Teler restaurant. In the afternoon, we had another famous food from Kombor's restaurant: chilli crab. Not really similar to the chilli crabs in Singapore, their crabs have less meat but better sauce. We tried to burn our fat afterwards at a local franchise of the Time Zone arcade center. After one hour of games, we started to get bored and went back home. Turned out that my aunt just bought a carrom discs for the table that she had had for a long time. Hence we started to spent another hour playing the game (even without precisely understanding the rules). Evening was another chance to taste various local foods in Pekalongan. We started by having swikees (frogs) cooked in various ways for dinner, followed grilled toast (yes, it was really grilled using charcoals!). As for the "dessert", we had martabak. It was sold by a guy named Ibrahim, who we thought first came from middle east for his figure. Turned out that his father came from India.
I've been talking too much about food, haven't I? Anyway, unfortunately on the third day we had to go back to our hometowns. My girlfriend went back to Bandung while I went to Jakarta along with my family. It was another train trip, but this time much faster. It only took about 4 hours of journey. In Jakarta, me and my brother spent some time to watch a live soccer game by our old friends. Finally, I took a flight back to Singapore in the evening. It felt so fast, though in the end the story worth two posts of blog.