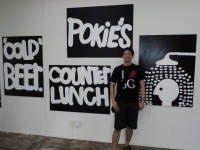 Biennale is Italian for "every other year". In Singapore, the word is taken to name a bi-yearly art event that is held in various places. When I said various places, it did really vary. In this year biennale, it took place at a museum, abandoned airport, as well as the merlion statue near Esplanade Theater (which many people have mistaken it as reparation work).
I've been to the 2009 Biennale with my friends, and I didn't want to miss the 2011 one. This time, I also went with my friends, but we only went to the exhibits which are free of charge. We started around 10.30 in the morning by visiting the Old Kallang Airport. Some of us came early, while the rest were slightly late. While waiting the others, we walked around the grassfield in front of the building. It was interesting, because what I thought earlier as thrashes were acually artworks. There were opened briefcases with pots and plants inside it, or a glass box containing textbooks from the olden days.
Inside the building, there were even weirder exhibitions. In one big room, there was a giant mock up of a fabric factory, with the resulting giant fabrics all around, made of papers and wires. In another half-painted room, there were furnitures from Ikea. The room that interested me the most was a simple dark room, with only neon lamps bent and placed to represent the phrase "Don't Worry". It was very simple, yet very subtle. Another interesting exhibition is, well, not the exhibition itself, but a sign that said something like this: "On 13 March 2011, a cleaner accidentally removed some stuffs, which he didn't know they are part of the artwork". Well, you never know how an artwork can transform to something else more interesting.
Nearing lunchtime, we were starting to get hungry, and there was only a small coffee shop there in Old Kallang Airport, so we decided to move to another exhibition, Hotel Merlion, because it's closer  to various restaurants in the city. This is the exhibit most visible to tourists, as it is located at the center of the city, and without the makeover itself, Merlion has already been a tourist destination. From outside, it looked like just a red box covering the Merlion statue.
We had to wait in line to get into the room, and there were about 50 persons in the line. However, the organizer has managed it nicely so that people won't have to wait so long, as well as having ample time inside to enjoy the room. As usual, there was an annoying behavior from  some people, trying to have 2-3 people in the queue, then "smuggling" another 4 to join them by cutting the line, after their turn to enter the exhibit was about to come. I was standing in front of them, so it didn't make our turn slower. But it did affect our experience inside the hotel, since the organizer has limited the number of persons inside the room to avoid overcrowding.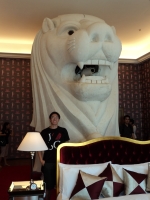 After few minutes of sightseeing and photo taking, the organizer asked us to leave the room to give chance to another eager tourists. And that marked the end of our tour to the Biennale. Quite a short trip, but it was interesting.
Trivia: The Merlion Hotel did serve as a real hotel room at night, for few months. People can check in the late evening, and have to check out in the morning. Booking was made through phone call to a certain phone number served by a single operatory only. It was fully booked just an hour after the line was opened [1].