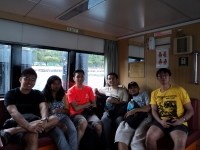 Last weekend, I stumbled upon an article about Southern Islands in the Singapore Tourism Board's website. Shortly after reading and googling several other sites, I said to myself "I have to go there!". These islands are located south of Singapore, and  relatively untouched by civilization, even compared to Pulau Ubin.
This Saturday, I have collected 8 persons including me, to go to some of the islands, namely St. John, Lazarus and Kusu island. Interestingly enough, Google Maps has very limited information about these islands. The islands do not have a shape information in roadmap view, and in satellite view the non-updated labels are only available in Malay language.
On Saturdays, there are only three ferry round trips to this island, having the interval of 3 hours. That was why during our trip, we really had to come to the pier on time at 9 in the morning. Unfortunately, two of  us were late by few minutes, hence they couldn't board the morning ferry. Waiting another 3 hours was not a very good option for them, therefore leaving only six of us continuing the journey. One of those six came in last minute in a rush, and we gave him claps cheers when he arrived.
St. John
After about 20 minutes journey, we arrived at the St. John island, a.k.a. Pulau Sakijang Bendera. Just as "advertised", the island was quite quiet, with the exception of one worker fixing the concrete pathway. And if you have the same question as me, "whether I can get a GSM signal there?", the answer is yes. Even better, you can also get Indonesian GSM signals too, probably from Batam. The next ferry will be at 12.45, so we had about 3 hours to spend in this island. So we walked, and after few meters, we arrived at the swimming lagoon, a relatively clean man made shore. We just played at the water and sat at the shelter nearby.
We continued walking to the camp area, which has several "barracks" that can accommodate 60 persons each. This area is fenced, and there were several guard towers to watch the fences. At one gate, there is a sign "Out of Bound to non-campers". But we didn't care. Who cares? However after few steps walking inside, there were already a lady approaching us, saying that they are having private events in which they had booked the whole camp. Therefore we quit the area and walked to the other entrance that led to the camp office. I and David gave it a visit to check on the details of these.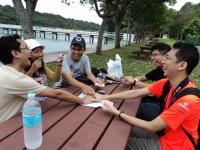 Afterwards, we walked again towards the Marine Aquaculture Centre. Unfortunately, this place was closed for public and visitor must request a permit from another building not so close from there, so we skipped this. We walked again to the beach, but then we spent sometime on the benches playing cards. A regular card games, but this time we played far away from the concrete jungle, so you can see in the picture our very happy faces, far from city life stresses.
Lazarus
After few minutes playing, we walked again to Lazarus island, a.k.a. Pulau Sakijang Pelepah. It is accessible from Lazarus island through a man made land forming a bridge connecting those two bigger islands. As the sign read, public are "discouraged" to enter this area since it had yet to be developed, but again, why bother to care? It has another beautiful (well, compared to other Singapore's beaches) but silent beaches. There too was a group of people taking photo shoots of a girl dressed in gown, probably for a magazine cover or something.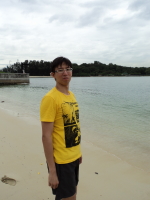 It was almost 12.45, so we headed back to the jetty. We still had some time near the jetty, so some of us had our lunch there. Then we boarded the ferry. It was a different ferry from previous one, and this one was better. There were the regular passenger cabin, the open space upper deck, and a VIP room. It was too comfortable in the VIP room that we stayed there for the journey. Fortunately, nobody asked us to leave that room.
Kusu
The last stop was Kusu Island, a.k.a. Pulau Tembakul. In some other months, this turtle-themed island is visited by pilgrims. But it was not that month when we went there, so the island was very quiet. Upon reaching the jetty, we were greeted by a lady who counted the number of people entering the island, as well as reminding us the time of last ferry, 4.30 PM. We fist visited the shore and stayed there for some time, enjoying the nature with background music from Buena Vista Social Club.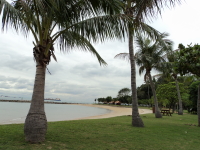 Then we headed to the small temple there. There were some statues, and interestingly enough a sign describing about 5 different versions of tale on how this island was made. Inside the temple, there were real turtles who were taken care by the temple maintainer.
There was also a wishing well, in which you need to throw a coin inside it after making a wish. But there were 3 bells inside the well that you need to hit one of them. I managed to hit 2 out of 3 times with 20 cents coins. But the best was thrown by Hafidh who made the bell rang sharply.
There was not much to do left in this tiny island. So we just sat at a bench and chatted for half an hour while waiting for the next boat to depart at 2.30 PM.
Just as we left Kusu island, it started to rain. We were considered very lucky, that the weather was just perfect when we were there: not to hot, but also not raining. About 20 minutes later, we were back at the mainland.
Conclusion
These southern islands are best if you want to rest and unwind, away from the busy civilization (turn off your data connection for best result). However, if you look for attractions, you may not find many of them here. This place, especially St. John, may be at is best if you have a gathering with your friends, as there were also barbeque pits and a bungalow that can accommodate 10 persons. Just be prepared with occasional noise like the pathway fixing we met upon arriving, or several fighter jets that were having some exercises there.
St. John, Lazarus and Kusu Island is accessible by taking a ferry (provided by Island Cruise) from Marina South Pier. Only several trips per day, costing $15 for round trip to all the three islands. Marina South Pier is located at N° 31 Marina Coastal Drive, Singapore 018988.