In 2020, COVID-19 hit the world. It was deadly mostly to people with comorbidity or senior citizens, including my grandfather of 100 years old. Due to safety reasons, he was quickly cremated and his remain was kept in a columbarium. Fast forward to 2023, COVID-19 was largely under control and there was plan to take the remain and bury it properly, in the same grave as his wife in Bekasi. The burial process involves proper praying ceremony with close family members, just like a regular wake.
When I heard the news from my cousin Reza, I was really excited to come and join, since it was also a chance to meet my relatives that I have not met for some time. I initially planned to travel alone using intercity train service. However, the train to Bekasi only run at certain times, and none of the times allowed me to arrive at the graveyard on time for burial. I then decided to drive myself. Driving round trip in one day would be too exhausting for me (I'm older now and I have two children fighting each other every time when they are not sleeping). Therefore I planned a one night stay at a hotel nearby. Since the kids did not have to go to school and my in-law agreed to take care of them, I asked my wife to come along. And finally, since I had an overnight stay planned, I also planned to visit my mother's tomb a well.
Long story short, I headed out from home at 6 in the morning with my wife, to take a breakfast at a nearby yumcha restaurant. They had this promotion of free drink for each meal purchased. The kopi was really nice, plus it was served in this fancy classic cup.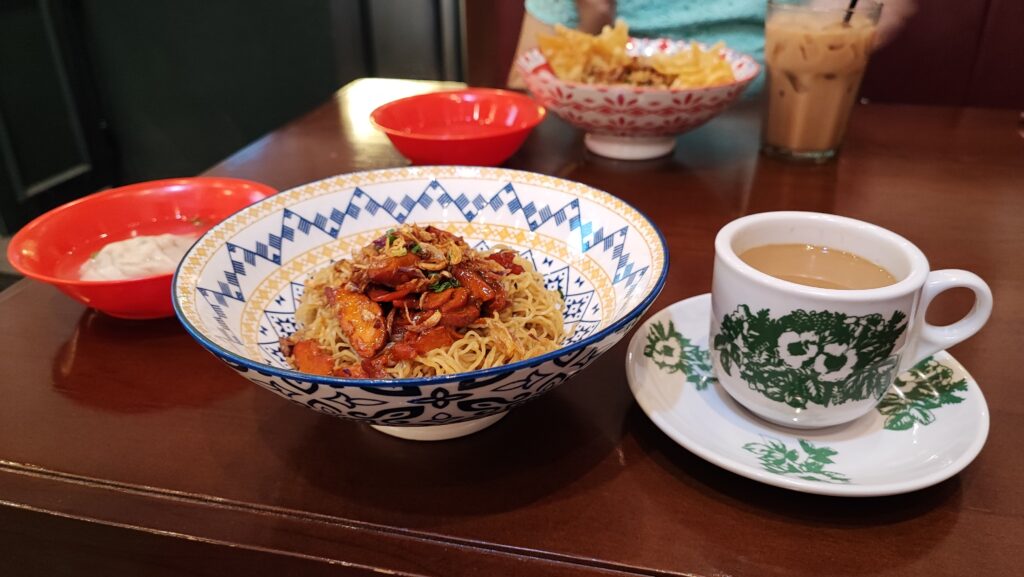 At 7 AM, we drove to Pondok Ranggon to visit my mother's tomb. We met Pak D, the person in charge of taking care of the tomb. We also paid him the yearly maintenance fee. Since three of my mother's siblings were buried at the same graveyard, we also visited and prayed for them.
From Pondok Ranggon, we drove again to Pereng, the graveyard for my grandfather in Bekasi. We were slighly late, but still in time for the procession. Most of the relatives were there, but some others could not come due to incompatibilities. In Chinese culture, there is a belief that if people with certain Chinese zodiac signs are not compatible with the deceased, bad luck may come.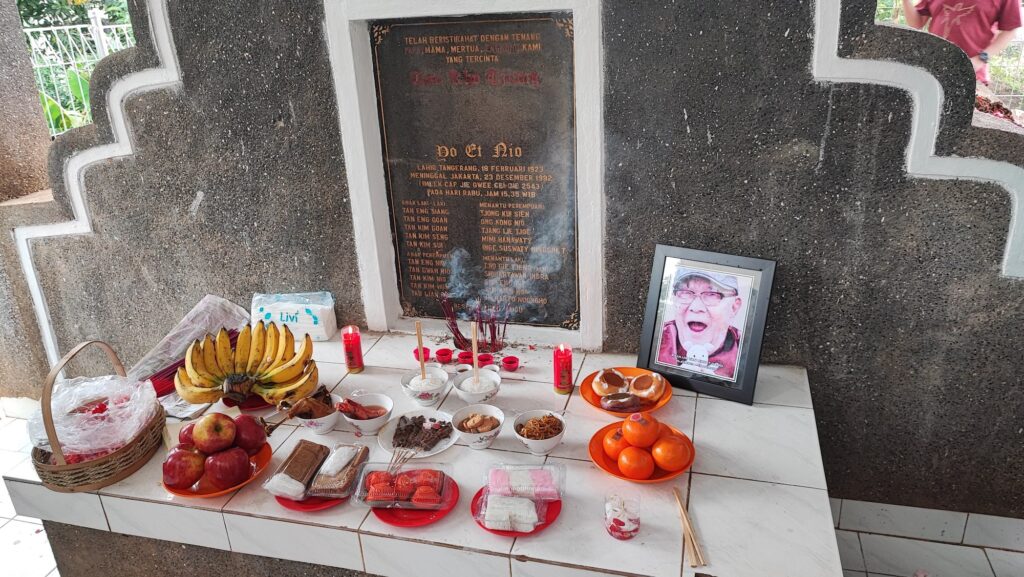 Around 11.30, the procession started. A monk lead us in chanting to deliver my grandfather spirit. Fresh food were served on the altar, while fake paper money and clothes made of paper were burned with the hope that the deceased can use them in his afterlife.
Right after procession ended, rain poured hard. We waited until the rain eased, then said goodbye to each other. Most of them went back home, while I and my wife drove to Cikarang to spend the night there. I chose Cikarang because it's not too far from Bekasi, halfway back to Bandung, and close to Meikarta.
In case you didn't know, Meikarta was an ambitious real estate project in Cikarang area. It was mentioned in the news recently because they could not deliver the promised units to its customers. Honestly, I found their TV ad fishy since the beginning, reminding me of Terminator's Skynet.
There was not much to see there (in Meikarta). Our hotel however, is located more of at the Lippo Cikarang area. It is more of an industrial complex (that are marked with thick yellow cells, if you play Sim City), where many factories were built around that area. When we arrived, we saw what looked like a Korean chatting with the security guard. A tourist, we thought.
We then checked in, took a shower (we were drenched in rain) and take a good nap, before heading out in the evening for dinner. The food in the hotel were relatively expensive, so we walked out a bit and had dinner at a simple Indonesian restaurant.
The next morning, we had early breakfast at 6 AM. It turned out that 90% of the guests eating breakfast were Koreans! Most of them bought their safety helmets, a sign that they work in civil engineering and their employers provided this hotel for their residency during their work in Cikarang. Even the hotel served a Korean menu. At 7 AM, we drove back to Bandung, as I had to work again.
But first, a selfie.