Next event was the FLS2N SMK (Festival dan Lomba Seni Siswa Nasional Sekolah Menengah Kejuruan, Art Competition and Festival for Vocational Students). I spent morning time still in Harris Hotel, since I had to participate in student's defence online. Had a team meeting on lunchtime, then headed to Bogor station for Jakarta-bound commuter line, followed by another trips to Serpong.
I arrived at Hotel Grand Zuri around 4 PM, and H was already in the room, checked in earlier. It was a very lavish hotel, but I'd rather stay in Harris. Harris was a tropical themed hotel, so you could walk around using shorts and slippers. In Grand Zuri, all the staffs wore proper shirts, and some of them in suit. That night H briefed the judges on how to use the application that we made for grading students' submissions.
The next day, I briefed the students on how to submit their art products, in Zoom. For the next few days, it was the judges who briefed students on producing the art, also in Zoom. On the last night, I took a photo with some of the judges, including Ibu Rita Matu Mona, the star of Ngeri Ngeri Sedap.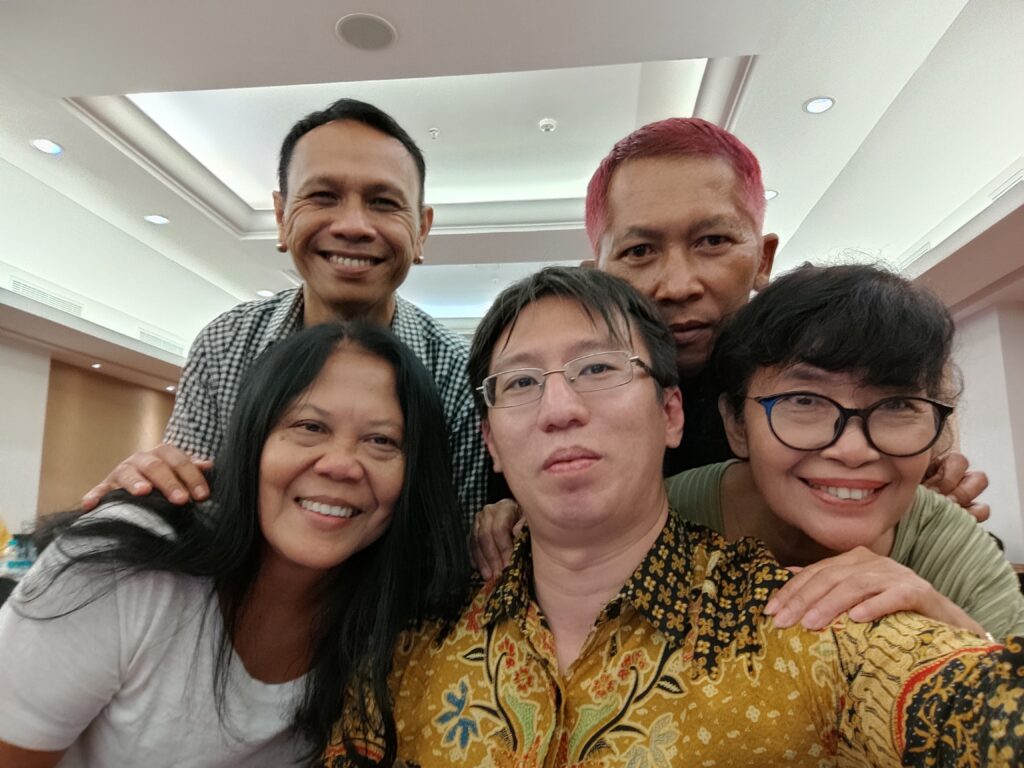 The event was planned to end on Friday morning, so for safety I booked a train ticket for Friday afternoon. The only seats left were from Economic class, and those was the best option. On Thursday my parents visited the hotel to drop some oleh-oleh, but unfortunately I could not meet them because we had an evaluation meeting. Also on Thursday we received news that we would no longer have any more meetings on Friday morning.
Friday morning, my dad and his driver picked us up from the hotel, and drove us to nearest MRT station. From there, we took MRT trip to Grand Indonesia, followed by another taxi ride to the intercity train station, just in time for boarding. We boarded the train, and as I joked to one of the committee, there is no excuse for developers for not working as long as there is internet. That happened to H, who had to finish some work in the train.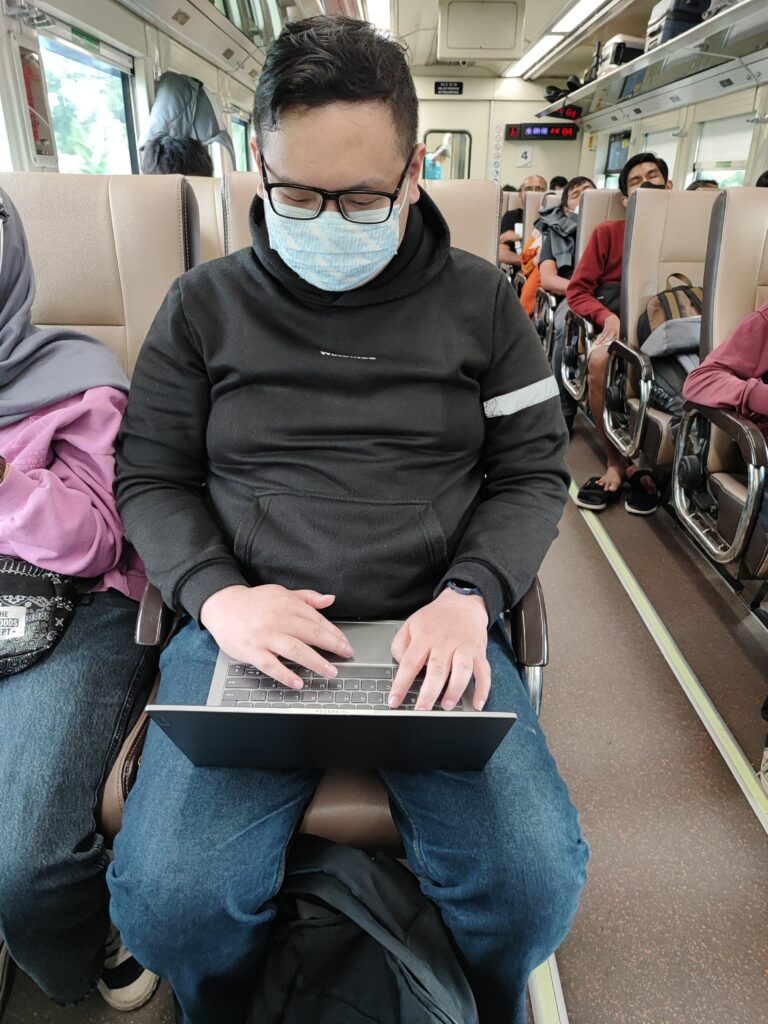 We arrived in Bandung, somewhere around 18.00. My wife and the kids picked us up from the station. We got home, I finished some leftover work, then get a rest.
On Saturday, we visited a nearby cinema to watch another movie, Minions. My son D was the one who enjoyed the most, laughing all the way during the movie. Indonesian speakers may notice that some Indonesian words were said out inside the movie, such as nasi goreng and terima kasih. Further research after the movie revealed that Pierre Coffin, the voice actor for the minions is Indonesian descendant. Another research when I wrote this blog revealed that he was actually the son of NH Dini, a famous novelist who wrote Pada Sebuah Kapal and La Barka.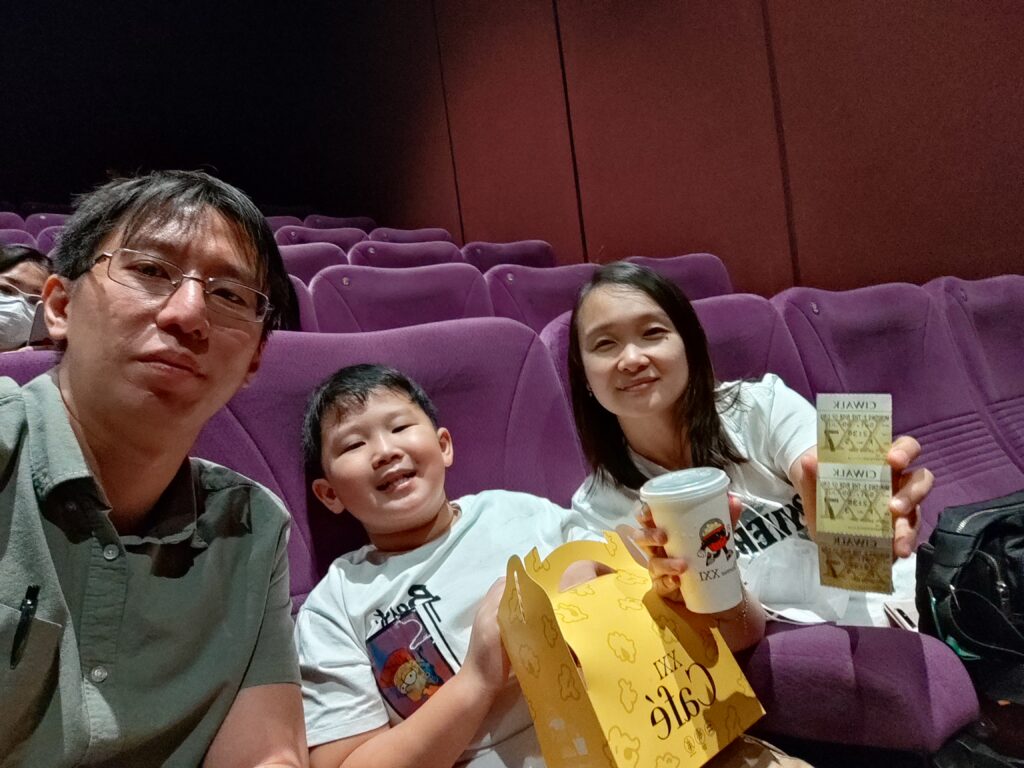 Sunday, I attended a conference with the Roman Catholic Diocese of Bandung, since I volunteered as the head Information Technology Bureau there. The bishop was there to lead the mass and during the mass he reminded us to stay happy during our volunteerism.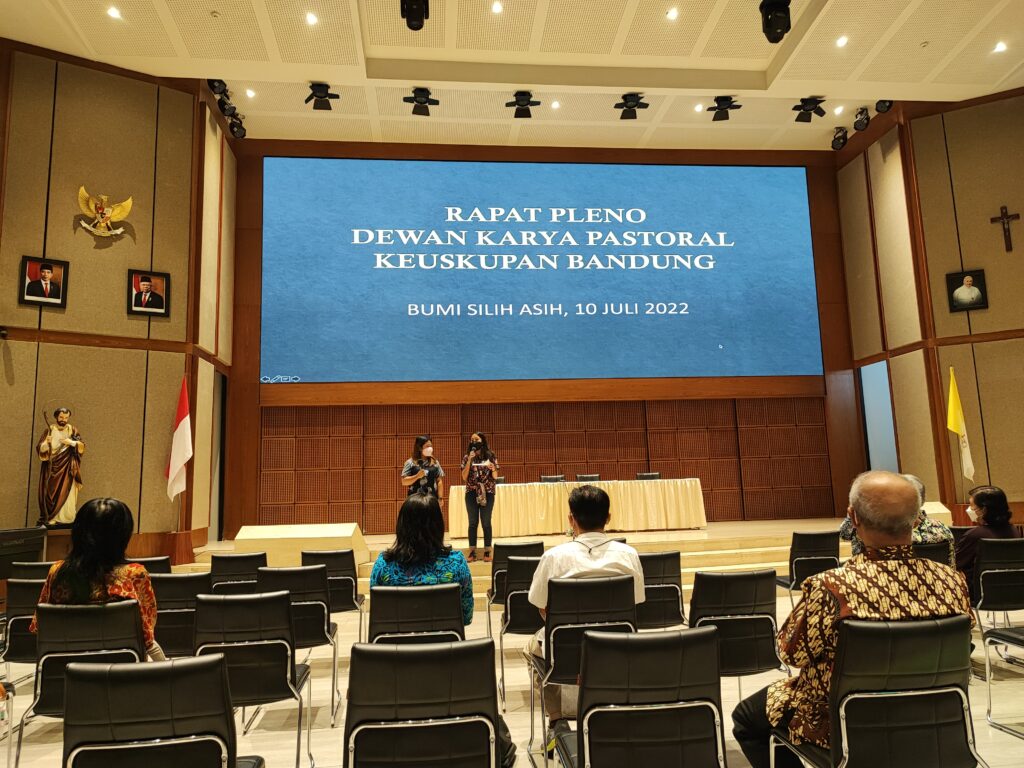 What a weekend.