This is the finale of the long weekends series. As a summary, my last few weekends were quite eventful, and this last trip(s) should end the saga.
Prolog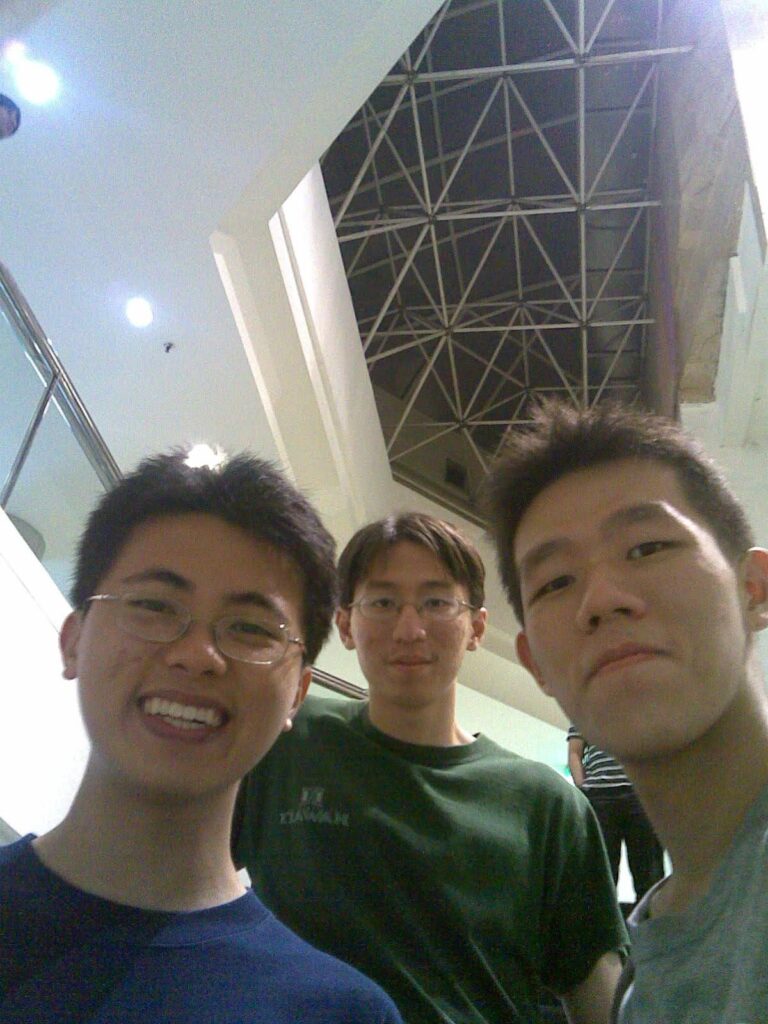 It all started back on Sunday morning, 9th of January 2022. It was just a regular Sunday, with me checking my personal e-mails. A surprise e-mail came from DK, a long time friend. He was about to get married in Singapore, and I was invited! I and DK were two of the four Indonesians selected to participate in the 2003 International Olympiad in Informatics, representing Indonesia. Unfortunately, due to visa problem, we didn't make it to the international event. I was in third senior high that year, so I moved on and entered university. DK on the other side, was in junior high so he had a few more chances in the following years. He did grab three silver medals on his three years of subsequent participations. He also continued study in SU, and with fellow friends founded T, one of the largest online travel agents in Indonesia. He then left T and built another startup company in Singapore. Pictured on the left (in desktop; above in mobile) are me, DK, and another friend RS when we met some time in 2007.
I lived in Bandung, and since pandemic began direct flights between Bandung and Singapore stopped serving. I was wishing that it would resume on August, the wedding day. However, up to one month before my flight there was no sign that the flights will resume. Therefore, with help of my wife Y, I bought the ticket. We bought the 6 days 5 nights flight+hotel package through T, one of the largest online travel agents in Indonesia. There seemed to be a bug in such platform, that made me pay less than half of the actual price.

I did try to resolve this out, but company policy seemed to block my way. I tried to understand the breakdown of each component, but it was the company's secret recipe (see below). I also tried to contact the support, but as with other large companies, in most cases they would connect you to a bot. A bot did check my receipt and she confirmed that all invoices have been fully paid and I was ready to go. I know that I could have reported a bug, but it was too much of a hassle and it's more fun to write in a blog (and get better deal).
Bogor, FLS2N Province Selection
Just a few days before my flight, I had to go to Bogor to support the FLS2N Province Selection event, in which you may have read in my previous post, Long Weekends part 3. I drove to Jakarta along with H, since I would be bringing two large suitcases to Singapore. On third day, I left the event early and had G replaced me in such event. I stayed one night at my parents' house in Bintaro, and went to airport in the next morning.
Singapore, Day 1: Arriving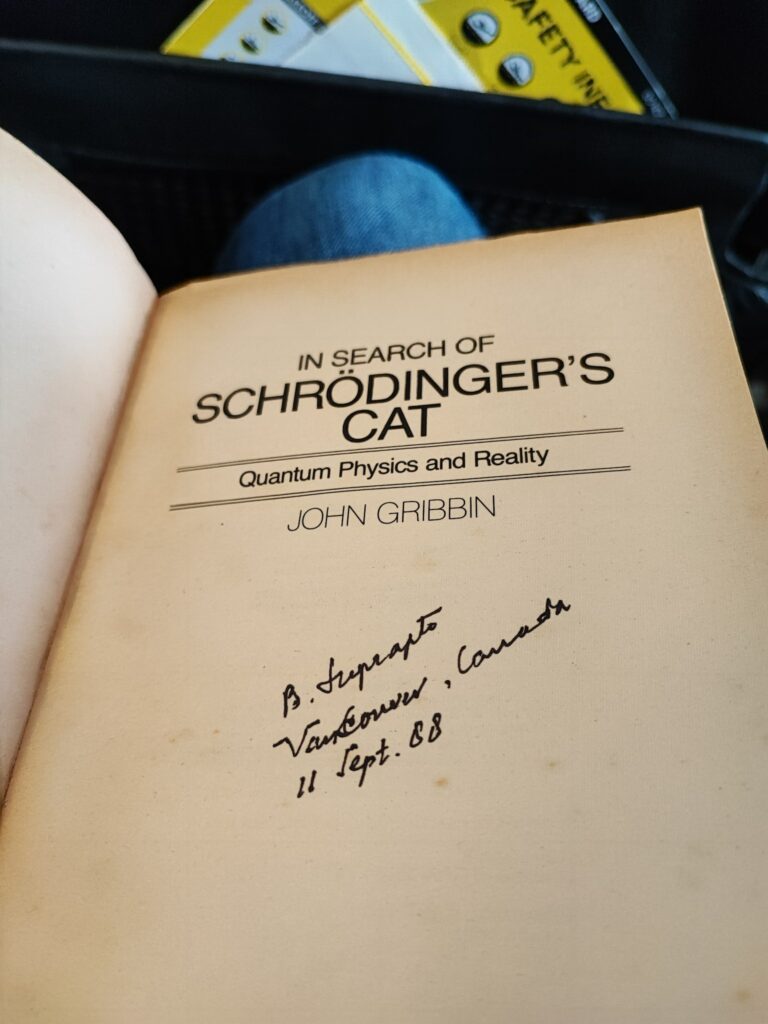 I was really excited the second I stepped into the airport. This was my first time flying after many years. Also, this time I was alone, allowing some time to meet more friends and acquaintances in Singapore. My wife Y kindly gave me the visa to go to Singapore and leave her with the kids.
Some rules on flying have changed compared to the years before, most likely due to pandemic. Passengers were no longer required to "turn off all electronic devices during take-off and landing". We were just asked to not use them during take-off and landing, and set them to airplane mode during the whole flight (though wi-fi can be separately turned on to access in-flight entertainment). There was also a reminder to take off your face mask before wearing oxygen mask in case of pressure drop.
While waiting on the plane, I read some chapters of a book formerly owned by a legendary professor in my university, Professor Benny Suprapto. He passed away a few years before, and the family donated many of his books to the university, which I picked one.
I had planned to meet my two friends AY and AQ that evening. However, after landed and received internet signal, came a message from AQ, telling me that his daughter just got COVID and for sure AQ would not be able to meet us. Shortly after, AY called me asking to reschedule the meeting to lunch time (about an hour after I landed). He just had a daughter so meeting me during the day would be much easier than the family time at night. I took a taxi to the hotel, drop my luggages, and took another taxi to Kent Ridge MRT, which was located next to National University Hospital.
It was nice to meet AY again. Aside that he treated me for lunch, I was also amazed for his discipline following his vegetarian diet. We both had Kimchi fried rice for lunch. My fried rice was complete with chicken, but his portion was strictly without meat.
My mind also went to the past, when the company used to treat us for lunch. To cater both the vegetarian diet for Indians and halal food for Muslims, our boss used to take us to a Chinese vegetarian restaurant and our Indian friends (not AY, though) jokingly complained that the Chinese vegetarian meals taste were bland. It's true, though. The Chinese tried to make fake meat using flour, making the taste very bland.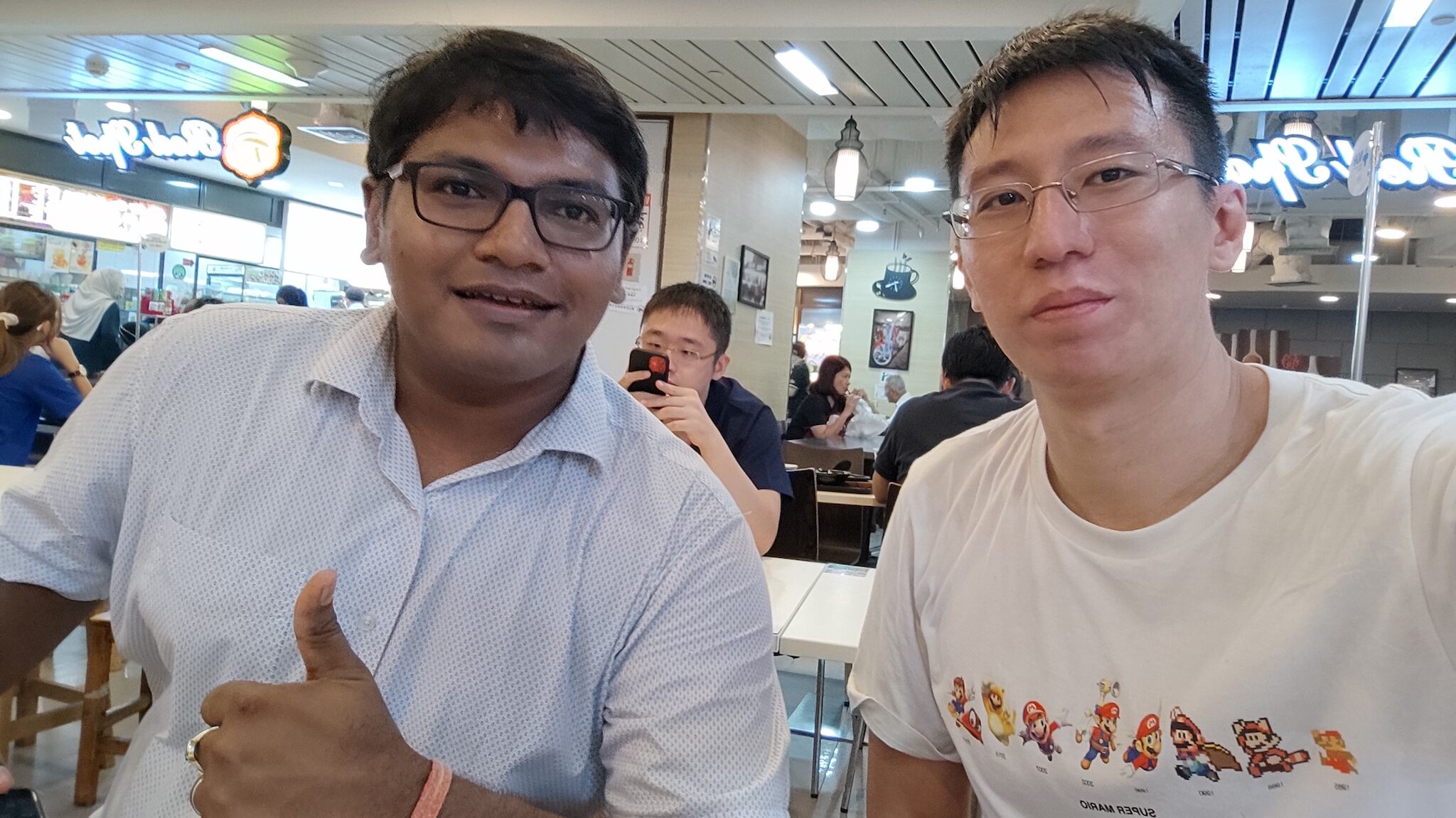 After meeting AY, I went back to hotel and picked up my dirty clothes. I had some dirty clothes from my stay in Bogor, and this first day I tried to survey for a laundry that I could use to wash my clothes in the next few days.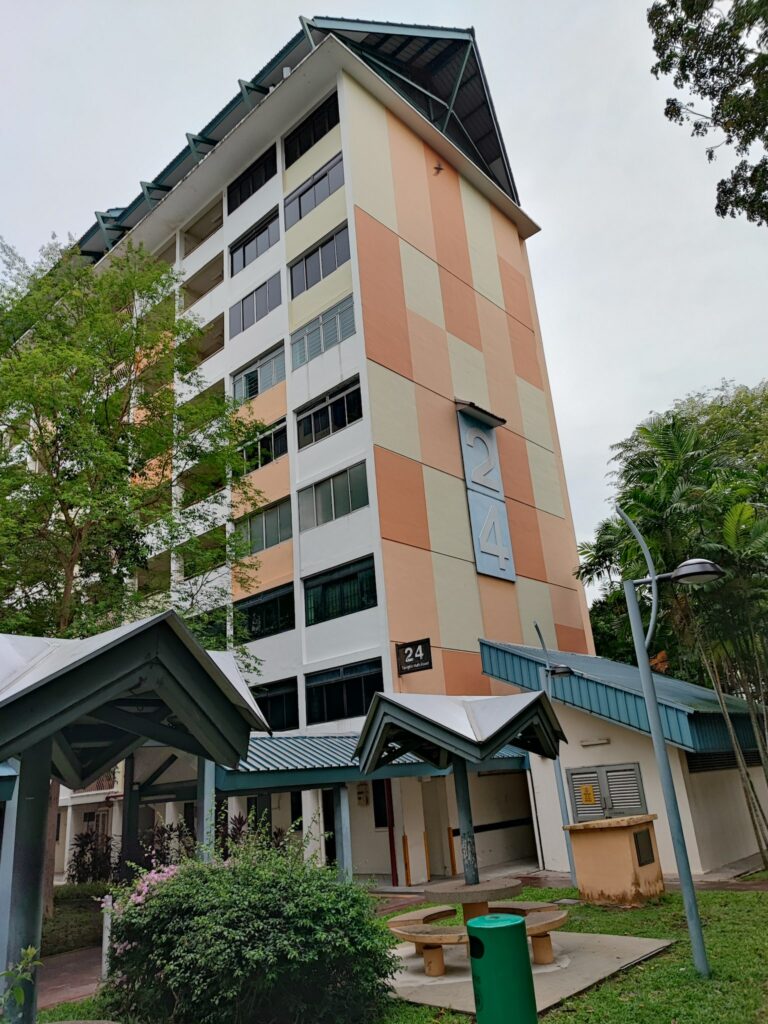 After careful selection, my choice fell for Oasis Laundry in Achorpoint. Anchorpoint was a small shopping mall located near my former rented room when I stayed in Singapore 10 years before. It costed $5 and 30 minutes to wash the clothes and another $6 and 60 minutes to dry them.
While waiting the laundry, I had my dinner as well as visiting the area of my former neighbourhood. It was located at Tanglin Halt, one of the oldest area in Singapore. When I visited this time, the area was already "en-bloc"ed. It means that the government collectively take over the houses and demolish the area, to built a newer residence area. In Singapore, one does not simply own a flat. Government rented them for normally 99 years. Usually, before rent is due, government will en-bloc the flats and offer the resident a new one with heavily reduced price.
Singapore, Day 2
The next day, I woke up very early. I had a daily alarm at 5AM, but in Singapore that means 4AM Jakarta time! The hotel I stayed in Pasir Panjang did not provide breakfast. By the way, the hotel itself was an old and very simple hotel. It was located far from the town and it seemed that there was not many guests lately, so they closed the restaurant. However, the hotel was a perfect fit for me: inexpensive, provided stable hot water, air-conditioned, etc. The only downside is that the (CRT) TV only had one channel: Vasantham, a Tamil-speaking channel. I don't speak Tamil.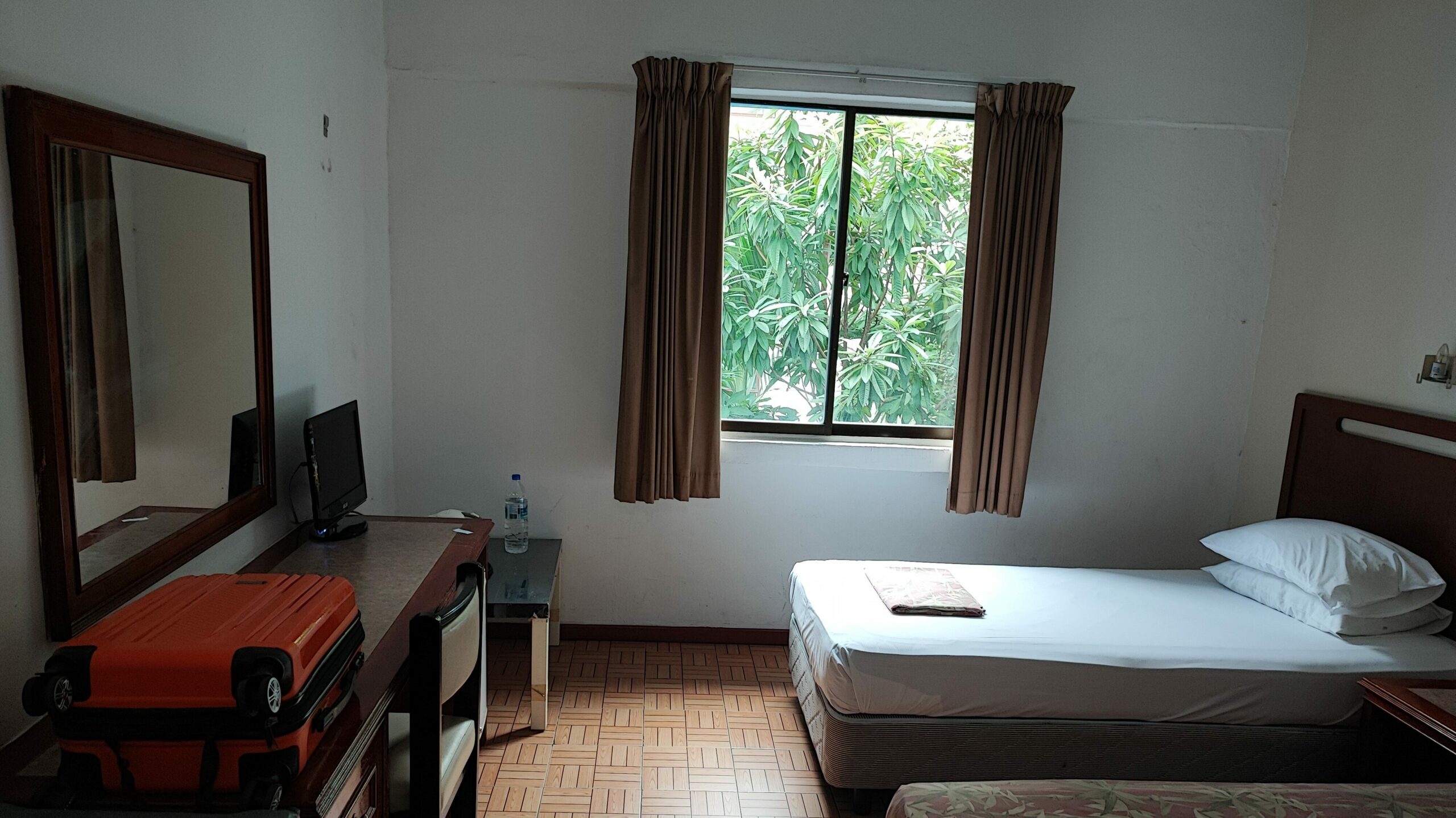 The bright side of it, was that the hotel was very close to a coffee shop that opens early in the morning, namely the Habibi. I went there before the sun rose, and had a very nice, long-awaited, kopi (Singapore coffee with milk – find out what's so special about Singapore coffee in my previous post). On my way back to hotel, I also took a picture of my hotel facade, because the block number 404, has special meaning for web developers. 404 is the status code for "page not found" when one tries to access a certain web page.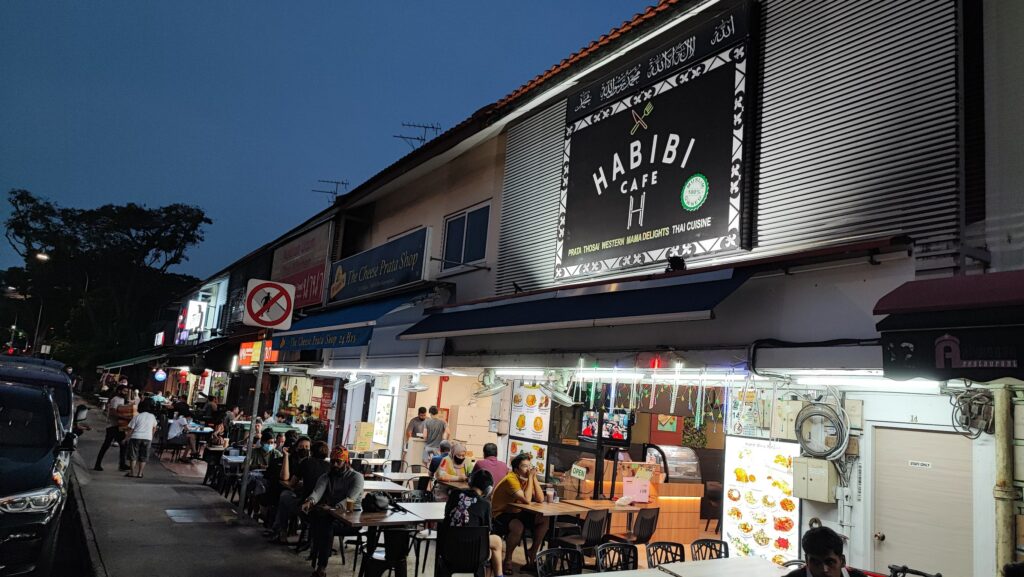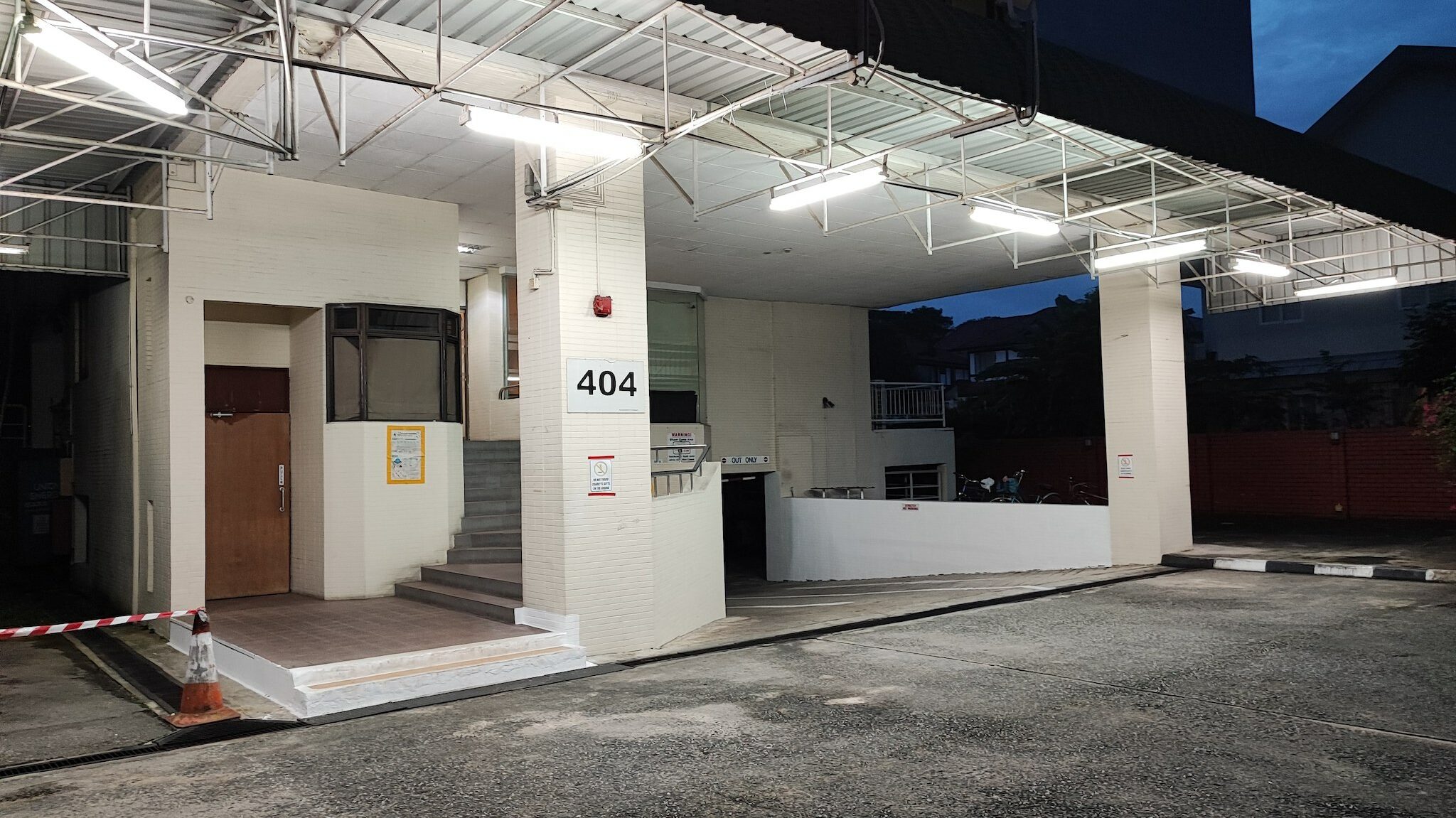 After the sun rose, I took a bus and stopped near the entrance of Kent Ridge Park. I wanted to recreate the photos I took 10 years before when I lived here. The result was quite fascinating and I posted it to my Instagram account. At the end of the trip, I had my brunch at Prince George Park Residence canteen, inside the NUS (National University of Singapore) area. It was the traditional Singaporean breakfast: a kaya+butter toast, half-boiled eggs, and coffee with milk. I replaced the condensed milk with evaporated milk to reduce sugar intake.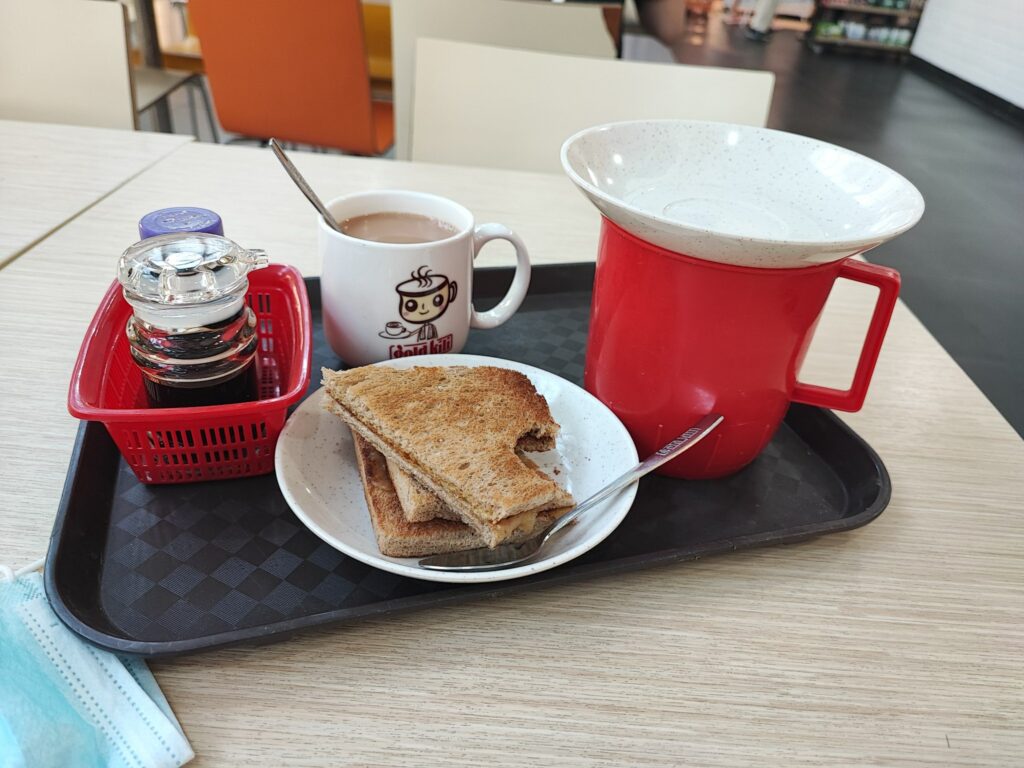 I also stopped by the NUS co-op, a store that sells many university or science themed gifts. I found some interesting items to buy, but decided to gave them a little thought for a few days before buying.
Near the co-op, there was an exhibition "We are NUS", where you can take a picture with paintings of several NUS people, and have the picture sent to your e-mail.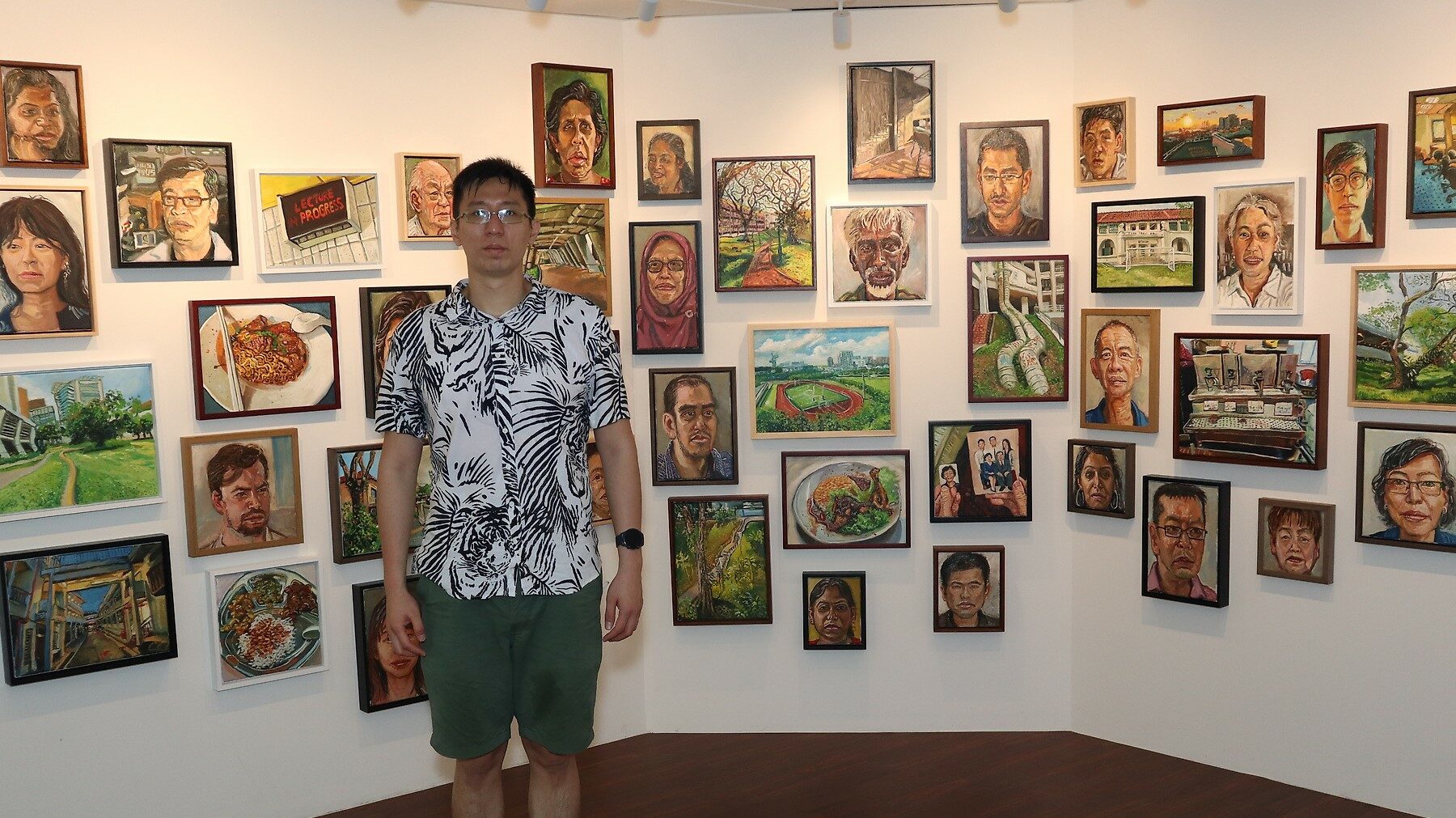 I traveled again, to Vista mall near Buona Vista MRT, to meet my other friend, AS. Before meeting him, I had a team zoom meeting at 11AM Jakarta time, which converted to 12 noon Singapore time. It was difficult to get a decent internet, even inside Pizza Hut restaurant (where I had to pay more for a food that I could also get back in Indonesia).
An hour later, AS came and we had a talk at a nearby Indian restaurant. We didn't take picture together but I did take a picture of my food. Yummy. AS was a friend from high school. I remember the time when we connected cheap remote-controlled car to a parallel port in an old 486 computer. By adjusting the value of certain memory locations in the computer, we could control the voltage of the port and in turn told the car to move forward, backward, left, and right, by the keyboard presses. Newer computers could not do this, likely because of lower voltages and protocols required to control the voltage. We won 2nd place at a competition.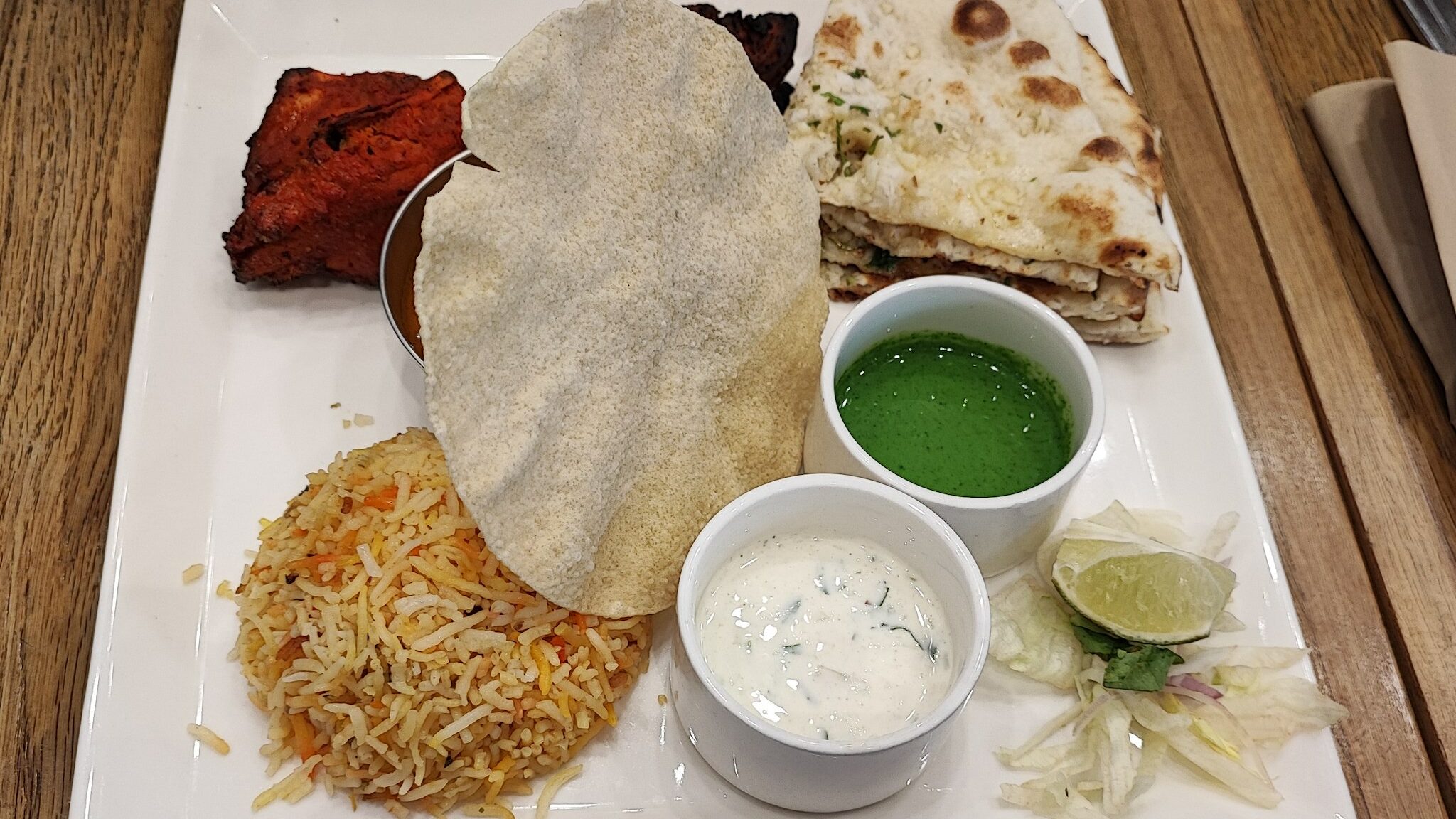 I went back to the hotel and take a rest, before going out again in the evening, to meet my friends at Vivo City.
While waiting my friends to come, I walked around Vivo City to look for some gifts to bring home. One of my target was the Lego Vespa, a miniature of Vespa 125. It was promoted in Vespa Indonesia website, but unfortunately not officially sold in Indonesia. I found one at Bricks World, with a price tag of S$165. Also, I had to give some thoughts before actually buying it.
A few minutes later, my friends E, H, and HO came. Two of them had kids, so I felt honored that they walked the extra mile to leave their kids at home to meet me. We had dinner at a Korean restaurant and talked about many things. These friends were one of my special friends in Singapore. When I first visited Singapore, I was alone from Indonesia to meet my employer. A day before my first working day, I visited office to do some paperworks, without knowing any other Indonesians. On my way back from office, I unexpectedly met these group of ITB alumni, wanting to go that office too. One in the group was A, which I known earlier from a competition. So I was introduced with the rest (including E, H, and HO), and they became my first good friends in my four years life in Singapore.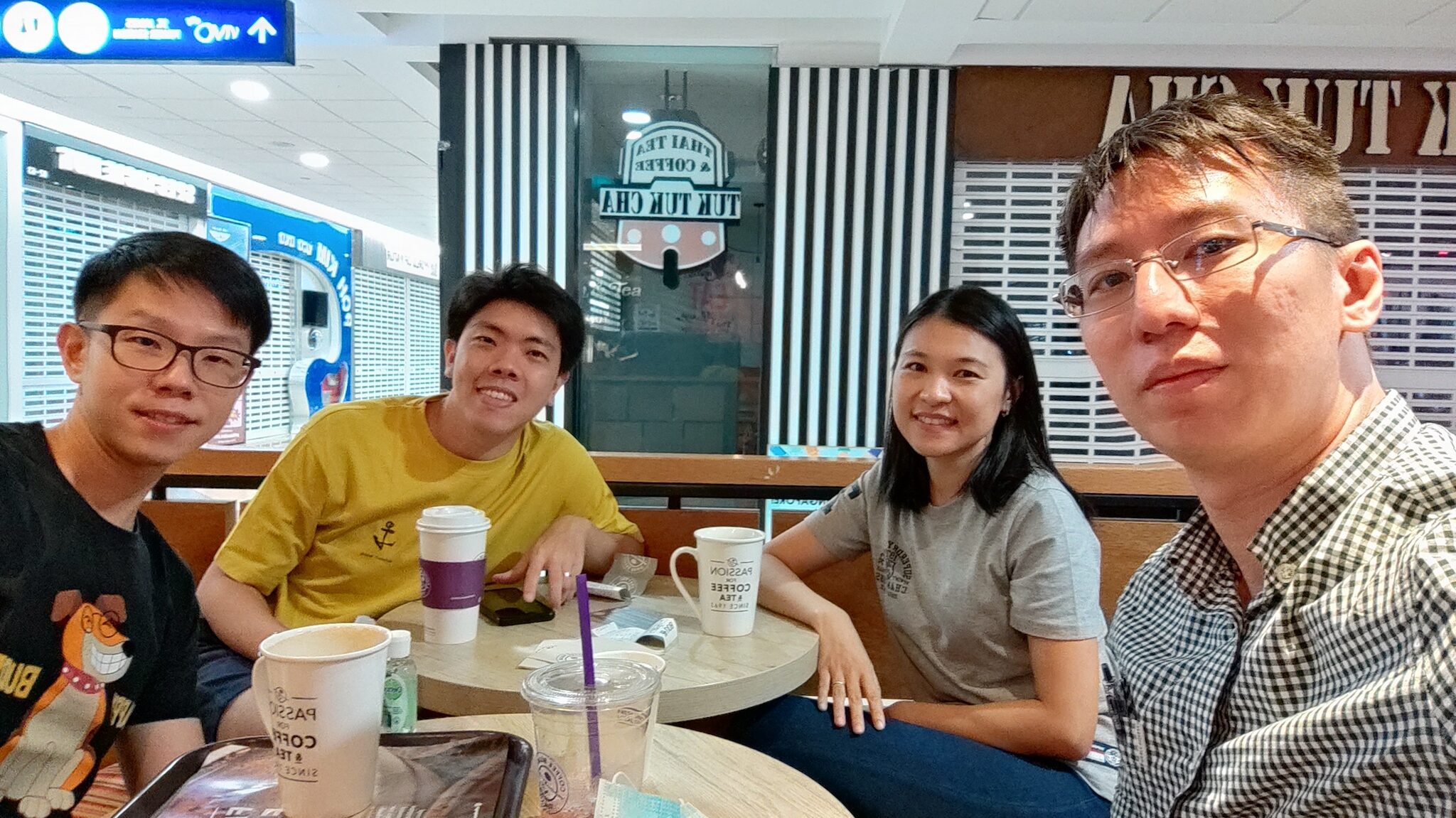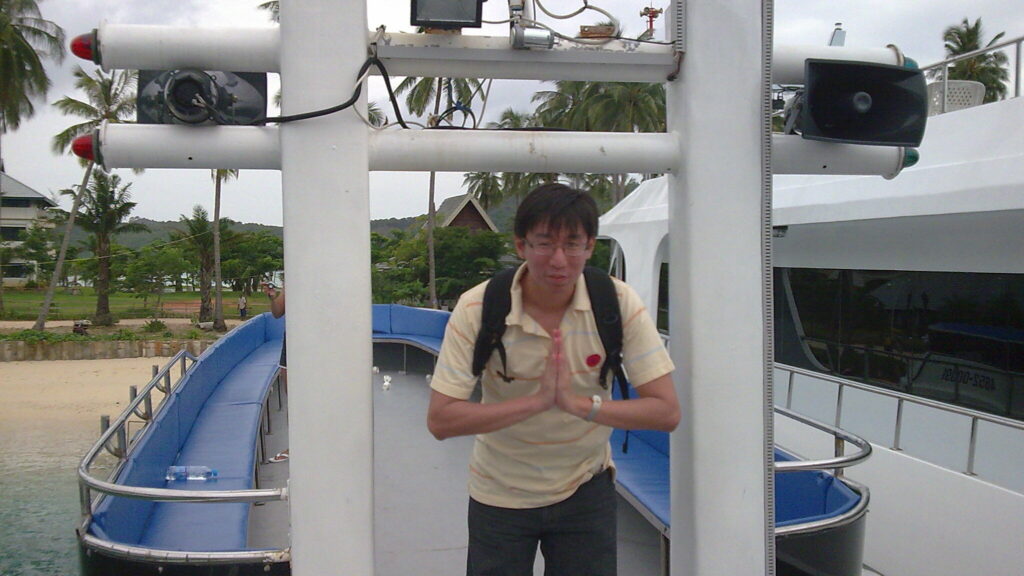 After an hour talking inside the Korean restaurant, we felt that we sat too long there, so we paid the bill (well, my friends actually forbid me to pay, and they paid for our dinner). I assumed that they had to go home, to take care of the kids. I was wrong though; they already asked their spouses to take care of the kids! It turned out that by having me visited them to Singapore, it's also a chance for them to meet each other, since it's difficult to meet even when everyone lives in the same city. We moved to Coffee Bean and Tea Leaf cafe. After a few minutes chatting, I started to feel sleepy. Lucky that I could buy an espresso shot to help me awake. After a long nice chat, we waved goodbye and went back to our own life.
Singapore, Day 3
The next morning, I took another breakfast at Habibi. This time, Masala Thosai. Also known as Masala Dosa in India, this meal had a special meaning for me. When I had my internship in Bangalore, India, this was my favorite meal, mostly due to its price. It was very cheap that when converted to Rupiah it was Rp4.000 (S$0.4). Price was important because when I lived in Bangalore, I only brought limited amount of money, and my stipend was paid only after I went back home. The price now, of course, will be much more expensive than that.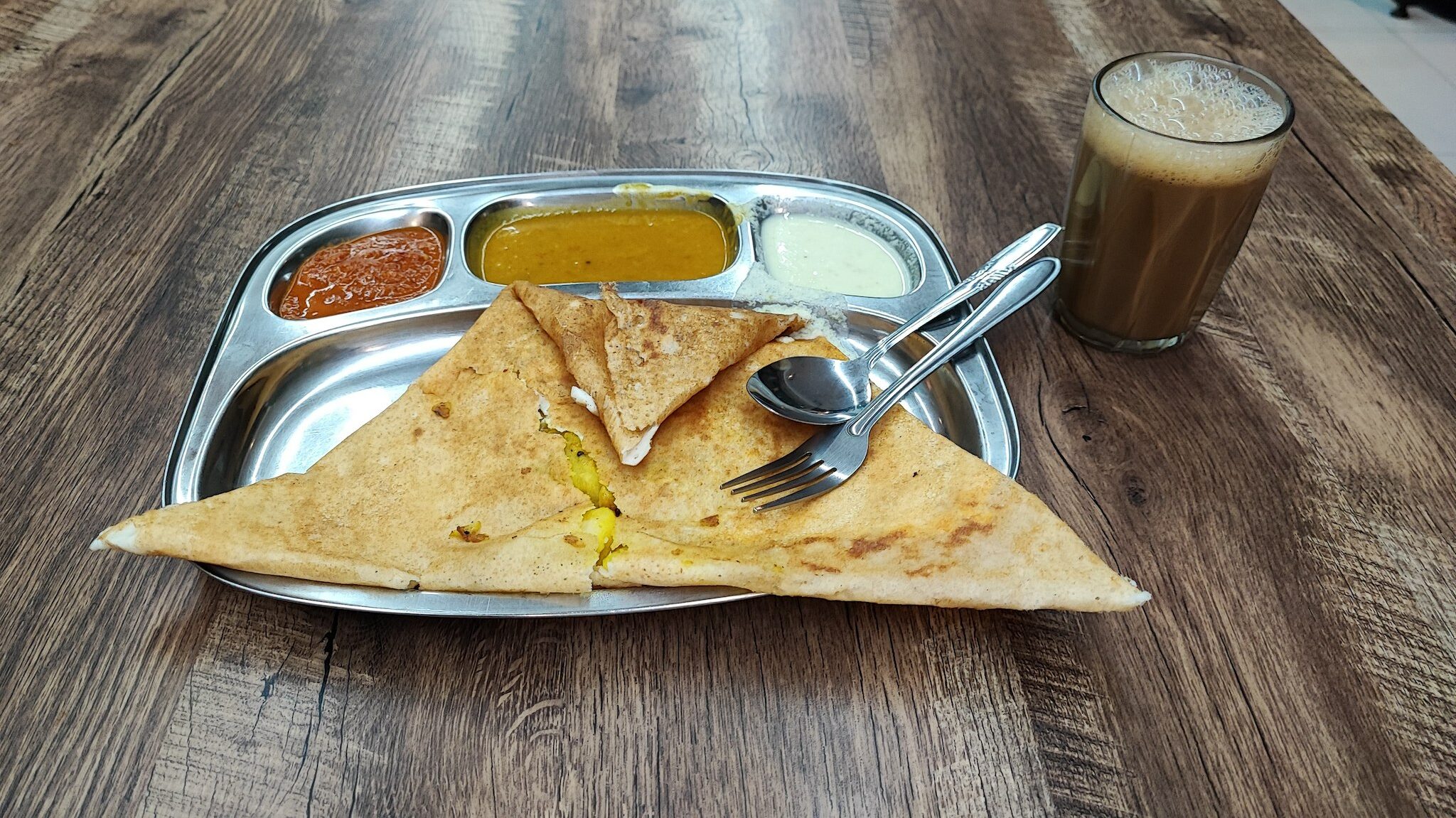 I then traveled to NUS again, which was not very far from the hotel. I had weekly bible study with some friends through zoom. NUS on Saturday morning was not crowded at all and I could easily sit on one bench, get the free wifi, and did the zoom meeting without disturbing anyone around. After zoom, I went back to the hotel, and visited a post office nearby. I brought some children books for my friends in Singapore, and one was reserved for AQ. Since he could not meet us, I decided to send it by postal service.
I went to Bugis Street afterwards. The night before, I asked my wife what would she or the kids want for gifts from Singapore. My son asked me to buy a simple toy that he found a few years before in Bugis Street. It was an elastic water-filled ball that could be thrown to walls and stick for a while. Fortunately the shop selling such toy was still there, and I bought some for my kids and potentially their friends. S$20 for 7 balls. I also had some culinary delights at hawker center nearby, a popiah and grass jelly drink.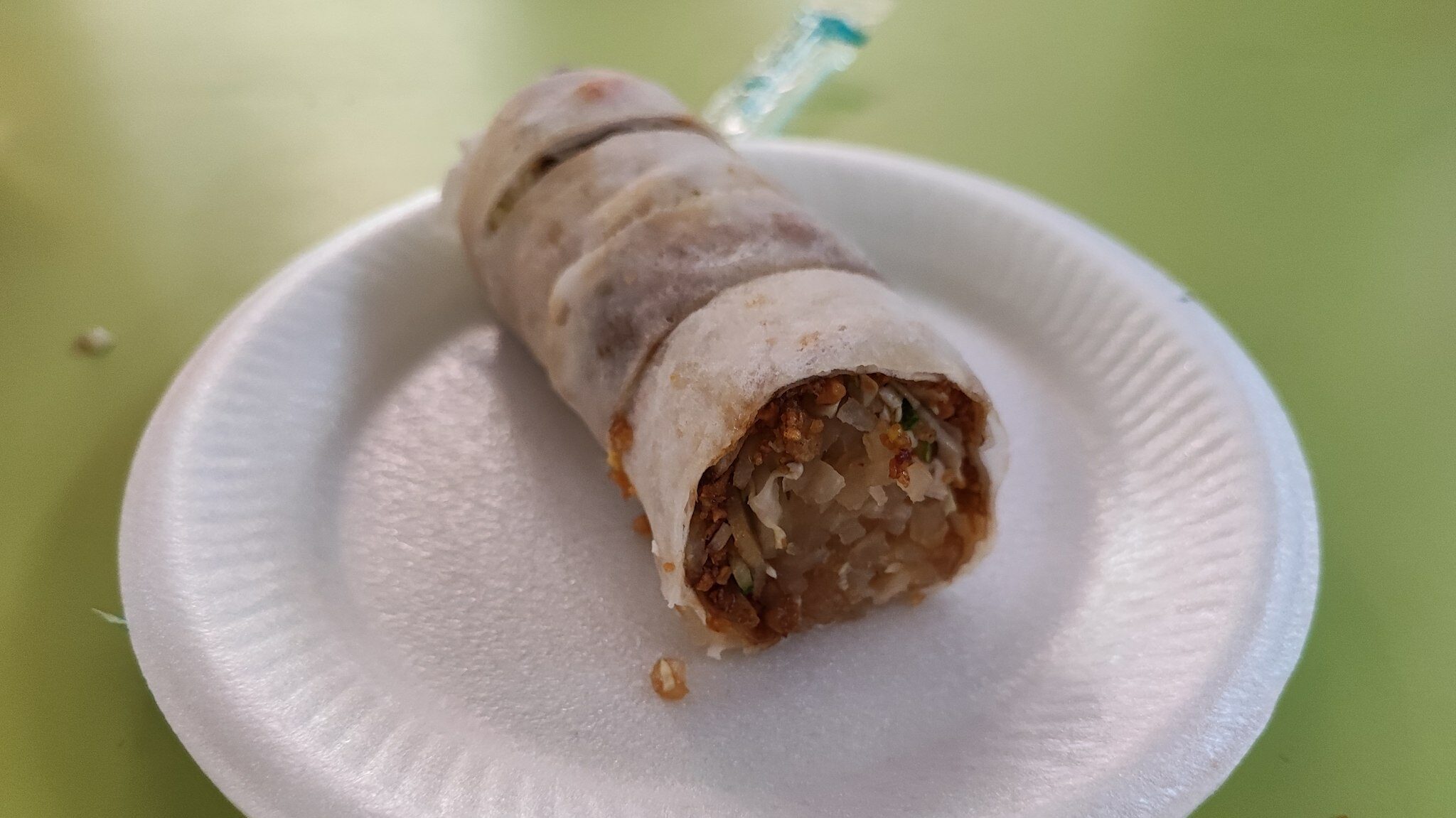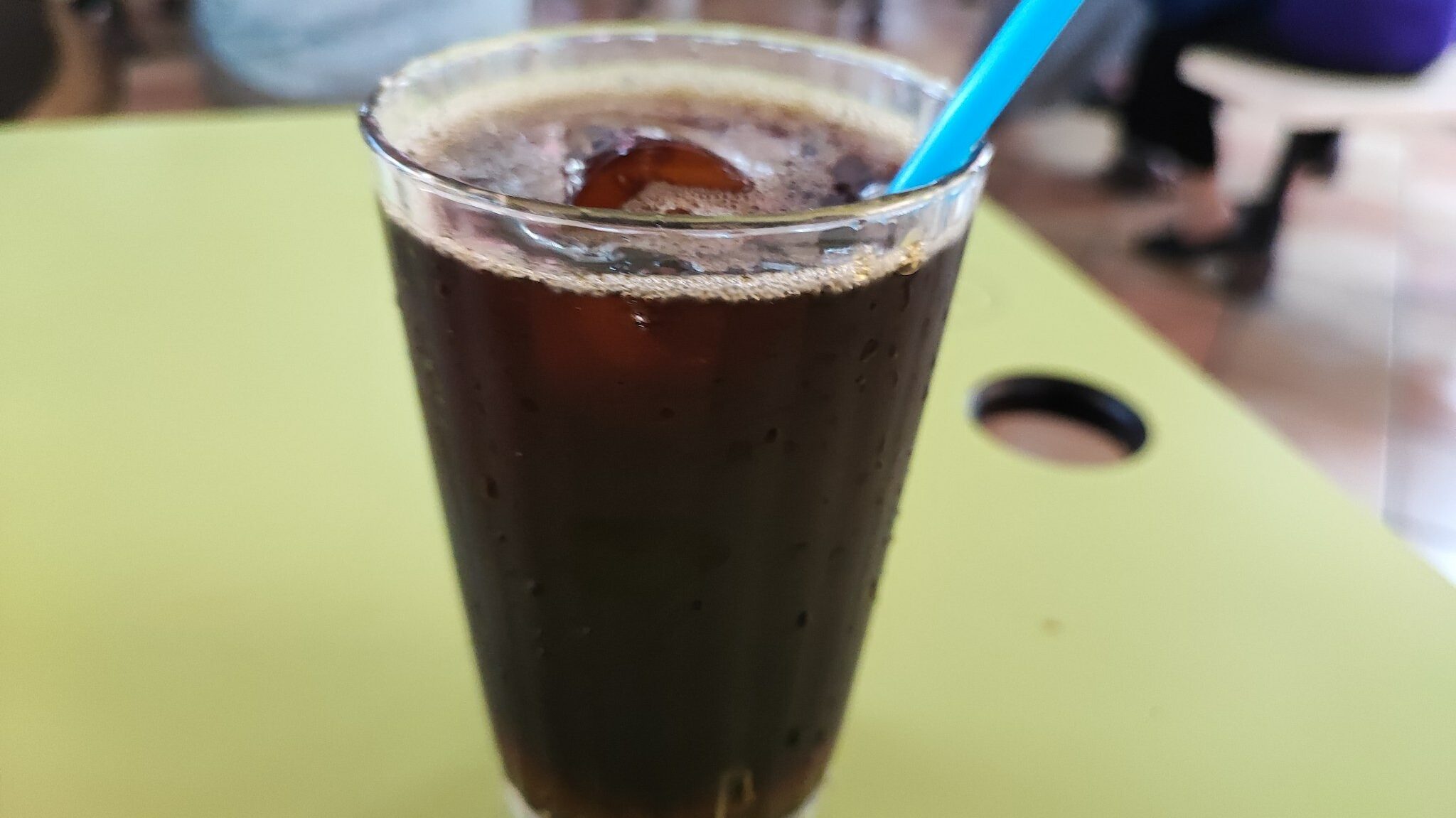 I went back to the hotel, and prepared myself for DK's wedding ceremony that evening. Dress code was cocktail. At first I thought "cocktail" refers to those colorful canned fruits usually used as ingredient for a sweet (mostly non-alcoholic in Indonesia) beverage. Lucky I did a google search and found that it actually referred to a full suit with jacket, much less colorful.
In Singapore I prefer to use public transport, even with full suit. This was actually the second time I wear a suit inside a public bus. The first time was for a wedding for another friend. The couple reminded us to be on time, so as not to disrupt the ceremony. Therefore, I departed early, and arrived early too. I was probably the first guest to arrive. DK's sister greeted me. His face looked familiar, and I realized that I knew her husband as well. However, her husband could not come because their child was still a few months old; too young for a long trip. I also met DK's parents, who were also special persons for me. During our olympiad preparation, our parents used to accompany us to the training venue, and they knew my parents, including my late mother.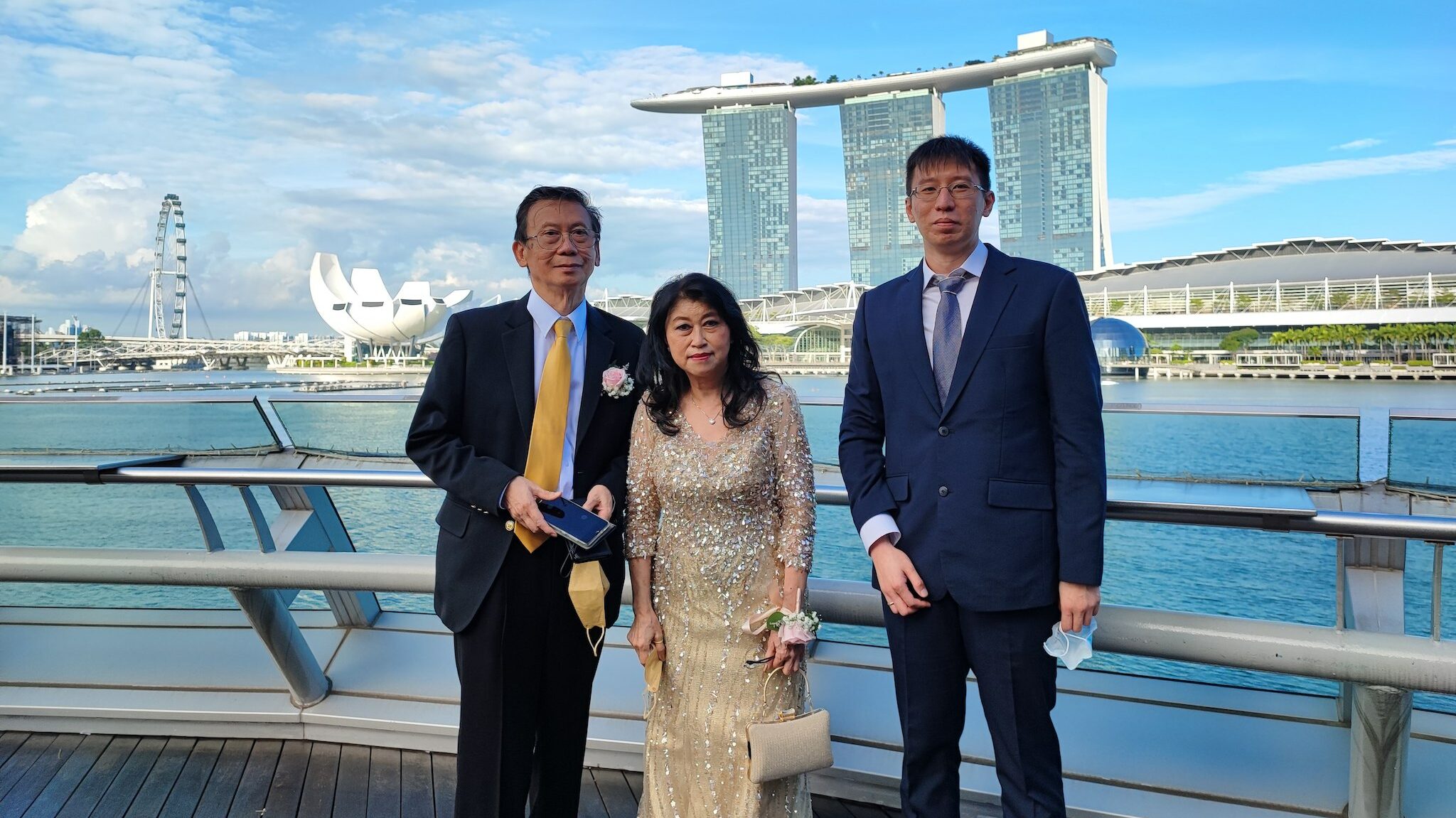 As you may have seen from the picture, the wedding was held in a very beautiful place in the town, where you can see some Singapore icons: the Flyer, Art Museum, and Marina Bay Sands.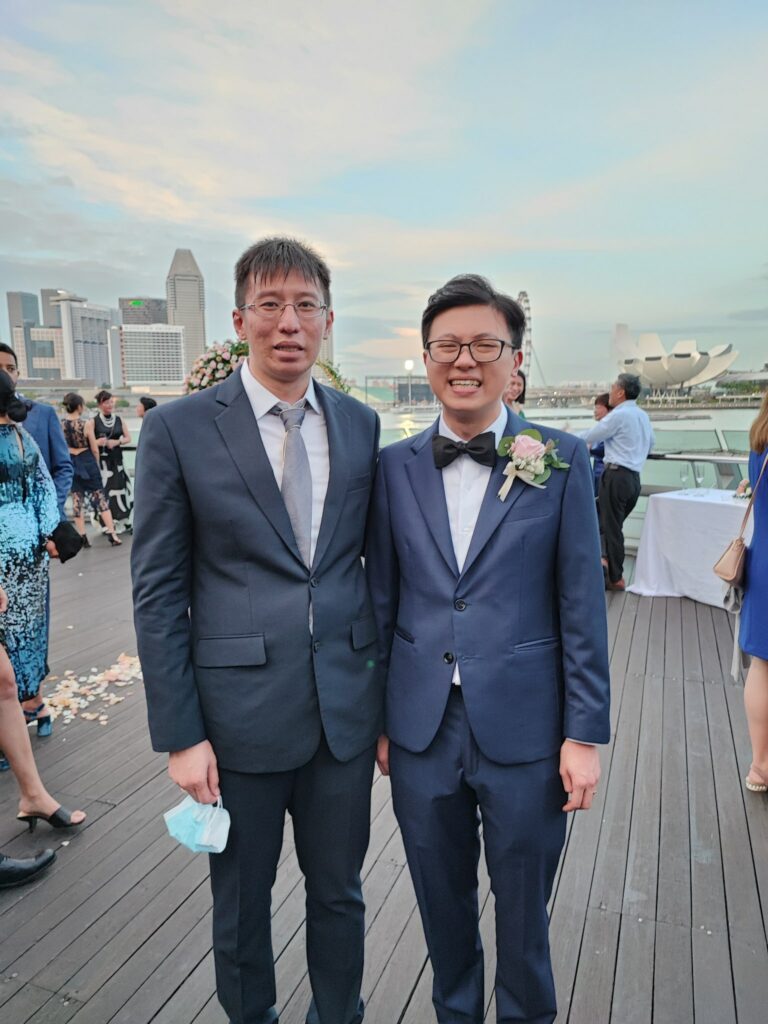 I also met several friends, old and new. AW was a founder of large game company in Indonesia. AH was in the management of a fintech company, and we met online several times to discuss potential cooperation. AK was another olympiad team member, who managed to get silver in IOI 2005. A was an international independent journalist, whom I just knew at the party. MS was a leader of a young political party for Jakarta region. K was a mutual friend but I never met him before. He also brought his cute little baby girl to the party.
Then the wedding ceremony started. It was led by a priest lady with slight Filipino accent. Not trying to be racist here, but having lived 4 years in Singapore, I started to have tendency to guess based on one's accent where he/she comes from. The lady used chocolate truffle as ice breaker for her sermon. She mentioned that we can see truffle -the food- as an acronym T-R-U-F-F-L-E. T is for Trust, a very important ingredient for a good marriage. R is for Respect, I think. The rest of the letters were not my responsibility to remember. It's D's responsibility to remember them, and I may ask him again about this in 5 years.
After mingling on the rooftop, we were invited to go downstairs for dinner. Everyone had a dedicated seat for them, with a name card on top of the table. It was a fine dining set up, Italian style. Plenty of wine were served, and it actually helped me to sleep well that night.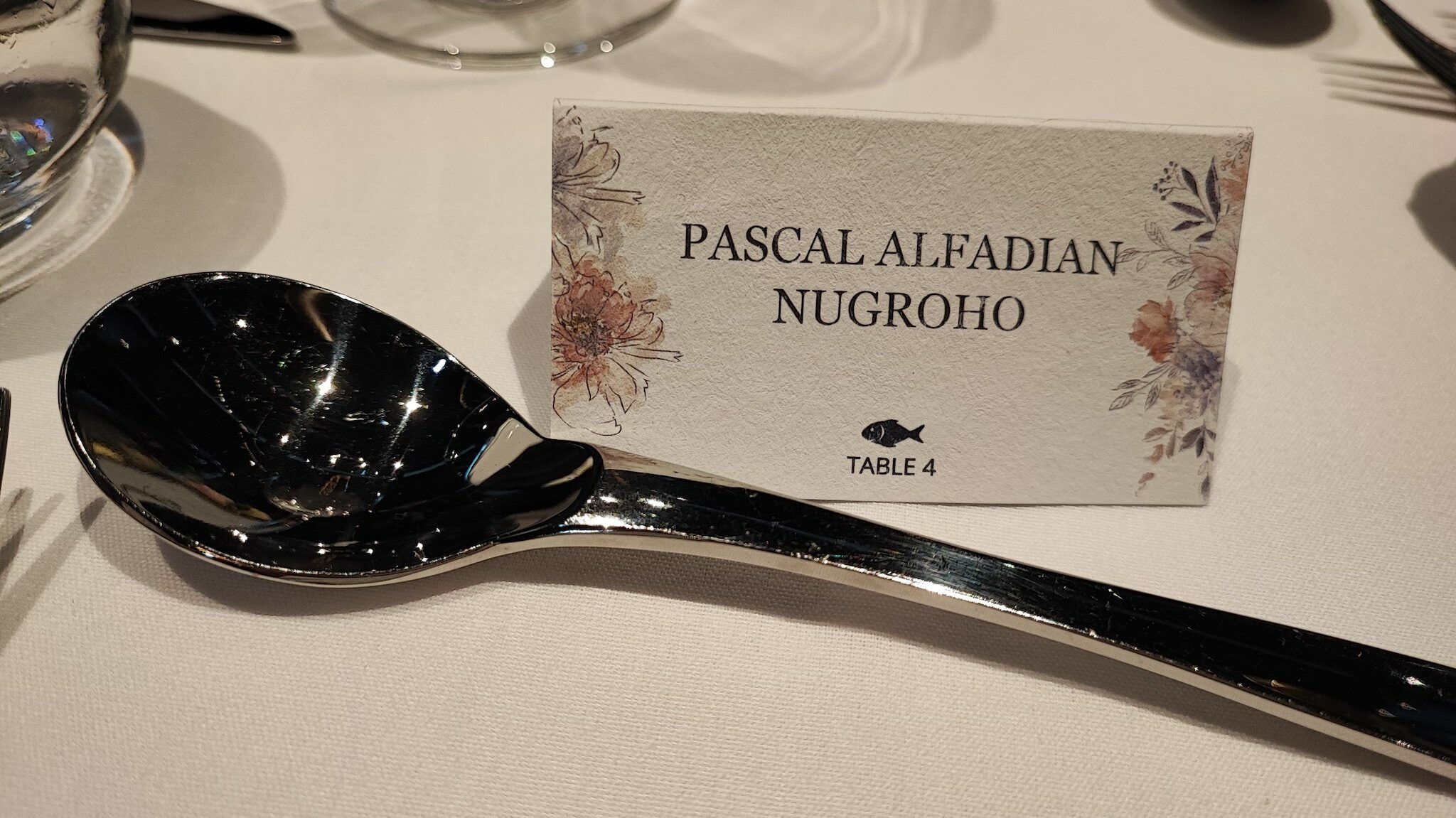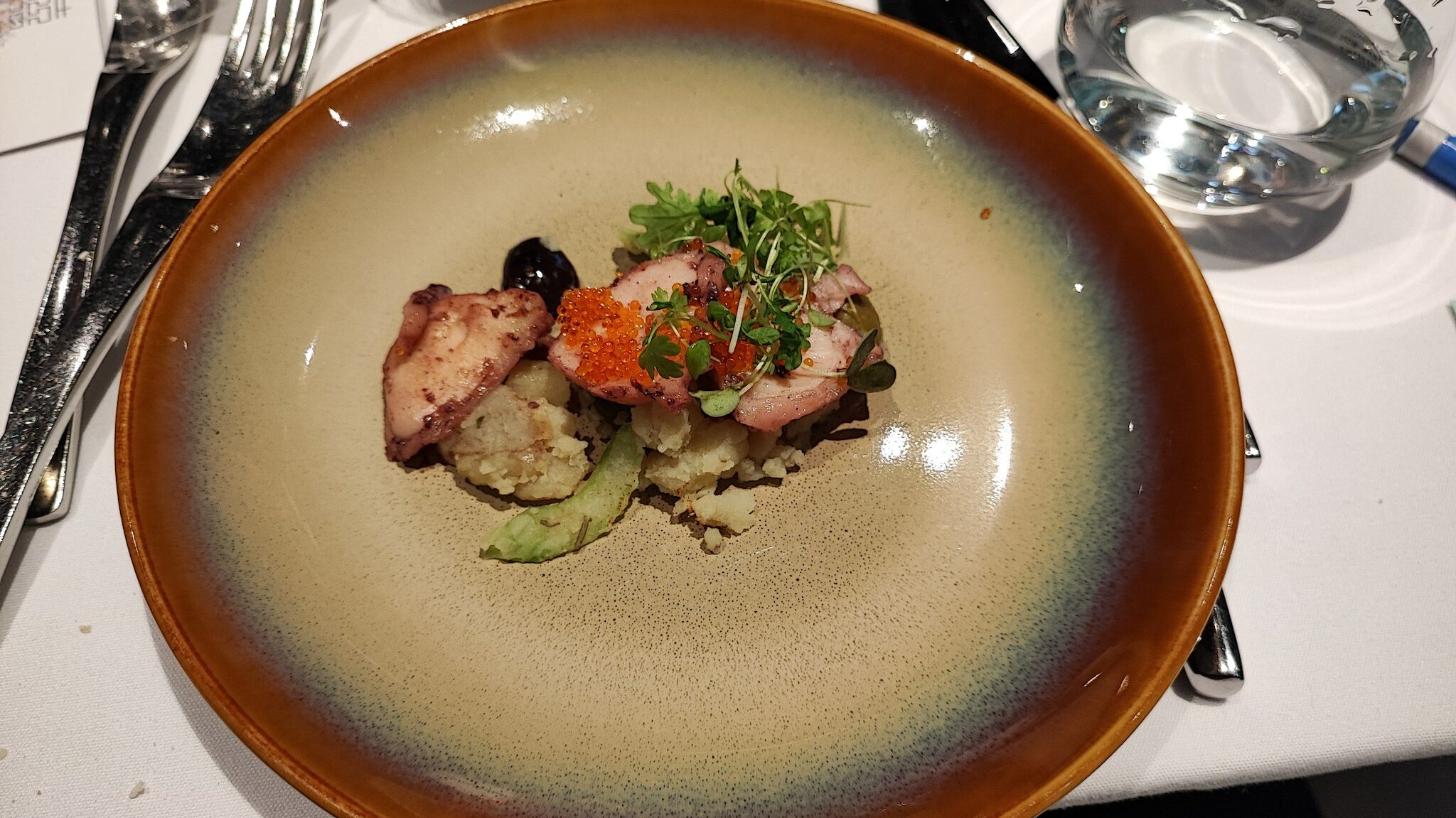 I sat on a small table of five, in a very strategic location. It was very close to the main stage where we could see the couple. I met old friends from the olympiad. Aside from AK and his wife, I also met RS and his newly-wed wife. They were expecting a baby so they tried to avoid wine and half-cooked steak (which gave some challenge to one of the servers because they offered only rare and medium one).
As the only one without a spouse in that table, I tried to make a joke about me getting a visa from my wife before going to Singapore. It took them a few seconds to understand the joke, especially because as fellow ASEAN citizens, Indonesians don't actually need a government issued visa to enter Singapore.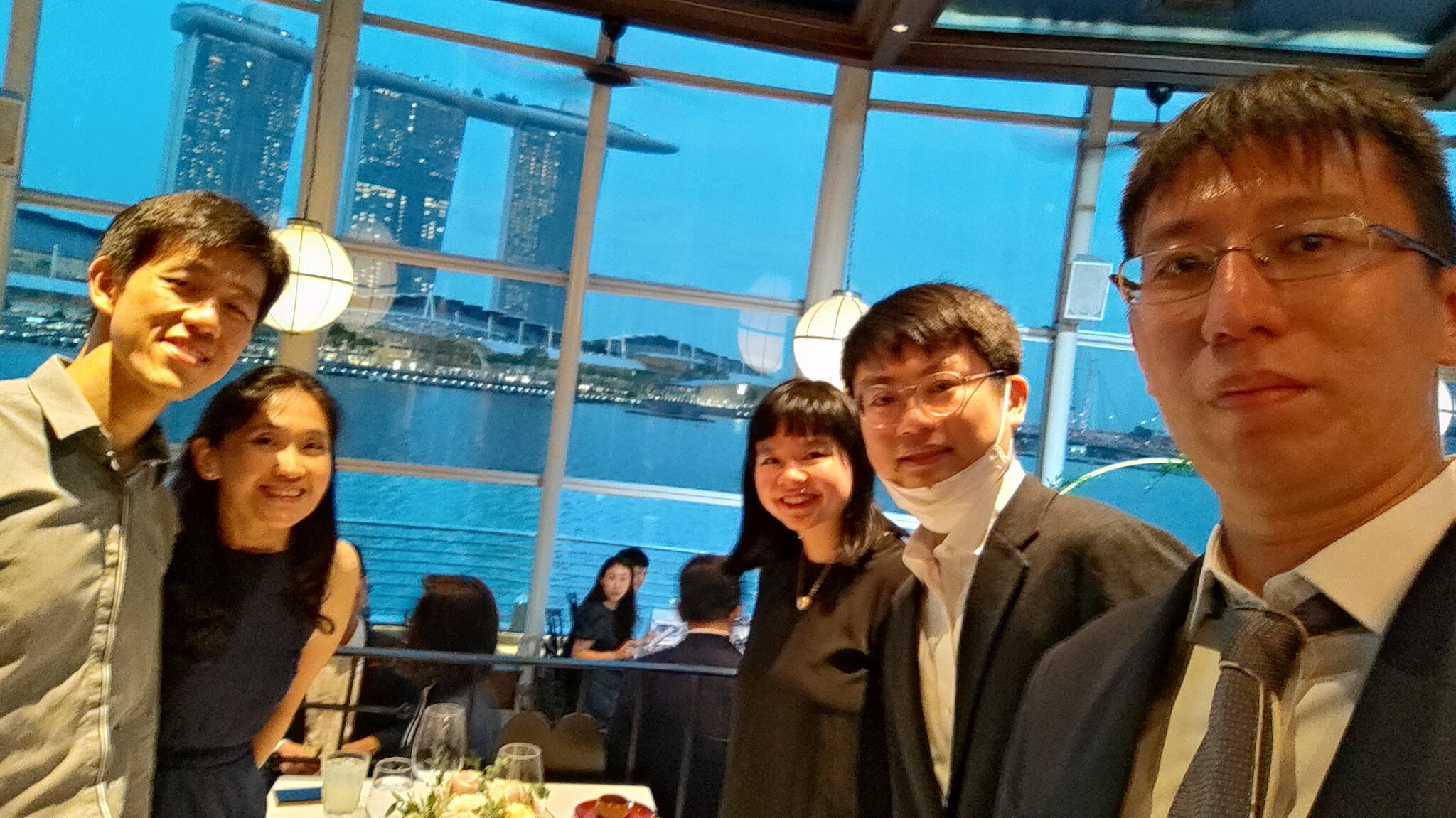 After about an hour of wine and talk, I went back to the hotel and get a good rest. RS also sent me some old pictures of me, him and DK when we were much younger (which you can also see it as the first picture in this post). He did not remember when and where did we met in the picture, but I vaguely remember it's in one of the olympiad event in a hotel in Bandung. A Google Maps search confirmed it, as in the picture we could see the roof of Hotel Savoy Homann's Garden Restaurant.
Singapore, Day 4
The next morning, I took a stroll at nearby West Coast Park. Parks in Singapore are unique, unlike parks in other countries. They are well maintained and have lush greeneries, but you cannot escape from the concretes. In the city area you will see tall buildings on the horizon. In parks of the coastal area, there are buildings on one side, boats tankers on another.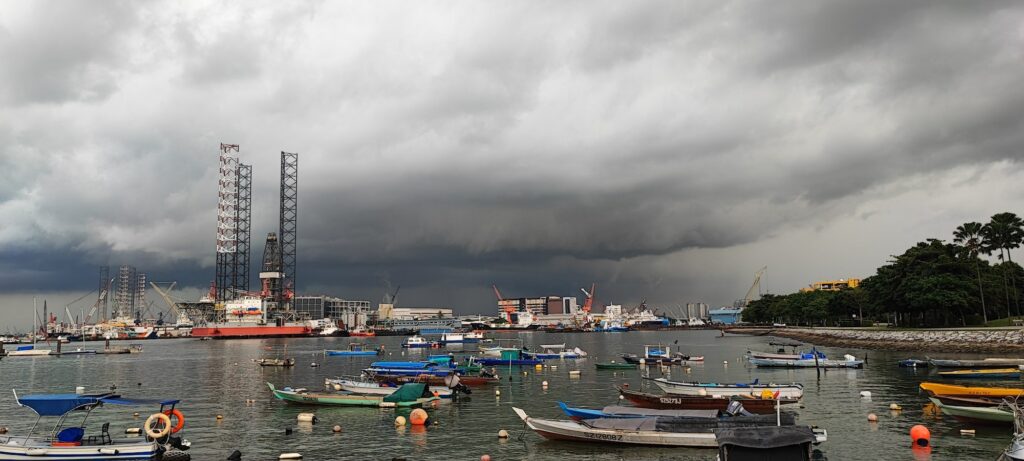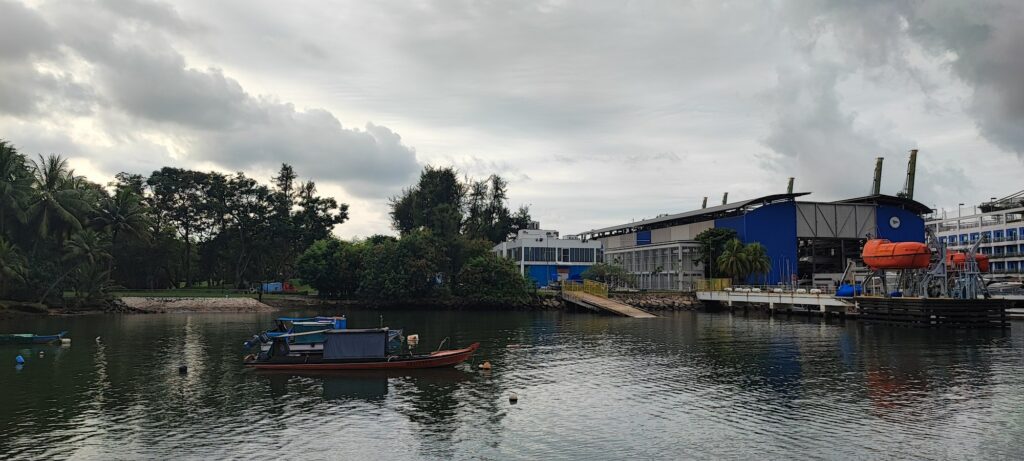 I spent the rest of that morning doing the laundry. At 1PM, I met my former landlord CL and her husband J, who kindly treated me for lunch in the Legendary Hong Kong Dim Sum. To have a meal there, one must wait in the queue for almost an hour. This was because it was a newly opened branch, after its first branch in Jurong Point.
The dim sum was very nice, but it was even nicer to meet my former landlord. During my 4-year stay in Singapore, I lived in her flat (well actually, her mother's) and never moved out. I stayed in a two-bedroom flat, which I occupied 1 bedroom, while her mother on the other bedroom. She (her mother) was already a senior citizen when I stayed there, and when I visited Singapore this time she was already too old that she needed constant care in a nursing home. The flat itself has been emptied because it was going to be demolished for en-bloc. It was the same flat I mentioned in day 1.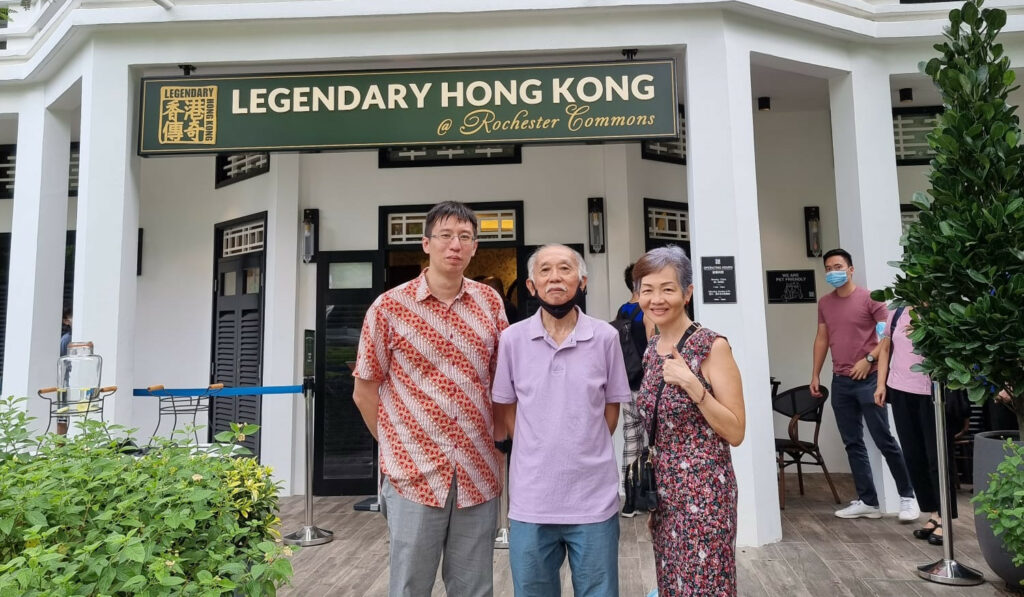 I went back to hotel and took a rest, before heading out again to visit DK's apartment. He invited us to his apartment for a casual dinner. When I arrived, DK was busy discussing work with his colleague. He started this new venture of making a website called Sembly, a collaboration platform. I met and talk with several new friends. NO was an investor to several startups in Jakarta. MS was the political leader that I met a day earlier. As an engineer, I didn't know much about how political party works, and he gladly explained to us how it actually works.
Dr. W was the head of NLP (Natural Language Processing) lab in AI Singapore, but it was his knowledge of my hotel that surprised me. The hotel I stayed was actually a pretty infamous hotel, located far from the city center and far from MRT stations. However, it was close to NUS (where AI Singapore office was located) and close to two famous Indian coffee shop as well: Habibi and The Cheese Prata Shop. Dr. W explained to me that both are popular among NUS students as places for studying late at night.
I headed home probably at 9PM. I took another bus to go to my hotel and enjoyed the night. I always like taking a bus in Singapore. It is air-conditioned, comfortable, and you can easily see the surroundings en route.
Singapore, Day 5
The next morning, I went out to Orchard area, the "Singapore" as most Indonesian tourists know. I went there to look for Lego Vespa, which I was also looking in day 2.
But first, breakfast.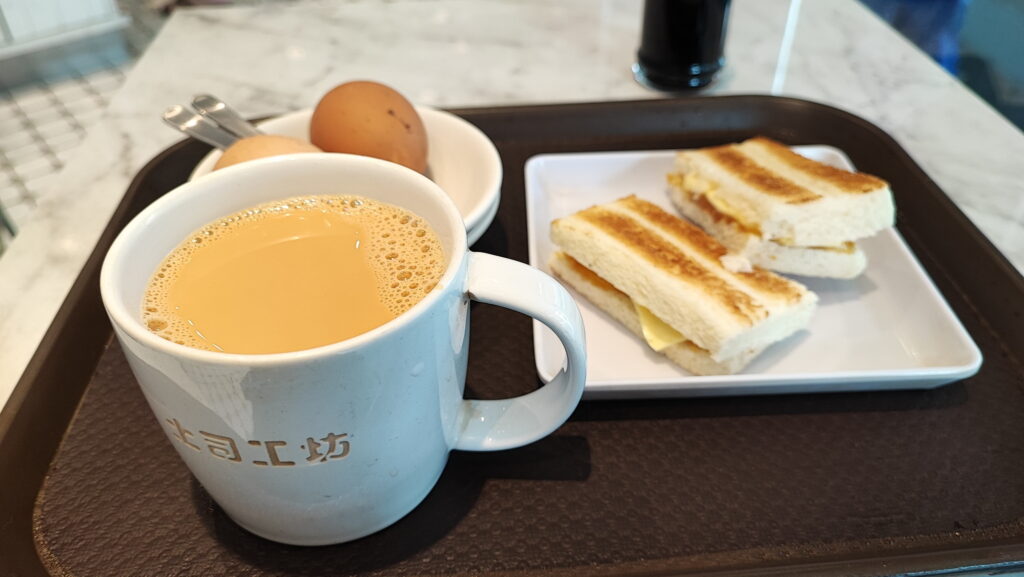 Back to the Lego Vespa, I got a nice deal in Takashimaya with $159 price, 10% discount for tourists and additional 7% GST refund at the airport. However, the packages were so big, I had to rearrange the content my suitcases. Also, to try saving spaces, I did another laundry at Anchorpoint.
In the afternoon, I went out to NUS again. I had some works to do, and the hotel internet was not stable during the day. I worked at the School of Computing, and walked around to Engineering canteen and Yusof Ishak House afterwards. For dinner, I took an Indian set meal in Yusof Ishak House canteen.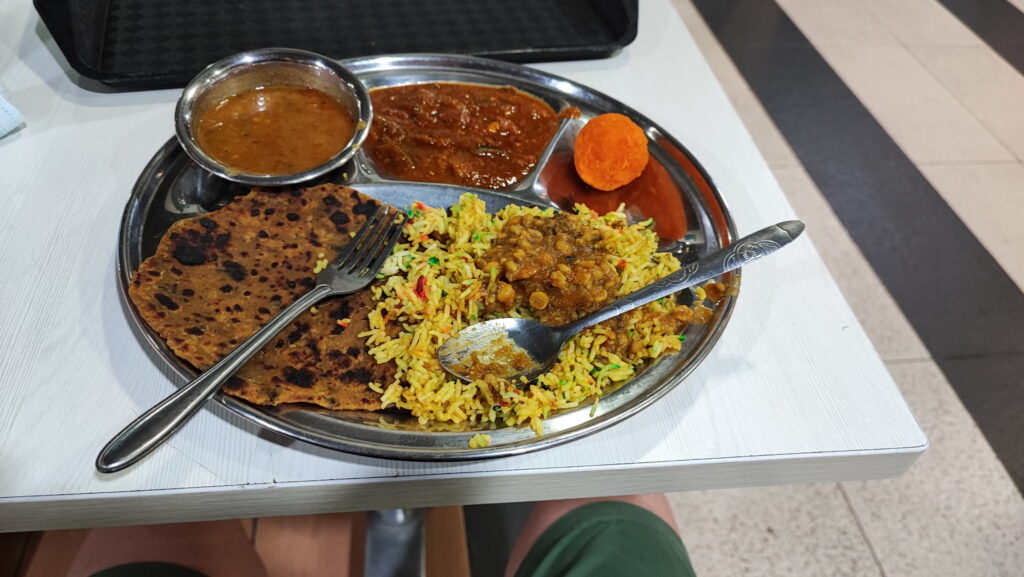 I then went back to the hotel to rest, after basically a whole day for myself.
Singapore, Day 6
This was my last day in Singapore, also happened to be Singapore's national day. In the morning, I met ES and had breakfast together at The Cheese Prata Shop. We planned to meet BR as well, but he could not come because of COVID. The three of us went to the same high school, and both ES and BR were the two friends who welcomed me to Singapore when I started living here for work. I could still remember BR's quote when I met him in 2008, "There's not much news here in Singapore, we even imported crime news from Malaysia".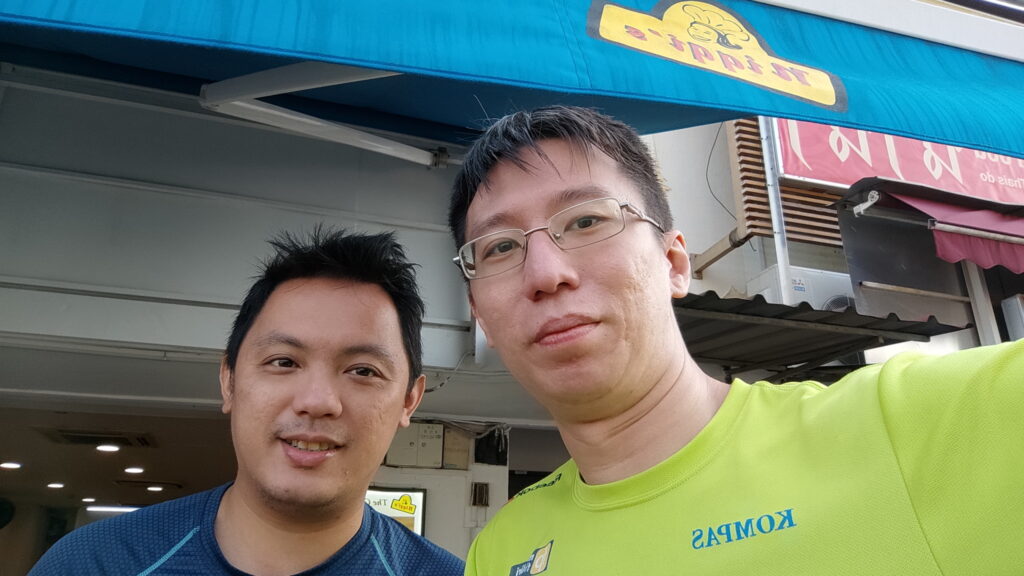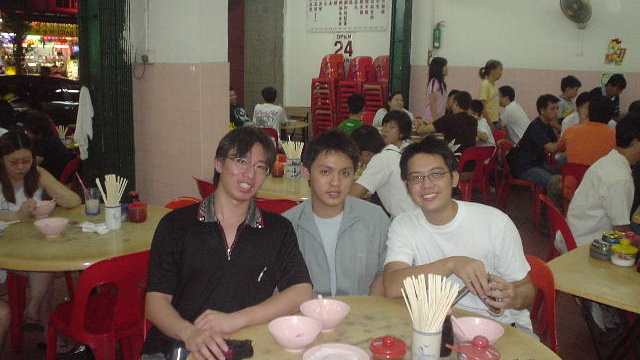 Browsing through my photo collection, I also found our pictures from 2005, 17 years back! We had a dinner at Geylang that time. Geylang was known for both delicious food and as a red light district (prostitution). The next day, my friend's aunt (a Singaporean) invited us for lunch. She casually asked me where did I go last night. I naively said Geylang, and you can only imagine the change of look in her face. "Geylang!? You should be careful there. Plenty of gangsters, etc..".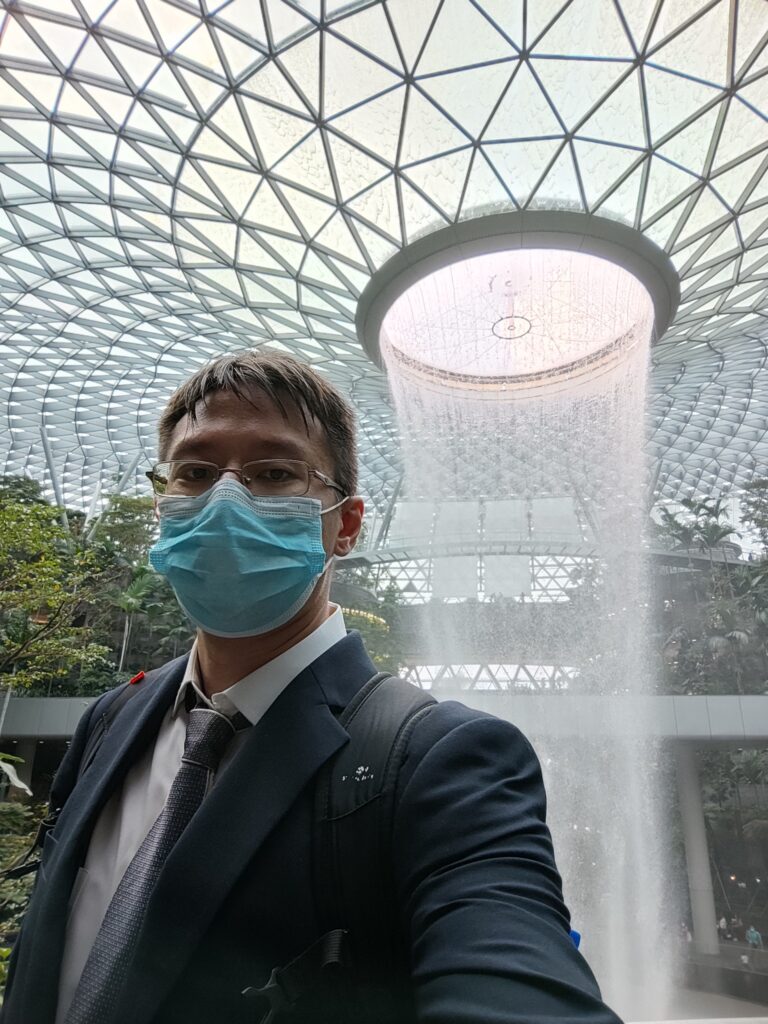 After breakfast, I went back to the hotel to pack my stuff. It was so full of oleh-oleh (gifts), especially because I prepared several personalized gifts for some people (including those huge Lego Vespas). The suit would also take a lot of space when put inside the suitcase, so (thanks to Y's brilliant idea) I wore them for my flight back to Jakarta. In addition, I also put some of my clothes in my backpack, because the suitcase were too full. My laptops and chargers were put in a hand-carry bag.
My flight was somewhere at 6PM, but I was all ready in the morning. I asked the hotel receptionist to help book me a taxi, but she suggested that it was not difficult and cheaper too to flag one on the street, in front of the hotel.
I tried to check in my backpack, ready to pay for some extra cost for additional weight. The check-in lady, however, insisted that I should not pay extra and bring the backpack with me to the cabin instead.
Having a lot of free time, I walked around the airport, including taking a selfie in front of the infamous HSBC Rain Vortex. Aside from that, it was just another crowded shopping mall.
I then had my last Singaporean meal in Singapore, mee rebus for lunch and barley for the drink. Mee rebus is a noodle with thick coconut milk soup.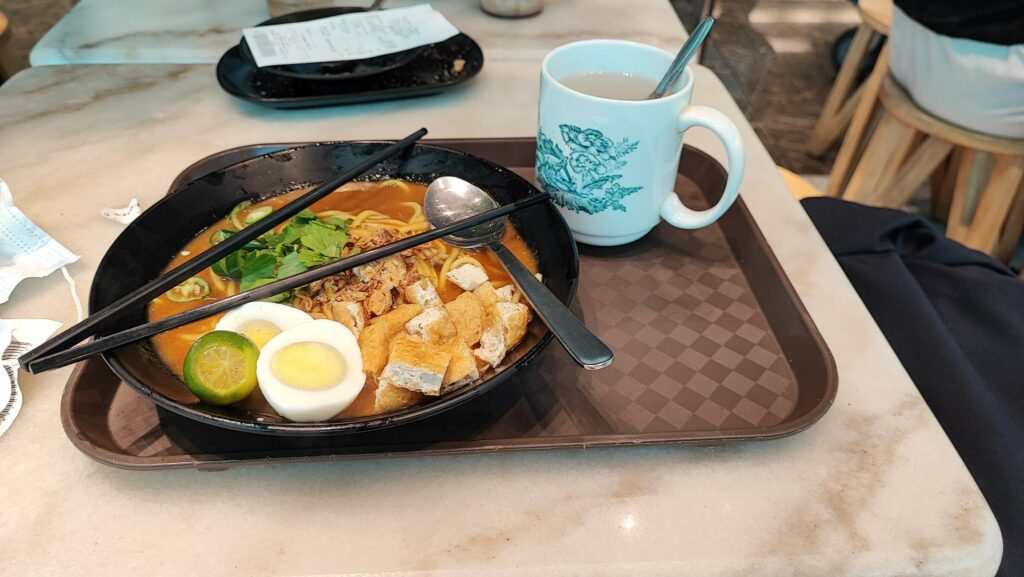 Just after lunch, I entered transit area and spent most of my time waiting for the flight there. I had one last kopi in Singapore (I promise, this is the actual last) in the food court. This food court had this cute robot that helped transporting used tray and eating utensils.
About 6.30 PM local time, the plane took off for Jakarta. It was delayed for a few minutes due to national day activities, but it gave me the right moment to take this picture of beautiful sunset from the airplaine.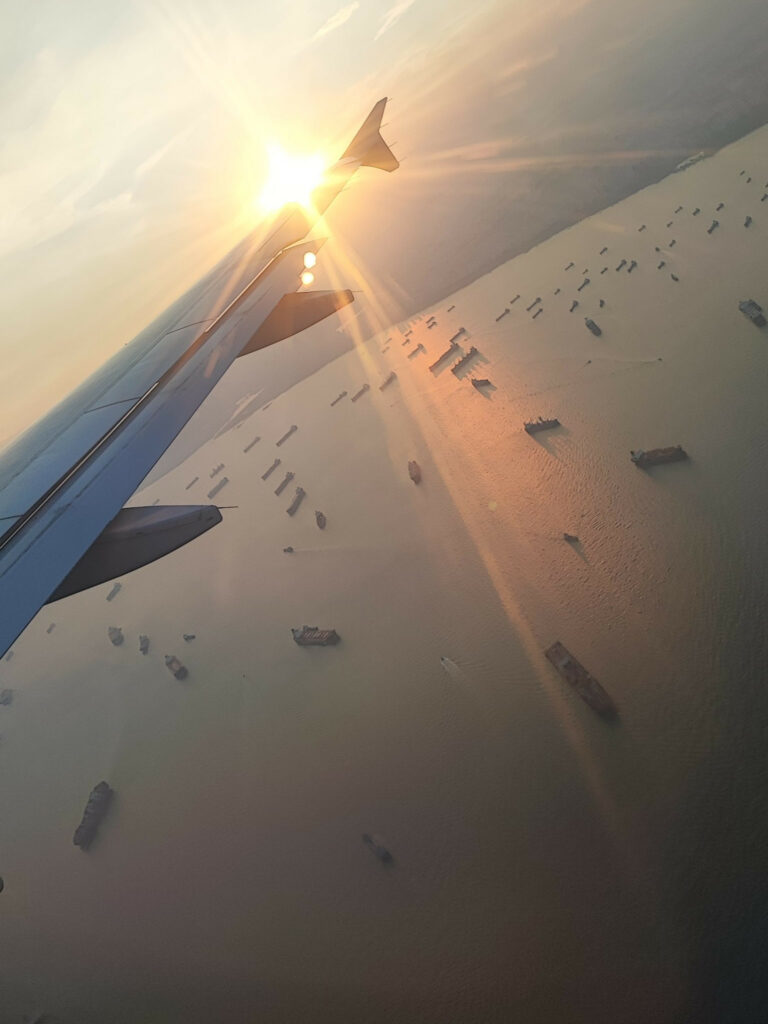 ---
Epilog
On my way back from Jakarta to Bandung, RS sent me this screenshot of his conversation with his friend. I'm glad that I'm not the only one who knew the visa joke.