Saturday morning, I with my family drove to Jakarta. I was about to attend an on-site wedding of a cousin that day. The wedding involves the Tea Pai, a ceremony where the newly wed present cup of tea for their elders. Since my dad decided not to attend the ceremony due to COVID-19 precautions, I represented him to accept the tea; as well as attending the party. However, this trip turned out to be more of a family leisure trip for me.
We arrived in Jakarta around 10AM. First stop was the Maison Weiner cake shop. Dubbed as the oldest cake shop in Jakarta, it serves mostly Dutch-style cake and bread at affordable prices. We bought some bread for breakfast, and continued driving to our hotel.
Our hotel was located very close to Bundaran HI, a landmark of Jakarta and not far from a busway (Jakarta's bus system) stop. Since we could not check in yet, we just parked our car and took an MRT ride to Blok M BCA station. Kids were very happy as it was their first MRT trip after some time. There were some strict rules due to COVID-19, though: mask on, not to sit in X-marked seats, and… no speaking. If you wonder how the officer could remind us about the last rule if he was not allowed to speak, well, he had a small cardboard with the rule written on it.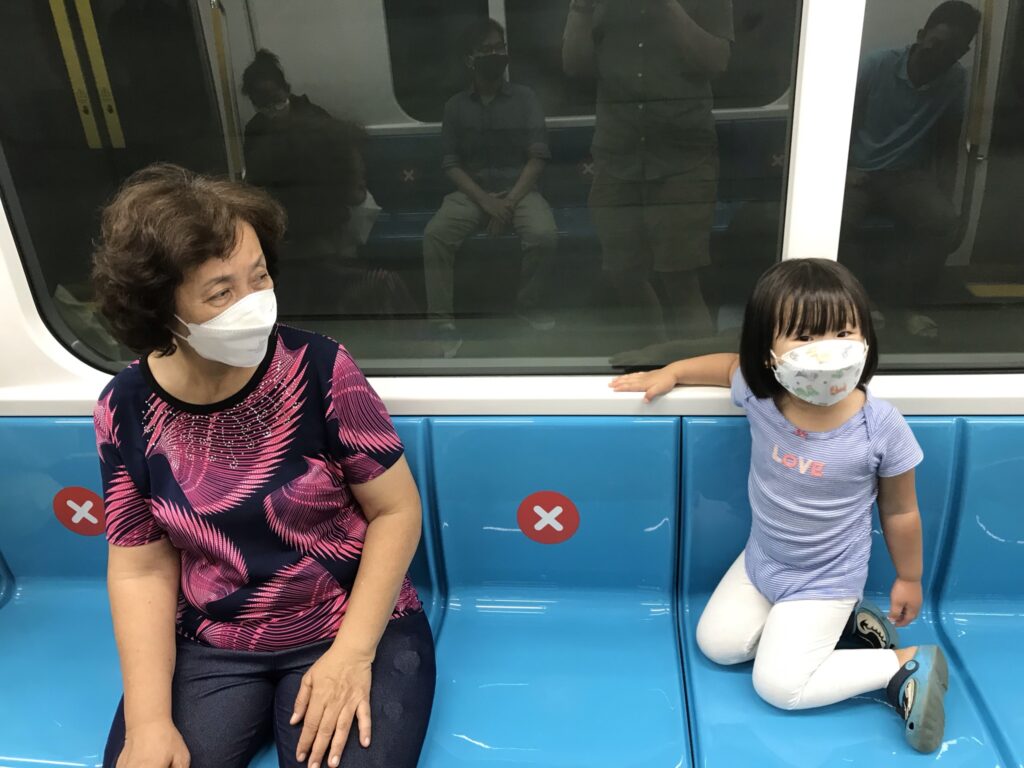 After about half an hour, we arrived at the Blok M BCA Station. We walked through Jl. Melawai to visit a small restaurant called Claypot Popo. When we arrived around 11.30, the restaurant was just about to open and several people were already standing there waiting. When it opened, we were instructed to write our orders downstairs, climbed the stairs to second floor, pay the bill, and wait for the food to come.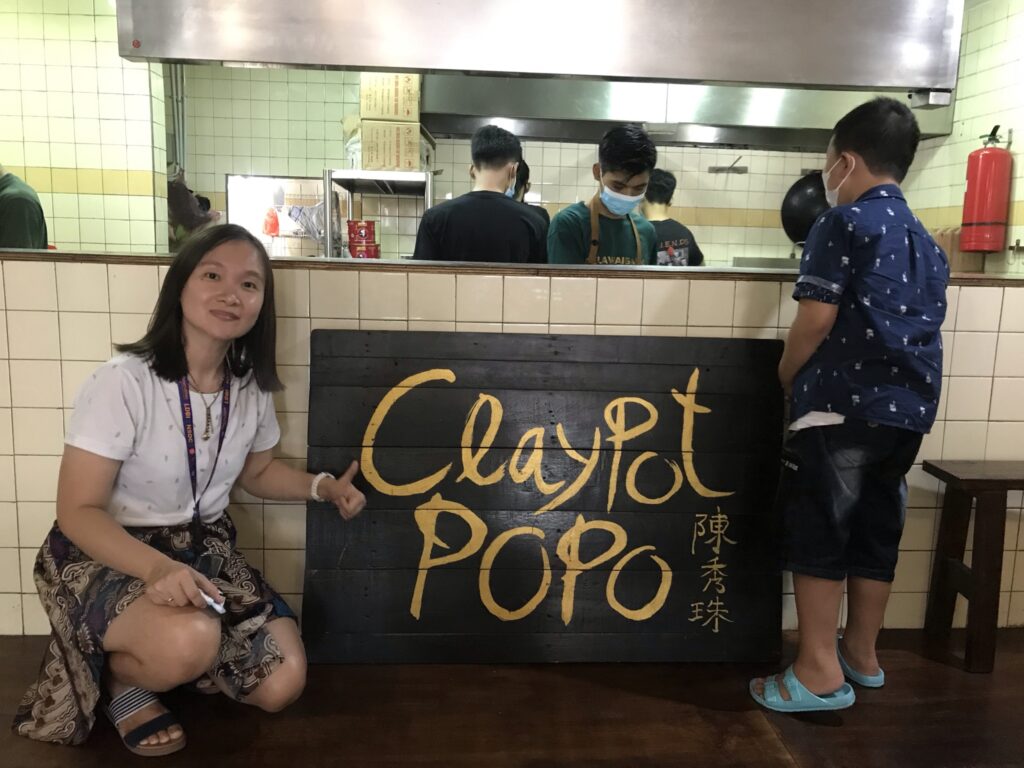 It is not an exaggeration if one says that Claypot Popo is a hidden gem in the city. From outside it looked like an old unmaintained building, but inside it was very lively with thick Chinese ambiance. Most meals in the menu were served in a claypot bowl. The concept of open kitchen allowed the visitor to see how the meals were made.
After lunch, we walked to the front side of Blok M Square, where a street food festival was held. We ordered kerak telor, a Jakarta special. Y said that the one we had in Jakarta Fair event was much nicer than this one. We then walked again to Filosofi Kopi Melawai, a coffee shop inspired by a movie with similar name. The movie was a success, followed by a sequel, and actually quite good. However, the coffee shop turned out to be not that special. It was just an ordinary millenials' coffee shop. It was the price for kopi tiwus (the coffee variant mentioned in the movie) that was special. Special-ly overpriced.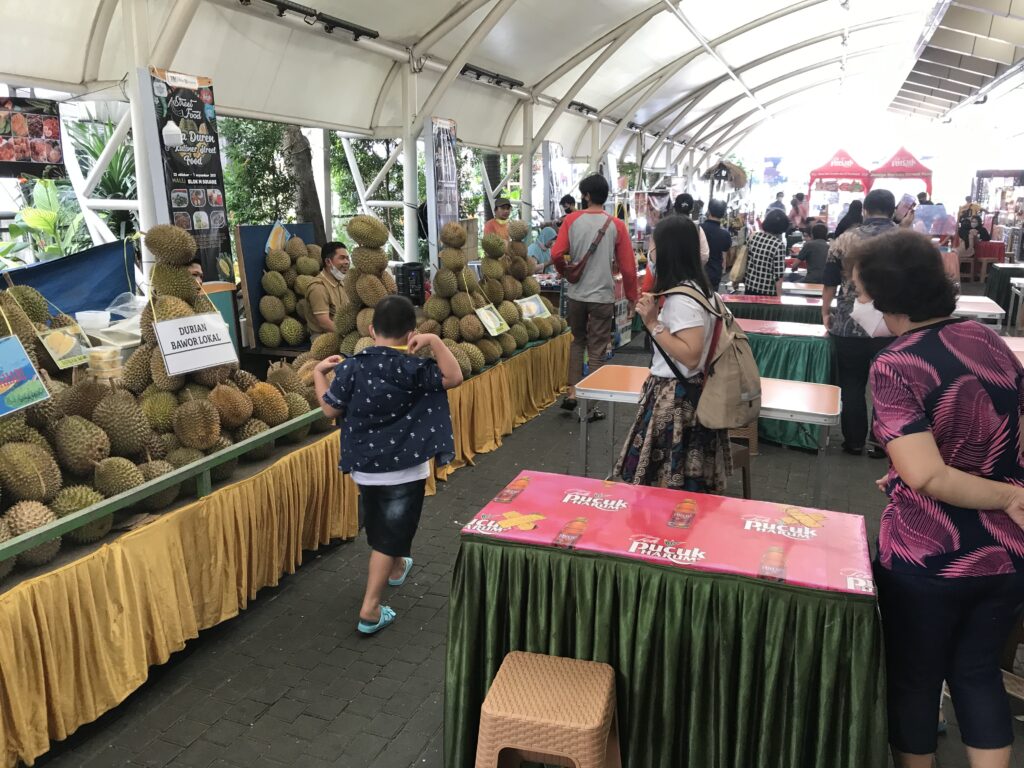 It was almost 1.30 and we took another MRT ride back to the hotel to check in. I did quick preparation for the tea pai at 3.
With complete suit, I crossed the street to the venue. It was fun to meet my relatives again. We were actually a big family, and the tea pai room was not that big. Therefore, after finishing my duty of receiving the tea (and giving the red envelope), I and some other relatives left the room to give more space to the other elders doing their turn.
The wedding "party" started around 6 PM, somewhere after sunset. Strict protocols were enforced and the guests were asked not to share photos onto social media, including WhatsApp group. I can only guess that the reason is to prevent one or two disobedient guests damaging the hotel reputation by not following COVID-19 protocols. Takeaway food were provided to guests instead of dining in.
After the party, I joined Y and the others for dinner in Grand Indonesia. Y had decided to eat at the food court and it was a good choice for me, who brought in these two takeaway meal boxes. If we were eating at a restaurant, I would most likely be not allowed to consume the takeaway meal. It was raining when we finished our dinner so we took a cab back to the hotel.
The next morning, we had our breakfast at the Pantjoran Tea House. We went there using busway. The kids were so happy for taking the bus. It is a restaurant famous for their premium tea servings with, again, classic Chinese decoration. We were not really tea persons, so we just enjoyed dim sum meals that morning.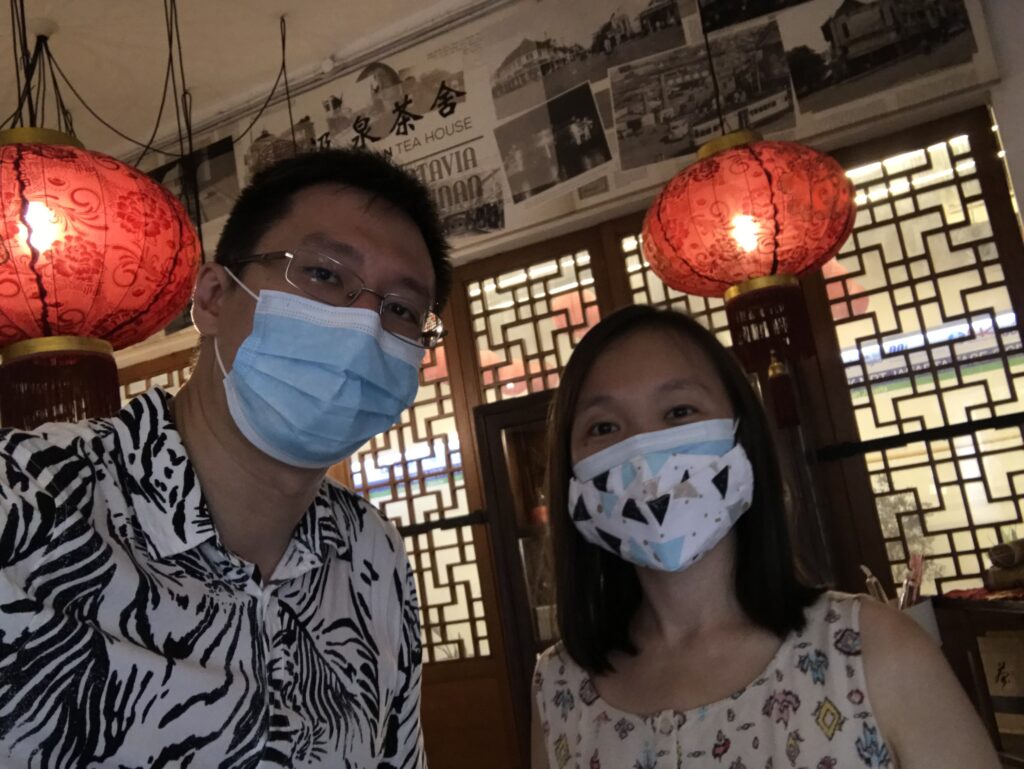 The dim sum was just a warming up for our next culinary trip: The infamous Kopi Tak Kie. This is another gidden gem in the city, just a few meters from the tea house. Famous people including President Jokowi had tasted this uncle's ice coffee. Aside from coffee, they also serve non-halal meals like nasi campur and bakmie (noodle).
Kopi Tak Kie is located inside a wet market area, and this area has a special meaning to me. Many years ago when I was in Bandung, my mother had her lunch with her friends here, suffered a stroke, and collapsed. Friends helped her and brought her to hospital, but she passed away about a week later. I still imagine that one of these people in the area knew about the incident and able to tell me a story about it.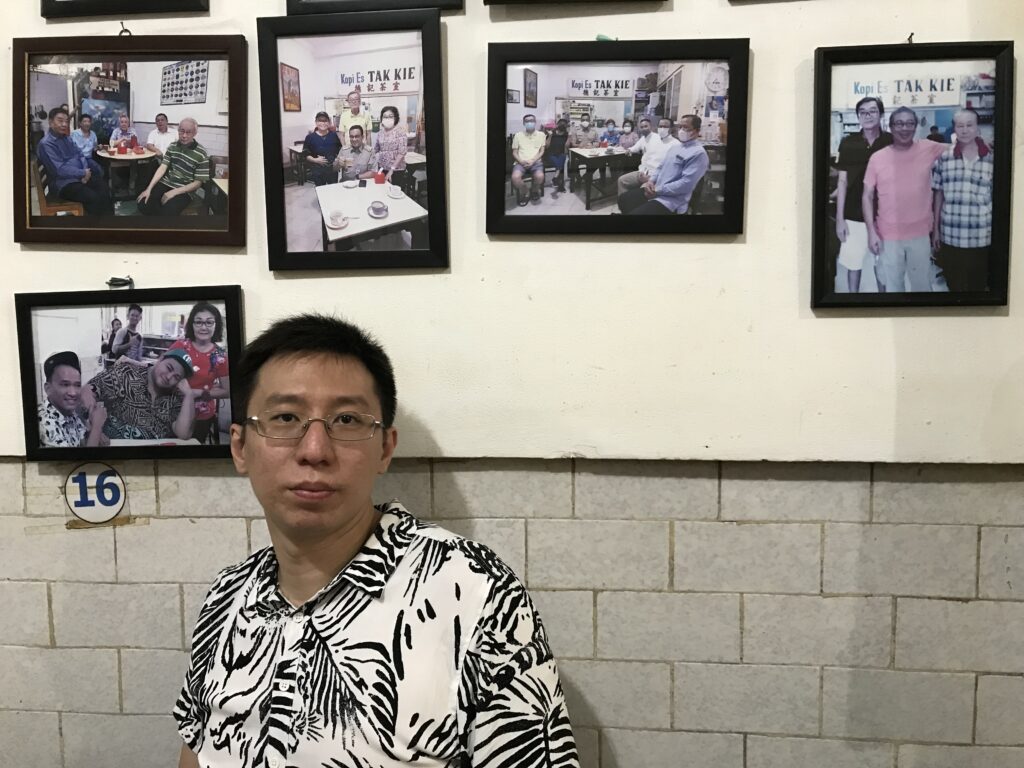 After double breakfast, we rushed back to the hotel because we had to ensure enough time to prepare for checkout. Lucky we managed to check out on time, and we headed back to Bandung.
List of locations:
Weiner Cake Shop: Jl. Kramat II No.2, Jakarta Pusat 10420
Claypot Popo: Jl. Melawai 9 No.38, Jakarta Selatan 12160
Filosofi Kopi Melawai: Jl. Melawai 6 No.1, Jakarta Selatan 12160
Pantjoran Tea House: Jl. Pancoran No.4-6, Jakarta Barat 11120
Kopi Tak Kie: Gang Gloria, Glodok, Jl. Pintu Besar Selatan III No.4-6, Jakarta Barat 11120