I had a chance to visit Bali twice within a few months.
Lebaran Family Trip
First was during the Lebaran holiday, in which I can absolutely say no to all my work. With my wife, son, and mom-in-law, we spent 4 days of colorful vacation in Bali. Considering our 23 months old boy Desmond, we wasn't really kiasu about taking early flight to Bali. Instead, we took a 3 PM flight, that led us to 6 PM arrival time in Bali. Upon landing, mom and Desmond had their dinner at the airport, being afraid of starving in the middle of traffic jam. Yunnie wanted Nasi Pedas Ibu Andika for dinner, so she and I decided to delay our dinner. However, learning from the traffic jam that actually happened, we cancelled the plan and had dinner at a restaurant near our hotel instead. To console ourselves, we bought some peanuts and beers (a bit of luxury back in our hometown) to end the day in our room (after Desmond fell asleep, of course).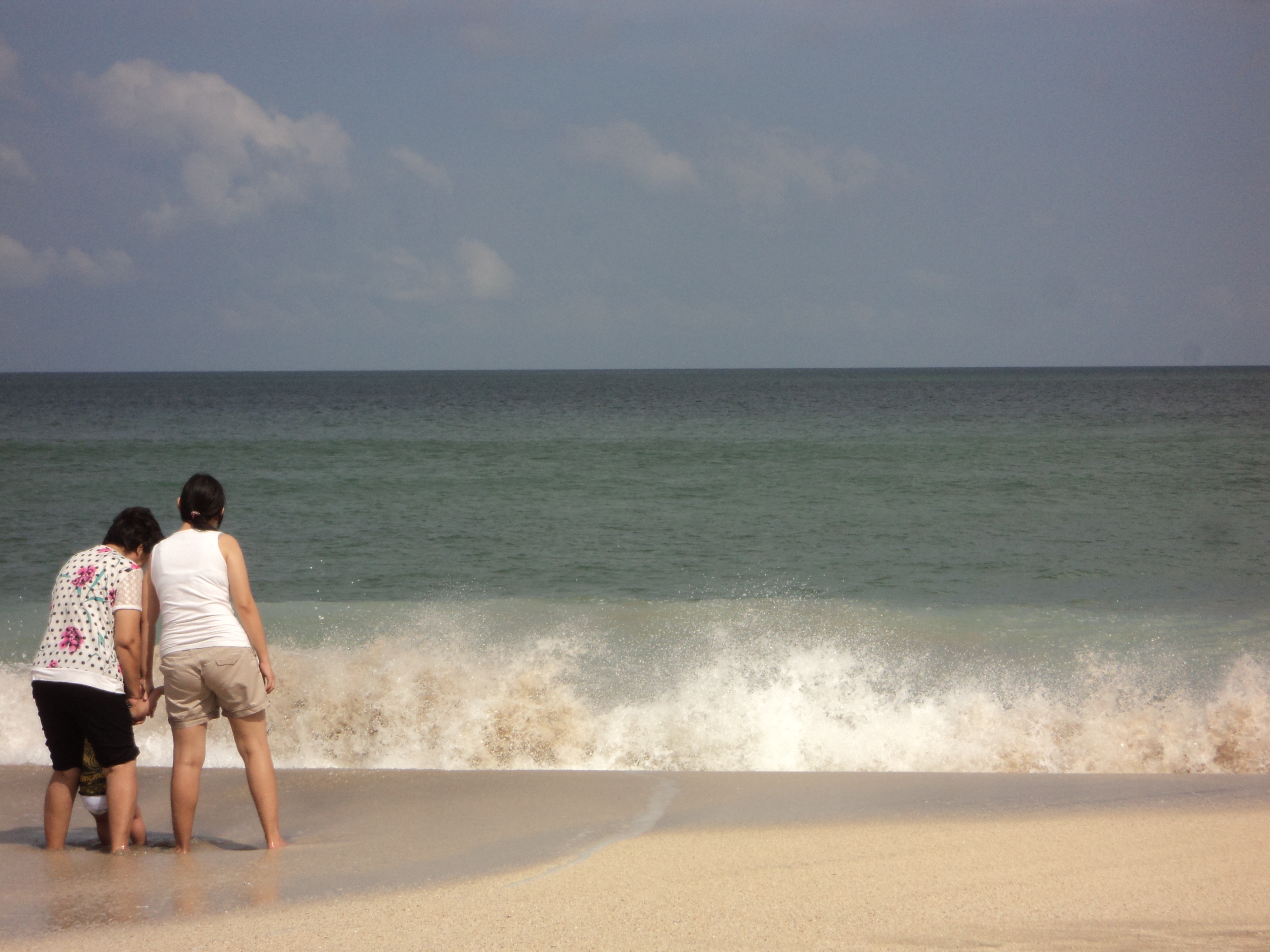 Next day was beach day. After breakfast, we walked to Kuta to enjoy the beach. Desmond was very happy playing with the sand, Yunnie was enthusiastic in finding pretty shells to bring back home, while I played with the water. We spent more than two hours at the beach, then back to the hotel. Turned out our hotel was close to a popular food spot called "Sate Babi Bawah Pohon". The bad news was to order some portion of it, I had to queue for about 45 minutes. We won't risk Desmond to fall asleep before lunch, so he had their lunch inside the hotel restaurant, while the Sates are reserved for the rest of us.
We continued by buying some oleh-olehs at Krisna. It may confuse foreigners as it's just a huge building selling snacks and clothes. However, for Indonesians it's more than enough for them to buy all kinds of oleh-olehs all in one place. Then, we beat another traffic jam to go to Nasi Pedas Ibu Andika, the food Yunnie had been craving at from the previous day. Yunnie was the happiest, but mom was not really happy as the menu was all to spicy for Desmond (well, Desmond was happy too, he didn't care). Therefore, after Nasi Pedas, we walked again about 1 km to find a "decent" food. KFC was the choice, and now Desmond and mom were both happy.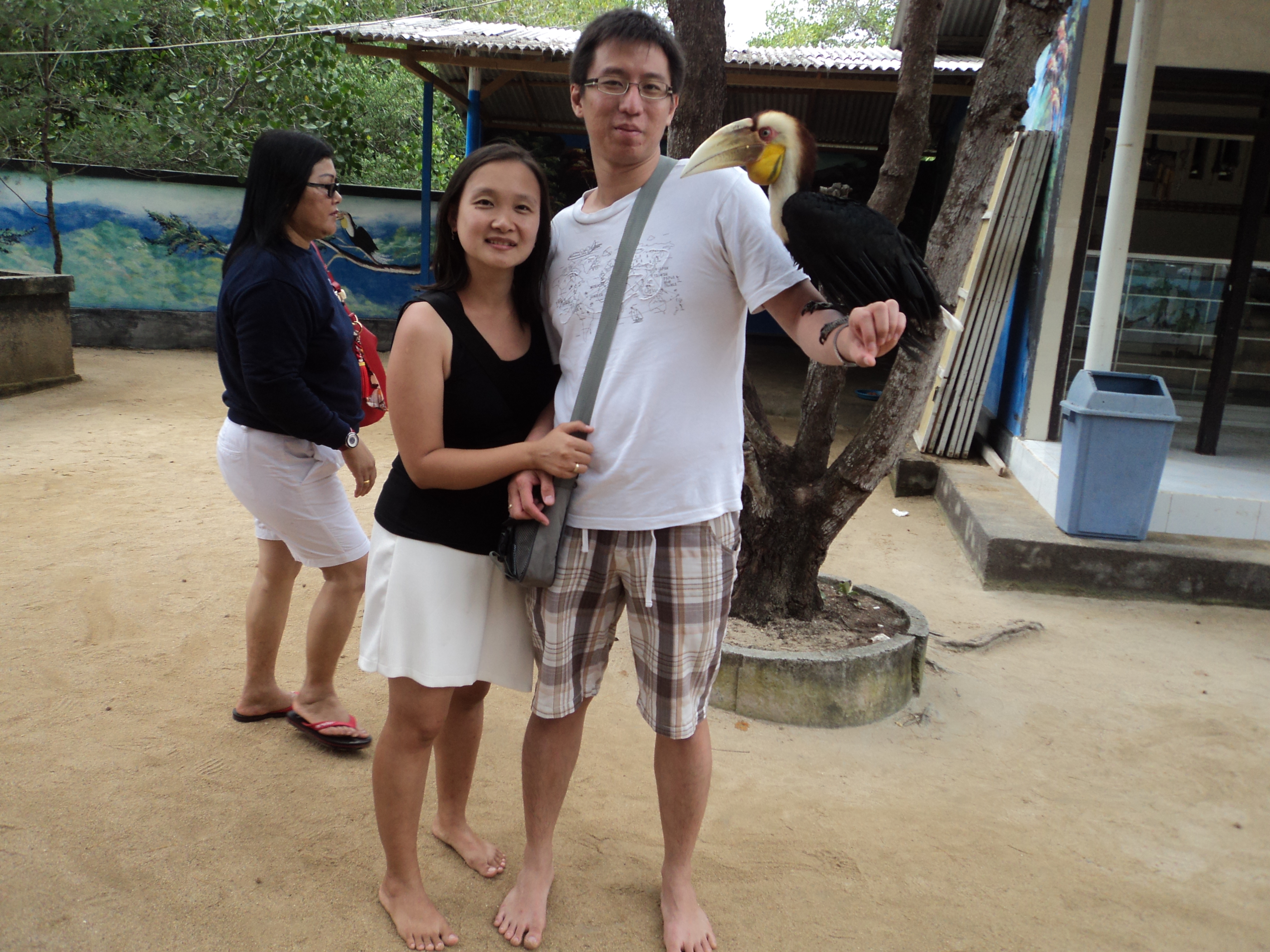 Third day, we traveled to another hotel. It's a hotel that's much closer to the airport, so we wouldn't have difficulty catching our morning flight the next day. After leaving our bags at the reception, we took a cab to Tanjung Benoa, where an (overpriced) boat took us to Pulau Penyu (Tortoise Island). Aside from tortoises, the island also hosts snake, cockatoo bird, iguana, and other various animals. For lunch, we headed to the Pirate Bay restaurant at Nusa Dua. The waiter were hectic, not ready for sudden peak in visitors during lebaran. Many customers were complaining of their food not being delivered on time, and when I asked for a menu, the manager answered with pessimistic tone. Finally, he gave the menu after he was sure that I am okay to wait for an hour before our food was delivered. The food was (as usual) overpriced but not disappointing. Last night in Bali, we had a simple Chinese meal and a gelato to wrap up the day.
Last day, we woke up really early to catch our 8 AM flight. Desmond was still sleeping when we left the hotel, but very happy to play when he woke up at the airport. The flight was smooth, and we were back in Bandung in no time.
WSDC Business Trip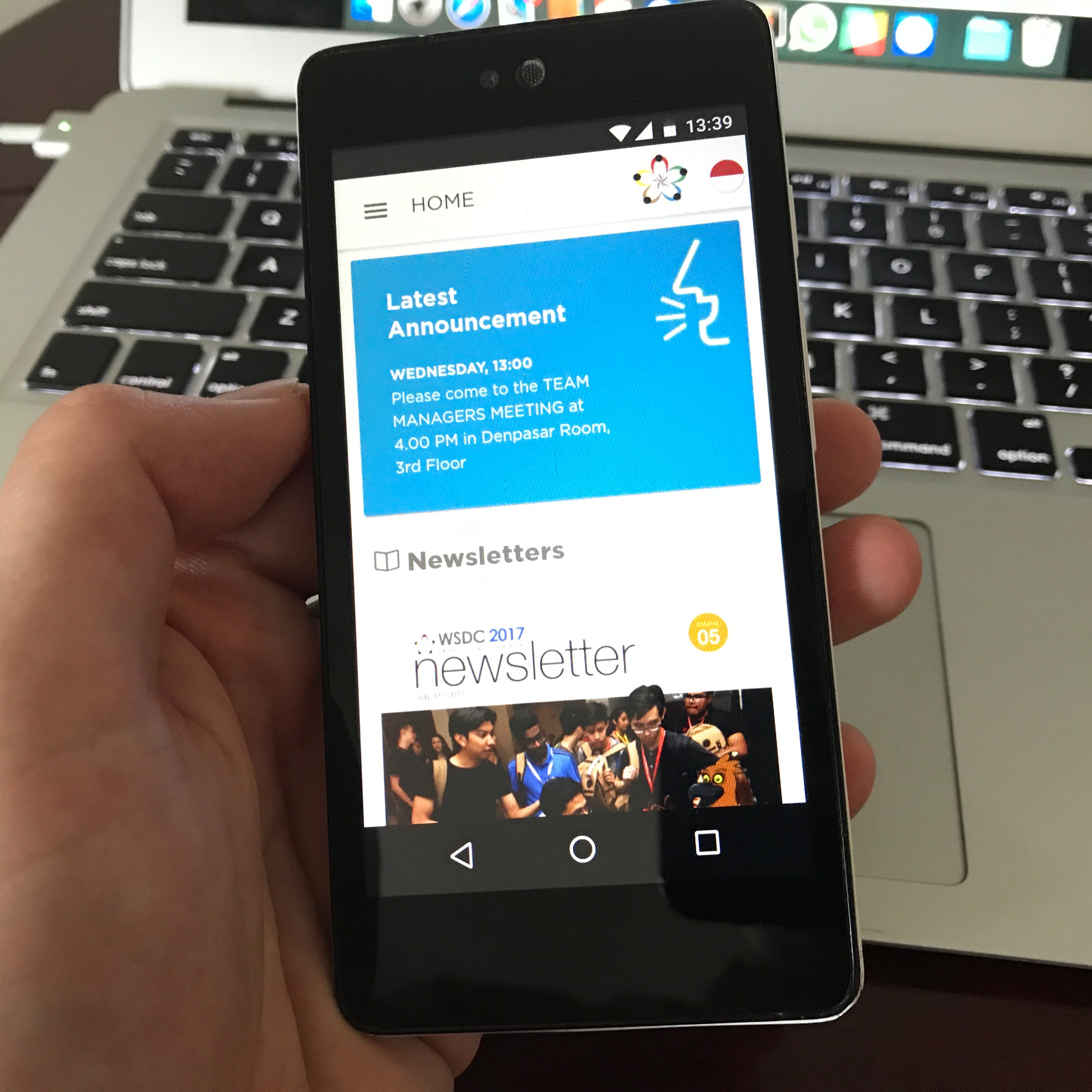 About a month after our first trip to Bali, I had a chance to visit this Island of God again. Our team had been trusted to build the mobile app for the World School Debating Championship 2017 event (if you're curious, you can download the Android or iOS app). Me and my colleague Tommy arrived in Bali on 31 July evening, one day before delegations arrived in Bali. We then had a meeting until midnight, for final preparation.
Second day was absolutely boring for us. Most of the other committees were busy and the app was in the process of being distributed to the delegations, so no actual work was needed. Most of our time was spent inside our room in the Inna Grand hotel, while we occasionally walked to Sanur Paradise Plaza Hotel, where most committees and delegations are located (+/- 500 meters apart).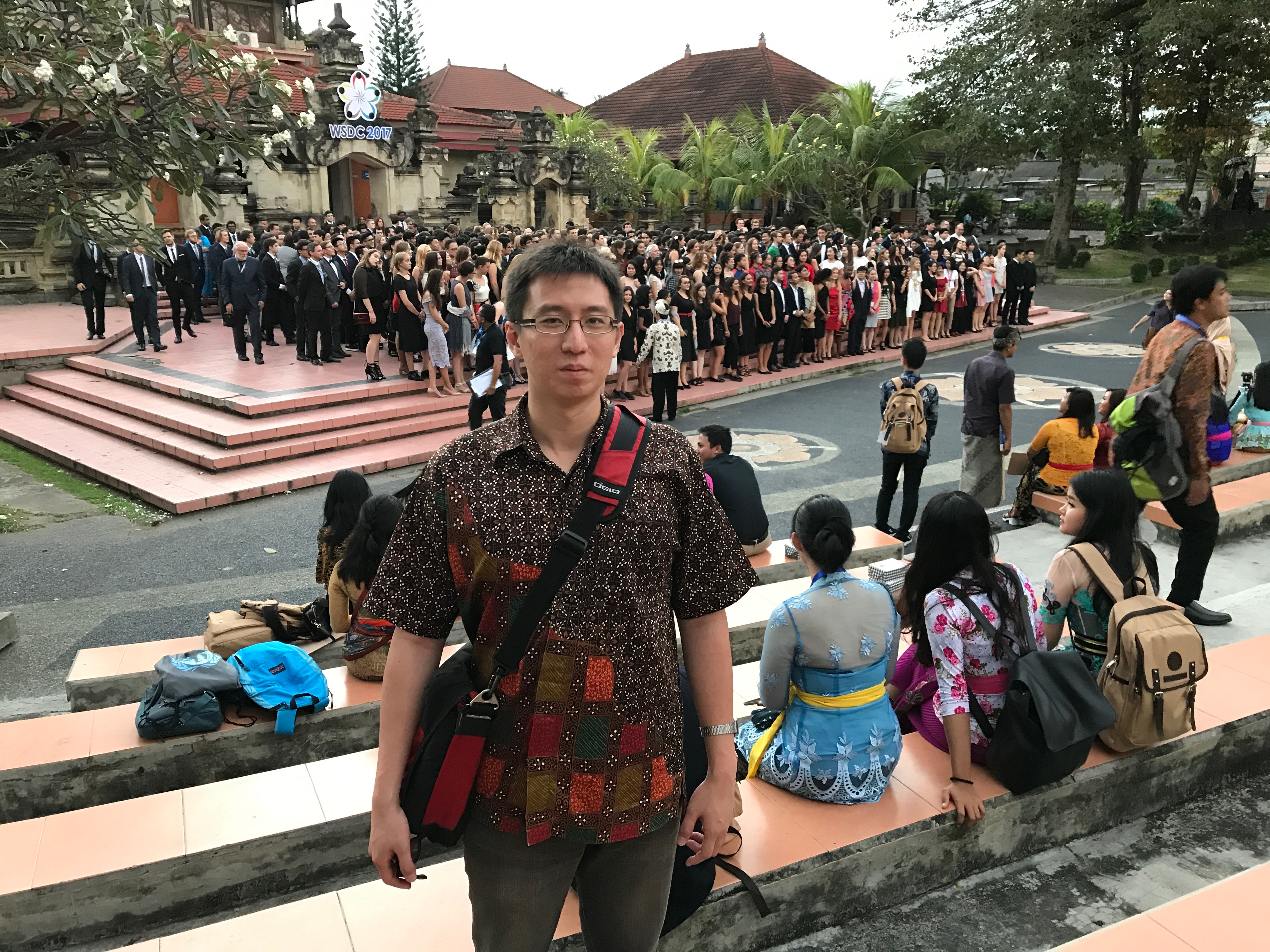 Third day, activities were starting in the event. There were requests from the committee of pushing announcements to participants' mobile devices, one killer feature of our app. We also published daily newsletter prepared by the team to the app. Having get used in Bali, we walked further to look for good food for our lunch. We wanted to have a babi guling (roasted pork) as recommended by Google Maps and walked 1 km from our hotel. Too bad the place was closed for religious ceremony, and we had regular satay for lunch instead. In the evening, we joined the other committees and delegations to go to Institut Seni Indonesia Denpasar for opening ceremony. The ceremony was grand and Tommy was astonished with the performances.
Fourth day, I stayed in the hotel until lunchtime, as I had video call meetings with my students. Tommy went out with the committees to watch the first day of debates. At lunch time, I went to visit them at SMAN 1, one of debate venues. Tommy was not really impressed with the debate, with most of the time trying to not get asleep. At night, we had dinner at a simple seafood restaurant near the hotel. The restaurant, named "Mak Beng" was interesting, as it only serves one type of set menu: steamed rice, fried fish, and fish soup for IDR 45.000,-.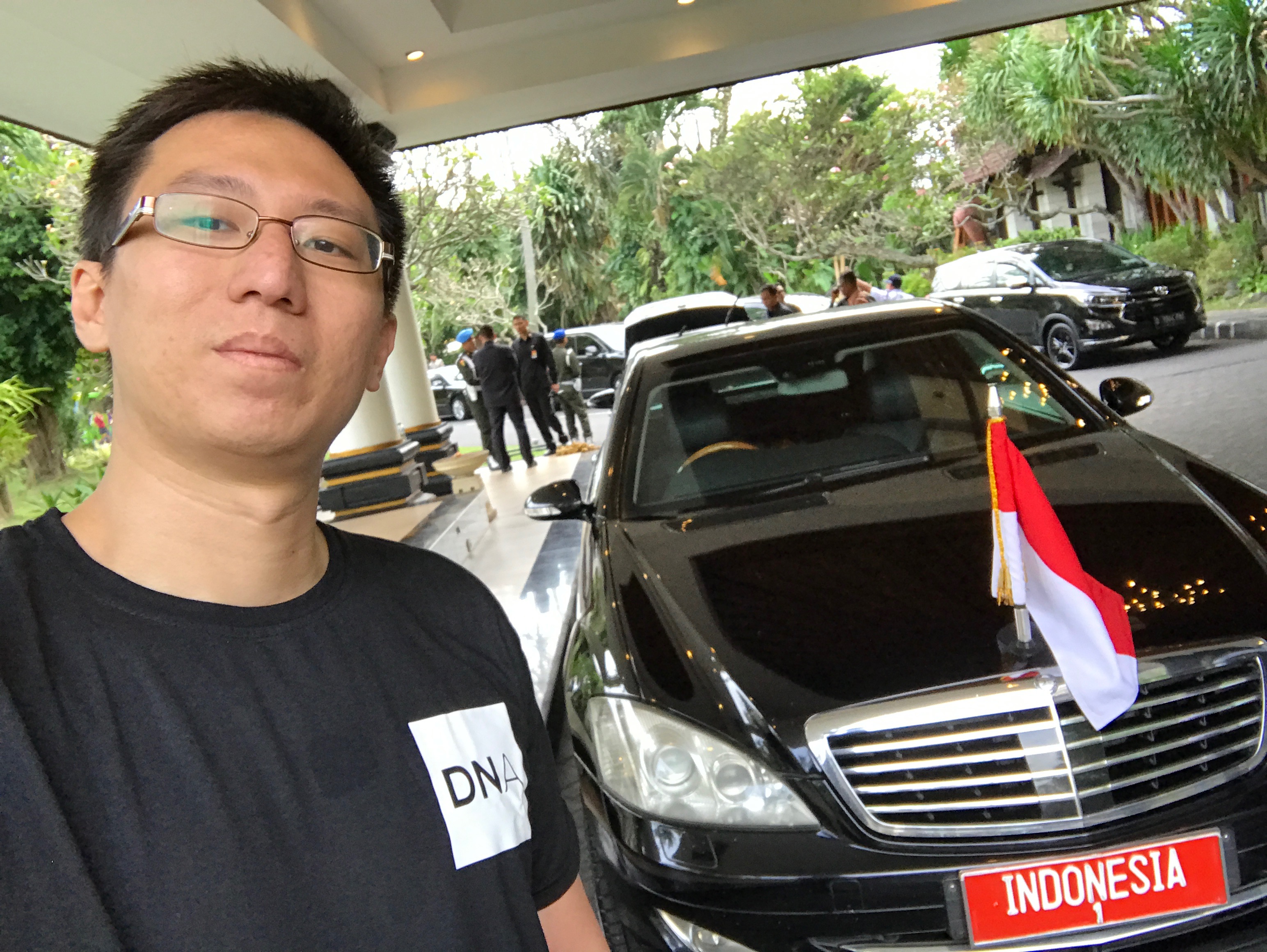 Fifth day, I woke up early to have morning run as usual. What was unusual, was many soldiers with their rifle were standing around the beach. Furthermore, entrance to the hotel building was guarded by another soldiers and metal detector. It turned out that our president Joko Widodo was staying at the hotel, to attend an event in Bali. After 15 minutes of waiting at the lobby, there were no sign of Mr. Widodo, so I decided to just take a picture with his car. Afterwards, I let Tommy having his personal time in Kuta, while I travelled to SMAN 7 to watch one debate match. It was an interesting debate between Czech Republic and Uganda on the motion of "This House would deny tax-exempt status to religious institutions that refuses to appoint female leaders". It was interesting to note that Czech Republic, being located in Europe, took the Catholic Church as the main example during the debate. Uganda on the other hand, tried to insert Islam into the discussion, at least at the end of the debate. Major religion of Uganda is also Catholic, but I believe they understand more the situation in the third world countries. Unfortunately, they still lost to Czech Republic on this debate.
The day was closed with so-called "Cultural Night". Located at Inna Grand Hotel's pool side, each country opened a table showing their culture specials including local foods. Sweden offered me an innocent black jelly that turned out to be super salty liquorice candy (and watched me cringed with a big smile). Germany, having lost both matches that day, had a small note "At least we're good at football" written on their table. Two handsome Qatar guys offered a super nice dates with their thawb (special Arab clothes). What surprised everyone was after about an hour of cultural sharing, a DJ came out and start playing loud music (bet you won't find it in WSDC official newsletter). Though it's debatable whether this is in line with Indonesian culture or not, it did manage to let everyone released their tension, dancing to the beat but cleanly without alcohol.
Last day for me, I took a last picture of myself in Bali, in front of WSDC background. I had to come home early before the event finished at 11 August. Though my flight was at 13.20, I left hotel as early as 9.00 to buy some oleh-olehs. My Garuda Indonesia flight managed to entertain me with an episode of Big Bang Theory, a sitcom that I have not watched for a long time.
I really hope to visit Bali again sometime. It never ceases to amaze me.