After a very long time, I finally had a chance to travel again. This time, was for Kuala Lumpur. My brother had the privilege to be the captain for Indonesia's rugby team participating in HSBC Asian 5 Nations Rugby tournament. My dad was very excited to watch him playing, so he asked me and my wife to accompany him on this trip.
The three of us started our journey on Tuesday morning from Soekarno Hatta's (CGK) Terminal 3. It was my first time flying from Terminal 3, and I had to admit that it was very well designed, despite its status as a budget terminal. Probably also because it was the youngest compared to Terminal 1 and Terminal 2. After two hour flight, we arrived at Kuala Lumpur International Airport's Low Cost Carrier Terminal (LCCT), a terminal built mostly for Air Asia flights only. This time, the phrase "low cost" really made sense. From the aircraft we had to walk to the terminal building for a few hundreds meter, and one can easily gets mixed up with domestic passengers or even those who were about to board the aircraft. Later I found out that this terminal was formerly a cargo terminal and used temporarily while they are building the new KLIA2 budget terminal.
A taxi ride from the airport to our hotel at Petaling Jaya cost around MYR 100 (SGD 40). At first I was surprised by the expensive fare for such ride, but even more surprised with distance when we started riding the cab. Spanning more than 50 km, it's more than the length of Singapore from west to east! After almost one hour journey, we checked in at Eastin Hotel and looked for something to eat for our lunch.We found a small malay food stall amidst the commercial building. It reminded me of the food I used to eat in Singapore: relatively bland taste with some extra spices to replace chemical taste enhancer.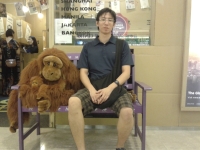 After lunch, we took the hotel's free shuttle bus that brought us to Tropicana City Mall, where we bought some snacks and bottled mineral waters for our stock at the hotel. I didn't miss the chance to buy some packs of Old Town brand coffee. Thanks to my former colleague Ronald, I became obsessed with this brand since I left Singapore. It is very expensive to buy in Indonesia, and it's just half price when I bought it there. We wanted to buy a local mobile number for MYR 10, but I forgot to bring our passport with us, so the seller didn't allow us to get one. We spent the evening by visiting another shopping mall, The Curve. It is adjacent to Ikea furniture shop, but we had only energy left to had our dinner there. I had the infamous Swedish meatballs dish, but unlike in Singapore the meatballs were made from lamb instead of pork, as the majority of Malaysians are moslems. We went back to the hotel at 9 PM, with another free shuttle bus provided by the shopping mall.
The next day, was the day of my brother's match. It would start at 3 PM, so we had some time in the morning to explore Kuala Lumpur. We took a cab to KL Sentral, the hub for various transportation modes. From there, we took the Kuala Lumpur's Hop-On Hop-Off bus. For about MYR 35 per person ticket, we could take a double decker bus ride to 23 destinations around Kuala Lumpur. As we didn't have the whole day, we planned for two destinations to visit: the infamous Petronas Twin Tower and Chinatown. The rest, we would just take a good look from inside the bus.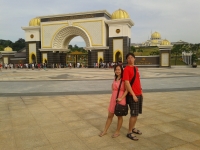 We passed about 11 stops before the Petronas Twin Tower. At some stops, the bus waited for 5-10 minutes to maintain the 30 minutes interval, as well as giving the passenger a chance to take a quick look on the tourist spot. One of the interesting spots is the Istana Negara (national palace), where visitors can take picture with one of the two guards on a horse in front of the gate. Somehow I pity them, having all those military trainings just to be the object of tourist photography.
At around 10.30 PM, we arrived at the Twin Tower. The towers were as tall as advertised, but entry ticket cost a whopping MYR 80 (SGD 32) per person. We were not sure what we could get by paying that much, but didn't want to take the risk of disappointment. We then just wandered around the shopping mall that is located just under the tower, but had to wait until 11.30 PM for the next bus to come. We continued our bus trip, but had been exhausted thanks to our earlier activities and the heat that started to come nearing noon.
What's left from us were regained when we arrived at Chinatown. My dad liked my idea of having a bak kut teh (sorry, it's not halal – but turned out there's a halal version as explained here) for lunch, so we started looking for one. After few minutes of desperate attempt to find one, I finally went to a dessert stall to ask the seller for a good bak kut teh restaurant around, in exchange for two cold puddings purchase. The bak kut teh restaurant, is called "Big Mouth", and located in a small alley not far from the dessert stall. The delicious bak kut teh plus the surrounding made me feel like inside a Hong Kong gangster movie somehow, which was a good experience.
It was almost 2 PM after lunch, which means we had to quickly find a cab to bring us to the rugby game venue in Petaling Jaya stadium. Unfortunately, I didn't know the exact postal address. One taxi driver refused to take us, but another one boldly accept the challenge with only the fact that we should exit from highway at SS7, and a point in low resolution Google Map, thanks to the unavailability of data plan. After about half an hour journey, we arrived at a stadium in a middle of nowhere. The taxi driver insisted that that's the stadium we were looking for, based on the fact that's the only stadium around. But there was no signs of a match going to happen, so I insisted him to wait while I double checked with an officer on duty there. It turned out to be true, we came to the wrong stadium. Luckily the office gladly told me and the driver how to go to the correct stadium. He even rushed us after knowing that the kick off will commence in a few minutes left.
We finally arrived at Petaling Jaya stadium. But there was another problem, we alighted at the opposite side of the stadium entrance, it was raining, and the cab had already left us. That means we had to walk half the circumference of the stadium to get inside without cover. Luckily, there was another cab and the driver was taking a break inside. Not wanting my dad and wife to get sick, I asked him for his service.
"Where?"
"That side!", I told him while pointing my finger to the opposite side of the stadium.
Confused at first, he finally accepted the ride for a token of MYR 3 (the official minimum taxi fare).
We spent the first half of the game trying to find where was my brother. We then found out he was wearing shirt #7, after asking another viewer who turned out to be a Malaysian studying in Jakarta, having played for Indonesia's Banteng rugby club. Sadly, it was an uneven match for Indonesia, as Guam beaten them 38-17. Understandable, considering short training time for Indonesia, and the captain's injury just a day before the match. However, we heard the good news days after we went back, that Indonesia beaten China for 37-13 on the final, securing the place in division 3.
Our return to the hotel was quite challenging, as the stadium was out of nowhere. After wandering about half an hour, we finally found a cab that could take us to the hotel area. However, we decided to go back to Tropicana City Mall instead, to get some consolation ice creams and stock up our bottled water for the night. Then we took another cab to the hotel. We were quite exhausted that evening, but still had the energy to wander around the hotel area for another local food dinner. We finally picked an Malay-Indian restaurant. It was almost closing, so the menu was limited. We ordered fried rices for our dinner, and got back to the hotel to rest.
The next day, we just laid down at the hotel, waiting for our flight back to Jakarta at 3PM in the afternoon. The three of us had to finish off about ten valencia oranges my dad had bought earlier due to extreme discount at the shopping mall, an offer he couldn't refuse. After a desperate attempt to eat one by one, I squeezed the rest of oranges to make an orange juice, with help of a clean plastic bag. It didn't taste so bad after all, but my dad refused to drink it after he knew where I got the plastic bag from (guess yourself). I spent the rest of the morning swimming with my dad, followed by preparing our stuffs for checkout.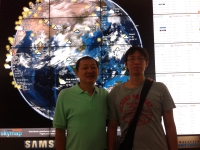 The hotel's taxi ride to Kuala Lumpur International Airport (KLIA) cost almost MYR 150, but luckily I asked for another option. A regular cab cost only MYR 100. Still more expensive than taking a SkyBus from KL Sentral, but we didn't have the luxury of time anymore. We wandered around at KLIA main building for a moment, had lunch there, and took a shuttle bus to the LCCT, as our flight would took off from there. The journey lasted for half an hour, a long trip considering both are in the same area. The check in experience in LCCT was no better than the arrival. We had to walk quite a distance from entrance to the check in counter, immigration and the boarding gate. There were limited signages, and one can easily mixed up too, when walking from the boarding gate to the aircraft. On the bright side, the airport was generally clean and well-ordered.
Our flight take off at 3 PM closed our journey to Kuala Lumpur, with most of us sleeping in the plane.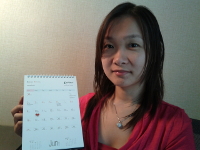 By the way, it's my wife birthday today; somehow coincide with the hotel birthday. Check out also my brother's game and winning speech here.