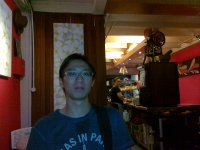 Few days back, my friend Handy told me that there is a nice padang* restaurant near Somerset MRT, namely The Warung M Nasir (WMN). Well, it's Saturday night and I don't want to spend my weekend at home, so I asked him to have our dinner there.
We were supposed to meet at 7PM, but I arrived slightly earlier. While waiting for him, I saw an advertisement of a cafe called "J-Town", which at first I thought have something to do with Japanese culture. Turned out the J stands for Jakarta, and they sell Indonesian light meals like siomay or sweet martabak. Sticking to the plan, we still went to the WMN, and planned to get some dessert at J-Town afterwards.
WMN occupies a small building in Kiliney Road, and they serve several types of food to choose, just like in a Malay economic rice stall. I ordered a chicken rendang with daun singkong (cassava leaves) and boiled egg, with a carbonated soft drink. It costed $6.80, pretty affordable though more expensive than normal nasi padang.The place itself is quite cozy, with the theme of 80's. Probably that's why we saw several expatriates dining there, too.
Afterwards, as planned we headed to J-Town, which is located at the basement of Midpoint Orchard building. It is a small shop with only few tables, but the martabak was very nice.They serve basic flavors like chocolate and cheese, as well as a special one which is durian flavor. For hardcore fans of martabak, also available is the plain one, without any additional flavorings. Other than martabak, they also sell basic meals like fried rice and fried noodle, but we haven't tried them yet.
One tip if you, like us, tried to save money by buying drinks in 7-11 instead of at the stall, forget it. The bottled water there may be a bit expensive for about $1.40, but turned out the 7-11 in Orchard Road sells them even more expensive, $2.15 for Indonesian brand Aqua. However since it was Saturday night, we don't really mind about the extra dollars though.
Warung M. Nasir is located at N° 69 Killiney Road, Singapore 239526, while J-Town is at Midpoint Orchard Building B1-04, N° 220 Orchard Road, Singapore 238852. Both are a stone throw away from Sommerset MRT.
* Refers to either a city in West Sumatra or a Bahasa term for "field", usually used to refer certain style of food with specific spices.