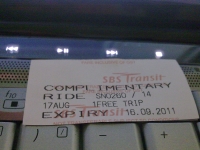 Today is Indonesia's Independence Day. But it has nothing to do with the story, anyway. Just happened to see something not so ordinary on my bus trip to Orchard Road.
After finished working in the office, I went to Orchard Road to buy some personal stuffs, riding bus N° 14 sitting on the upper deck. In the first few minutes of the trip, I heard several times banging noises as the lower part of the bus seemed to hit the road. And when it stopped several people at the bus stop were seen looking at that lower part, like something is wrong.
Few stops later, the bus stopped completely and I heard from below the sound of the machines beeping as people tapping out. Few people who were sitting at the upper deck started to come down, but I kept waiting as it was only 1 stop ahead to my destination. After few minutes, the waiting time for people to alight didn't seem to be normal anymore and I decided to come down too.
Below, turned out that the driver was asking people to tap out at the machine that reads "Vehicle malfunction, free ride" and giving a receipt. I gladly tapped out to cancel my earlier payment and retrieve the receipt. However, what I first thought as a receipt turned out to be a complimentary additional bus trip. I then used it to take the connecting bus to my destination. It may be a waste since I only used it for 1 stop ride. But turned out the driver didn't take the receipt from me, so I am entitled to at least one more complimentary trip, I guess… 😉
And please forgive me for lack of posts, I just injured my knee I couldn't go out too much recently.